Category Archives:
Uncategorized
J thinks Night Film by Marisha Pessl is cake…with icing.
The Cake: Night Film is a super entertaining story that kept me turning the pages the entire week I spent reading it. It distracted me from all competing little chores like Christmas baking and work.
The plot focuses on an enigmatic filmmaker named Stanislas Cordova. In his films, Cordova explores the realm of human nature: good and bad, dark and light, insane and sinister… and so on. The characters in his movies often live, exist, and act where one human attribute ends and its darker counterpart begins. The filmmaker and his films are controversial, shrouded in rumors and fantastic stories. The film sets are believed to be cursed due to a seemingly inordinate number of serious mishaps that take place during filming. His actors, after appearing in his films, tend to drop out of mainstream society and never discuss their experiences on the sets in public. Cordova himself gives no interviews and lives in seclusion with lawyers and people to protect him and his privacy. In fact, rumors about him include every imaginable conspiracy from the question of his actual existence, to the suggestion that he is a criminal of unimaginable evil. (The parallels between Cordova and actual filmmakers, both current and past, makes great fodder for conversation.) Cordova has a cult following of people who refer to themselves as Cordovites. They host underground nighttime viewings of his movies communicated to other Cordovites and fans with a secret graffiti code marked on doors of abandoned warehouses and other clandestine venues. Cordovites run secret websites devoted to scrutinizing every bit of information available on the man and his work.
Cordova is the center of the plot, however, the principal character in the story is Scott McGrath.  McGrath is a journalist who was known for his fearless and sometimes savage reporting. At his peak, no topic was too taboo for McGrath, no bit of evidence out of reach. That is, until he went after Cordova.  McGrath decided to write an expose' on the filmmaker following the arrest of a serial child-killer. The murderer had admitted to copying scenes he'd seen in a Cordova movie.  McGrath planned to reveal Cordova as the puppeteer behind all the darkness and mystery associated with his films and his reputation. Cordova and his lawyers fought back with a ferocious defamation suit winning most of McGrath's wealth and capital, costing him his job, his credibility as an objective journalist, and finally his marriage.
Night Film begins with the apparent suicide of Cordova's 24-year-old daughter and Cordovite conspiracy theories running wild.  McGrath, a man with nothing to lose finding his adversary in the news again, plunges in. He is determined to get to the bottom of the mystery of Cordova once and for all.
You know I don't like to give away secrets, Scramblers. So I will just tell you to prepare to twist and turn, swivel, wriggle, contort, and spin.  You'll encounter truths and illusions, white lies and black magic. You'll get a little bit of a super-hero flavor from McGrath, but nothing that made me roll my eyes too much. It's fiction. It's supposed to suspend the imagination. Throughout the book, Pessl will drop references and likenesses to films and actors both real fiction, giving the reader a pleasant nod of recognition when stumbled upon.
The Icing: There are pictures. There are photographs. There are reports, receipts, notes on scraps of paper, website threads…and so on. This brilliant device just makes the book incredibly fun and engaging. Like Encyclopedia Brown for adults. I read it in book form, but apparently, if you read it in e-form you can download a "Decoder app" to get extra content with images and audio secrets.
I don't think you should wait for a special occasion to treat yourself to this one, but if your nightstand is overflowing, Night Film would be a great book to have for the long days of winter to come. It's nice and long. Maybe if you stick your nose in it in mid February, you'll look up to find some spring sun on the way in March.
Happy reading!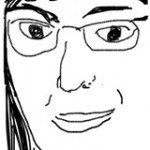 Ah Nebraska…
If you had to personify the place you live or a place you have visited, how would you fashion it?  What construct would you use?  These two opening questions feel tedious to me as an introduction here but they may turn out to be good fun if posed a few drinks into a Friday afternoon get-together. But hey, try it now and in the spirit of this Halloween post: in your mind's eye incinerate your locale of choice and sift the cremains into an old butter tub;  when dark comes imagine the location as a now-humanized specter rising out of the butter tub and taking out on a midnight stroll through your house.  If said specter stumbles into your bedroom, tell me the first words out of its mouth. Does it cackle at your fear?  Does it encircle you with fleshy arms and offer a mumbled apology? Or does it lure you into the kitchen with a flirty laugh, the promise of wine, and whispered secrets into the early morning?  (Personified locations all — in my mind's eye).
I read two of Tom McNeal's novels, To Be Sung Underwater and Goodnight, Nebraska and I believe Mr. McNeal conducted a similar mental exercise with Nebraska in mind.  In both books McNeal has rendered Nebraska into a mute background character that manages to be present at each and every table, is along for every drive and rides shotgun, decorates characters' houses and even has a hand in the lay-out of menus at the local cafes.  McNeal uses broad strokes to paint Nebraska onto each page of these two novels.  Secret: sometimes it's a bit thick. 
Just so you know, Tom McNeal is not a Nebraskan.  He was born and raised in California but as a boy he spent his summers on his grandparent's ranch in the Nebraska panhandle.  It makes sense that someplace as imperial and bare as the panhandle is able to plant itself in a young boy's psyche.  In a June '11 NY Times interview McNeal said this about Nebraska:  "For me, it represents a type of purity that is hard to come by:"
I read McNeal's books out of order chronologically.    To be Sung Underwater was written in 2011. McNeal wrote a strong female character named Judith Whitman who is one of the two main protagonists and as an adult Judith is layered and imperfect, lovely and lost in her marriage.  Adult Judith lives in California but a good part of the book is about young Judith who we see gracefully grow into adulthood in Nebraska.  
Judith's first love is Willy Blunt and he is the embodiment of a certain type of Nebraskan.  He is an honorable young man who is witty, driven, and carries with him a vast love of Nebraska's open spaces — especially when Judith gets naked in those spaces.  Judith is crazy about Willy too until she gets accepted at Stanford and suddenly the love of Judith's life may not be quite right for Judith's future California life.   You can see it coming, right?  Judith dumps Willy and marries a more sophisticated fellow, a Californian.  But as these things go, at 44 Judith finds herself with a potentially cheating spouse (California!)  and her broken heart begins to wonder about the honorable and sensual Willy Blunt (Nebraska!) she left behind.  It was a good story right to the end, which was too melodramatic for me and not very Nebraska-like.  Typical Californian, overplaying the hand.  However, I still root for Judith.  She was worth the read.  
Goodnight, Nebraska was McNeal's first novel and published in 1999. I bit right away, the book has a great blowback start narrating the slippery downward slide of Randall Hunsacker, a boy from a blue-collar family.  Early in the story Randall is set adrift by his father's unexpected death and his mother's and sister's subsequent stupid stupid behaviors.  Randall ends up screwing up (who can blame him) and to avoid being sent to reform school Randall accepts a deal to go live in Goodnight, Nebraska.  Ah ha I thought to myself, this will be a fine story about Randall's redemption set against the backdrop of the expansive and healing Nebraska plains.  But sadly the guy remains a jackass through the rest of the book and I could not get behind him in any of the pages.  Goodnight, Nebraska descended into chaos after those first enticing chapters.  The book wanted to be many things and so it wandered about and turned to clunky and jarring resolutions that sprang from absolutely nowhere. (Over and over again).
So it was no surprise to me that the wrap up of Goodnight, Nebraska came across like sloppy camp.  This is it: the two protagonists finally wind up together in Nebraska –Randall married the town's sweetheart and oh boy do they have their ups and downs over the years.   In the very end they are both literally broken and scarred – most of which they have inflicted upon one another.   A white satin eye-patch Marcy?  Really?  This Nebraska is cruel and judging and foolish; it is backwards and unbending and is not fit to wander outside of its own borders.  I didn't buy it.    Rather I didn't buy McNeal's characterization of Nebraska, the Nebraskans he portrayed, and the situations he created for them through the middle and end of the book. 
This is something a real Nebraskan said: There are some things you learn best in calm, and some in storm ( Willa Cather).  Anyway, Mr. McNeal needs more calm, less storm.  That's the more precise characterization of Nebraska.  
<— Chadron Airport and the luggage transport.
J on Reading Lists, and the almost Perfect Story…
Tragedy struck this weekend.
At the South Street library cruising the shelves for a good read, I went to my book list in "notes" on my iPhone to see if I could find something on my list. But my list was gone.
Erased. !!!
I eventually picked a book (The Interestings by Meg Wolitzer, stay tuned).
Then I went home to check my computer and email accounts to see if my book list had simply migrated from notes to somewhere else. But it didn't. The book notes are gone. My music notes are still there. Complete with a measly 4 entries, 3 of which are Malian music from our friend Paul that I can get the names of again.
The name of a plumber recommended by a friend is there. Also a phone-call away, had I lost it.  I'm glad I didn't lose the recipes I had stored, but it wasn't like they were the Colonel's secret or the formula for original Coca-Cola. Nope.  The only category completely missing from my Notes was the list from the last two years of books I'd jotted down to read, or read and liked, or had read and not liked.
I admit using the term "Tragedy" to describe this (most probably) user error is a little dramatic. But the list in notes was how I kept track and managed my reading material and I feel a little lost without it and annoyed at technology for having lost it.
One recent read stands out, though, for which I do not need to refer to notes to remember if I liked it or not.
 I loved Fin and Lady by Cathleen Schine.
Reading it, I frequently caught myself chortling out loud and then minutes later realized I was still smiling dopily at the words on the page.
Fin and Lady is light and serious. Funny and sad. Fictional and historically accurate.  At the beginning, Fin an 11 year-old boy from a farm in Connecticut, is left an orphan after his mother dies. He is delivered to his sister, Lady, whom he hasn't seen in years and who is 16 years his senior.  They are half-siblings, related through their deceased father. Their separate memories of his angry personality bonds them even though they never agree fully on the reason for, or effects of, their late father's ire.
Fin and Lady, and Fin's dog, Gus, settle in Greenwich Village, NY in the 1960s. Fin is a smart and likeable kid, if a bit traumatized by his situation, Gus, steadfastly loyal, and Lady is smart and unconventional in every way. She is irresistible.
And from here, Rocky Scramble Weekly Readers, if I didn't want you to discover it for yourselves, I'd tell you about the beautifully quirky relationship between Fin and Lady. I'd go into detail about each wonderful character: The Suitors, the group of men in love with Lady; Mabel, the sensible (and wigged) maid who loves and cares for both Fin and Lady in her no-nonsense, grumpy, but mostly agreeable way; Phoebe, Fin's friend who boils life down to the feminist pop psychology of the day mostly in one-liners (her parents are psychologists). I would tell you about the hippy, un-credentialed, school Lady enrolls Fin in and the books she gives him to supplement his education. I think you'd laugh about the parties Lady has and Fin mixing drinks for the guests in mittens because he makes such deliciously cold martinis. ("I don't' drink them, I'm only 11, " he tells a visitor who raises an eyebrow when Lady tells Fin to bring some drinks.)
The connections between the characters unfold and intermingle and flourish and sometimes, fail during the events of the 60s and within the background of Greenwich Village and places beyond.
It's truly an enjoyable story.
I also would also tell you, it's not perfect.
Which is a good thing, because if it were, all future reads and anticipation of them would be forever ruined. Best to have an almost perfect story, like Fin and Lady.
Sometimes it's about the miles and not the scenery.
This thought ran through my brain just a few weeks back as Andy and I hauled ¾ of our worldly goods to Oregon in a 26 foot rental truck with a cab that was saturated in a trifecta of odors: mostly dirty scalp, but there was also a solid suggestion of rotting fruit, and a ton of anxiousness (that part was all me and could not be tossed out like the mushy bag of fruit we found under the driver's seat).   As you can imagine between KC, MO and Lincoln City, Oregon there are some commanding vistas that reach in all directions.  Real spit-sucker panoramas.  But our trip was about the miles and not the scenery.   We needed to get the 2 thousand miles done in 3 days.  Numbers and miles dominated our days and we were determined to wrestle them down.  We had no time to take in the stunning river gorges, jagged mountain ranges, and the clean high prairies.  Good god it is lovely out there.  You could roll around on it, hike over it, bike through it, aimlessly drift in boats forever and you couldn't consume it all in one lifetime.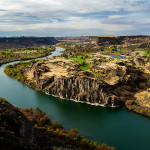 < ===The Snake River Canyon
< ===Mt Hood, The Dalles, and the Columbia River
Because of the house selling, the packing of our goods, the search for a livable apartment and the acquiescing to people who should not be buying a 100 year old house my life has felt somewhat discombobulated the last 6 weeks.  I'm over-busy, fluttery, disjointed.   My eyes feel sandpapery.   There is tiredness in my shoulders that can't be drawn out.  I can't read.  I can't settle long enough in one place to turn the pages, get to know some characters funny or sad, and walk through a subset of their days with them.  It's all because my days are saturated with boring tasks, eternal work, and a pile of nit problems Andy and I must pick away at to accomplish this house unloading.   I can tell when the structure of my life has gone all akimbo because I can't read a book through to the end.   This is why I have not posted in awhile. 
And then, at the end of my Oregon Trail when all our goods were tucked away in the beach house's basement, out of the blue the young woman who had taken on the chore of unknotting my shoulder muscles brought me a book.  She is a real book worm this one.  When I see her in Lincoln City every few months at the spa we talk books as she scrubs my face, kneads my back, colors my hair. In reality, I talk books and she spews books.   She reads several books a week and the ones she finds intriguing she will listen to the audio version during her daily commute between Seal Rock and Lincoln City to get a better sense why that book grabbed her.   (See Seal Rock beach picture below, it is yet another spit-sucker of a place on our planet and must be rolled around on, hiked over, and touched in this lifetime.)  
<=====Ona Beach at Seal Rock, Oregon  — Sunset.
The book she gave me was Divergent by Veronica Roth.  It's a YA fatty that runs several hundred pages and is the first in a trilogy.   Because this post is supposed to be about a book I'll give you this: it's a dystopian world, one in which all people are divided into five factions, and each faction is dedicated to the cultivation of a particular characteristic—Candor (the honest), Abnegation (the selfless), Dauntless (the brave), Amity (the peaceful), and Erudite (the intelligent).  Every year, all sixteen-year-olds must select the faction in which they will live their lives.  Most people choose their own faction because they've been wired for it since birth.  However for all those restless souls a choice other than the familial faction results in parental shunning.  But you gotta do what you gotta do, right?  Beatrice, our heroine, certainly must, that is for sure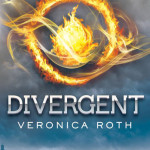 Ah,  Beatrice she is an interesting one.  The author works hard at trying to convince us Beatrice is broken.  And oh my I love my broken female heroines and I was hoping to find a stellar one here.  But Beatrice's brokenness seems to me to be more teenage angst and a bit of stupidity then true brokenness.  I guess that remains to be seen in Book 3.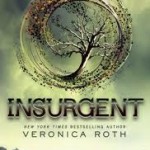 I read the 500+ pages in less than two days.  The second book, Insurgent, focuses on the start the Faction war.  In this book Tris (she changed her name when she joined a new Faction) is wrestling with even more grief and guilt and is dying for truth.   (Still sounds like teenage angst).  She has a hot boyfriend now who has a bad dad.  She may singlehandedly save her world but in getting there Tris is screaming a lot or thinking of screaming and aching for her boyfriend's touch but can't push him away enough.  (Tobias the Hot should have dumped her on about page 300 in Insurgent).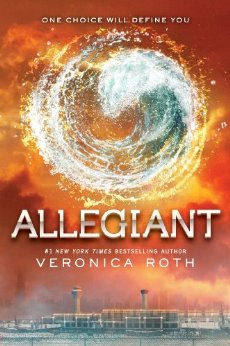 The third book, Allegiant, is coming out in October.  I'm going to read it but I can tell you now I won't love it.  Yet I long to know some answers and I guess in the end I'm not quite done walking (or mostly running in Tris' case) through the days with this heroine.   I hope Tris gets less scream-y.  I hope her boyfriend gets to 'touch' her but it appears from the author notes that our author may be one who drives around with a big fish on her car, so I am thinking the touching may be minimal.  (Again, poor Tobias the Hot).
Here was my revelation of the month: as it is with journeys so is it with books.  Sometimes it's the miles and not the scenery.   Sometimes the state of the world prevents a person from appreciating the scenery.   I was trying to read books with gentle nuances fleshed out by characters that stroll and stumble beautifully rather than those who run blindly shooting and screaming all the day long.  I just didn't have it in me to take the slow journey.   And I can tell you, I was just fine with the 1000 pages of semi-schlock that I was able to consume instead of taking in a long slow drink of the scenery..  But my o my I cannot wait to find the next Glass family.
In a few weeks I will be ready for the scenery.   Margaret Atwood's final book in her recent trilogy has been released:  MaddAddam .  The first two books of this fine dystopian trilogy: Oryx and Crake and Year of the Flood  deserve to be enjoyed.   Give them a shot if you are looking for a scenic drive.
J's Traveling…
Jennifer Egan made Time a character known as "The Goon Squad" in her novel A Visit From the Goon Squad. All of her characters zig and zag throughout the chapters of the book and throughout each others' lives sometimes as old friends or family and sometimes as strangers. Time, The Goon Squad, pops in frequently, a reminder of choices made, a moment gone by here, an event there…opportunities taken and those passed by (perhaps missed). Among other things, the A Visit From the Goon Squad is about how our young selves influence our older selves and others as well.  The Times we live in influence us, and we influence The Times. The Goon Squad lives. You can count on it to call, whether you are aware of the visit, or not.
I'm on an excursion right now. I'm visiting family. Nothing conjures The Goon Squad like extended time with family. It causes you to ponder your very existence: your similar and dissimilar traits, physical and otherwise. How many events had to occur in precisely the right order for you to become the exact daughter, son, brother, sister, aunt, uncle, artist, accountant, conservative, liberal…etc. that you are today? To end up someone different, would a lot have had to change in the sequence of events that led to you? Or were you predestined despite the zigging and zagging of the people and life events (both choice and chance) that came before?
These questions, and others, are pondered both by Kate Atkinson in Life After Life and Stephen King in 11/22/63.
In Life After Life, Ursula Todd is born on a snowy night near London in 1910 with her umbilical cord wrapped around her neck—and dies. In the next chapter she is born again on the same snowy night—and lives. And so it goes—over and over. At first, she lives for only a few days, but as she gets the hang of it, she begins to live longer. Each time she is born as the same girl into the same family of quirky and mostly loveable characters. (Atkinson will make you care about all of them, even Maurice, the despicable and smug older brother is an interesting character). As Ursula gets better at keeping herself alive and sometimes making her life a happy one, she also begins to learn how save people she loves from unhappy endings. Like a Time traveler, she intervenes to protect her beloved housekeeper from the Spanish flu, her brother's future wife from a brutal murder as a child, and in some of her lives she even positions herself to thwart the rise of Hitler and consequently the events of WWII and its aftermath.  At first, Ursula is completely unaware of her role as a fate-changer, but as she matures, she becomes aware of signs, a déjà vu, a nagging urge to zig instead of a zag. She realizes she is destined to repeat Life after Life until Life is as it should be.
I was in the middle of Life after Life when I was selecting an audio book for my family visit. With the idea of alternative universes in mind, I chose 11/22/63, a book I had considered reading when it first came out, but had been put off by its length. (Mr. King might consider employing a more aggressive editor) However, long car ride = time to plug in a 30 CD audio book, set cruise control, and let the narrative stylings of Craig Wasson begin.
(A note about audio books: You will always turn on the narrator. Especially if he or she does anything more than just read the story with appropriate and professional inflection. Actually singing, when the character sings, or trying to read in the opposite gender's voice, are just a couple of reasons you will start hating on your audio book host. And it is right to do so.)
11/22/63 is about Jake Epping, a teacher in 2011, Maine, who finds a wormhole to 1958.  Here's how time travel works in Stephen King's world.
1. Jake steps into the pantry at Al's Diner in Lisbon Falls, Maine, walks toward the spices where he feels the floor give just a bit, and falls into 1958.  The downtown is as it looked and thrived 53 years before.
2. No matter how long he stays in the past, when he returns to 2011 only 2 minutes have elapsed.
3. When he returns to the future, any money and clothing and other small items gained on his travel comes back with him. Yet, it still exists in the past.
4. In the past, Jake ages in real time, so he is actually the amount of time that he spent in the past older than he was when he left upon return to the future.
5.  Each time he travels back in time, the sequence of events starts from scratch. Reset—No one remembers him from before. Any cascade of events he began the last time he visited the past have gone back to the beginning.
6. The past is easy to penetrate. Most forms of identification did not contain photographs. Credit cards were new and more a novelty than necessity. People were generally nicer to and not as suspicious of strangers.
7. In King's world, small differences in past events do not change the future. For example, conversations may vary slightly, but these types of slight mutations in time do not affect future outcomes in a major way.
8.  Big changes—killing someone, for example—do alter the future. Jake tests this by killing a man he knows will commit a mass murder before the man has a chance to commit the crime. He then learns the future of all the individuals involved. It's unclear if they're better off, but they lived.
9. In addition to establishing this fact, Jake also confirms that the bigger event he wishes to change by turning back time, the more Time fights back and throws barriers in his way. King refers to "The Obdurate Past" throughout the story.
So with these rules in place, (and a few just plain "can't explains") Stephen King commences to satisfy the "what-ifs" of his lifetime. He sends Jake out to change the history of the 20th century by killing Lee Harvey Oswald before he has a chance to kill Kennedy, and altering the course of life forever after.
If you do the math, Jake has five years to bide before he can accomplish his mission. He needs to spend it NOT changing so much that The Obdurate Past detects and derails his plan to stop Oswald. Of course not making a metaphysical footprint is easier said than done.  And so goes the story…
A Visit from the Goon Squad, Life after Life and 11/22/63 are all stories that feature Time and all its mysteries. So much to ponder as I barrel down I-80, past outlet strip malls, giant truck stops, and endless fields of corn…boringly linear in my travels.
You can let your own imagination run wild with the paradox of time travel while you enjoy these well spun, yet tangled, yarns.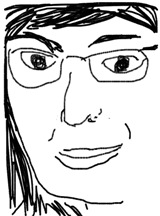 Cathy asks:  What does it take for One Book in One Day to happen?
Well let me posit: Reading one book in one day is the result of a convergence of variables that is worthy of the adjective: miraculous.  One Book in One Day means all these things have aligned in your favor: 1) you have the time   2) you have the right book 3) you are working with the concept of relaxation and not obsessing about the next big milestone (do you hear me Jude?)  & 4) you are surrounded by –more or less- the ideal level of quiet.  If you're extra lucky you will have a 5) readily available cache of appropriate reading snacks.  If you are squashed with fortune, and I mean you are breathing in and out saturated Lucky Day particles all day long, you will have a 6) mighty view where you can lift your eyes, rest them briefly, and consider your characters' predicaments:   Will Laura Ingalls make it home through the blizzard? Is Mr. Darcy too much of a pompous ass for the swell Elizabeth B.? Is The Misfit really going to be that Hard to Find?  Take a deep breath, admire scenery one more time, and push on!  You've got one luxurious day.
(That's JMcI above)
I reread Bright Lights, Big City by  Jay McInerney in a single day about a month ago.  The book was written in 1984 and as we all know it was beloved and celebrated in that decade.  I recalled it as a funny book full of marvelous lines (e.g.:  the scary evil boss has "a mind like a steel mousetrap and a heart like a twelve minute egg";   a late night bar pick-up is "the sexual equivalent of fast food").  And those lines still pleased and kept me reading for more.  McInerney also writes fine characters in this book; you can't help but hold your breath in anticipation of the nightly arrival of the bad news buddy Tad Allagash; you hope the best for the ethereal characters swirling around the Coma Baby story; & you keep your fingers crossed that Amanda the Beautiful develops a thyroid condition or at the very least a bad case of acne.
I still love this book in 2013. There is just one thing that changed for me nearly 30 years after the first read:  I realized Bright Lights wasn't just a deft slice of the 80's culture couched in clever word-smithing.  Rather Bright Lights, Big City is a wonderfully crafted novel about loss and loneliness and the marvel of redemption being offered from unlikely places/insights.  Yeah, it's a common theme but McInerney's language and attitude makes this book snap and crackle, it reads like a jazz riff, it reads all new.   Savvy McInerney closes our window on the outcome of "will he or won't he" at the end of the story but I am still rooting for the best 30 years later.
I usually don't go for books that appear to be chick-lit-y or Jodi Picoult-ish but for some reason I picked up He's Gone by Deb Caletti.  But you know what they say about appearances… I ended up reading this book in one day and I didn't regret that day at all.  On the surface He's Gone offers a standard story line with the plot mostly given away in the title.  But the author cunningly draws back the curtain bit by bit from the start of the story straight through to the end and I couldn't wait to read the next reveal (and there are many).  I hereby nominate Ms. Caletti for Rocky Scramble's first place in 2013 for Pacing in a work of Fiction.
(The clever Ms. Caletti)
Pals: get your perfect book id'ed and wait for the convergence of all things that cradle: One Day One Book.  Jump on in, don't let it pass you by.
That is all on this July 30, 2013