Hope Refreshed/Unwasted Youth
New York trio Hello Mary released their first full-length album this month and it's an early contender for favorite of the year. I have a special fascination and appreciation for three-piece groups and there is a lot to love here. Wonderful shades of Lush and Warpaint tinge the harmonic vocals. There are magnificently noise-driven melodies àla Sister– through Goo-vintage Sonic Youth. And the band plays with the tenacious power of another trio that you may have heard of called Nirvana.
Oh yeah, and two of the members of Hello Mary are still teenagers.
I absolutely balloon with delight and gratitude for their work, like a proud uncle. They are helping to SAVE rock and roll. Maybe we shouldn't be surprised by this kind of prodigious, unwasted youth, and by the maturity of their accomplishments. But when an old like me runs across such sterling work by youngs, my hope for the future, (and not just the future of music,) is joyfully refreshed.
T Cat is a BIG fan, and especially recommends these two songs: Looking Right Into the Sun and Evicted.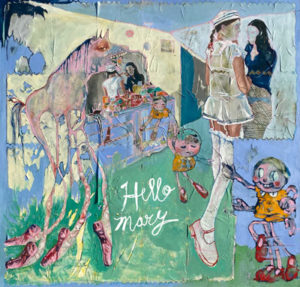 Please consider supporting the group here: hellomary.bandcamp.com
If you are like me and find that this music is so great, you can also expect the group's aesthetic to be in your wheelhouse. Every band photo; the brash, freewheeling videos; and each piece of cover art, poster art, and tee shirt art – all of it seems to have been made for me and for my people. Click the link below to head to the Frenchkiss label site. Scroll to listen to two more rad singles from the self-titled debut from Hello Mary: "Spiral" and "Special Treat".