Monthly Archives:
October 2018
September 29 and October 3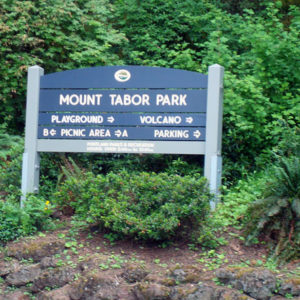 Mt. Tabor Park is the crown jewel of a southeast Portland neighborhood of the same name. The park wears an exuberant carpet of green that runs under tall firs and traverses alongside gravel paths. Tabor stretches for 190 acres and is crisscrossed by multiple hiking, biking and walking trails. It also reaches into the sky; at 650 feet above the Willamette Valley floor you can catch glimpses of the park from lucky parts of the city. The park's most unique characteristic is that it is built on an extinct volcanic cinder cone.
Recently, I have hiked through this city park twice, the first time with Andy on a Saturday morning and then again a few days later with my friend, Lori.
More cool things about this park: the cone is part of the Boring Lava field – which is a network of cinder cones and small shield volcanoes that run from Boring, Oregon to southwestern Washington. Three other cinder cones of the Boring Lava field sit within Portland city limits.
–>Boring, Oregon is a sister city to Dull, Scotland. Boring and Dull couldn't milk that partnership enough so they created The League of Extraordinary Communities and invited Bland, New South Wales, Australia  to join their exclusive club. 
On Mount Tabor there are 3 beautiful open-air water reservoirs and gatehouses, all were built at the turn of the 20th century to supply drinking water to some east Portland neighborhoods. The reservoirs are no longer used for water supply but have been placed on the National Register of Historic Places and must be maintained. In 2011, a man was seen peeing into one of the reservoirs and the resulting citizen uproar led to a decision to drain that reservoir's water, costing about $36,000 to do so. There have been other grumblings of money mismanagement regarding the reservoirs but that story is one of the juiciest.
I checked with my friend Janet, who is a water scientist for Portland, to confirm that what I had discovered about the reservoirs and the peeing incident was correct. "True," Janet confirmed, but she also shared that the continued maintenance of the reservoirs is not assured. It's expensive and just because people in the Mt.Tabor neighborhood like the reflecting pools they've walked around for years doesn't mean that the Parks Department is willing to support this indulgence forever. In anticipation of the eventual shut-down requests have gone out on what do with the reservoirs.  Many proposed designs have been eccentric and over-the-top (to be expected?) but one that captured Janet's imagination: pipe the hot mineral water that may be flowing beneath the lava field into the reservoirs and create public hot springs. I love this idea, Portland as Reykjavík South.
Mount Tabor Park also has a well outfitted playground, an outdoor amphitheater, basketball and tennis courts, softball fields, and the requisite statute of an old dead white guy, Harvey Scott who was a local newspaper editor. Lori shared this bit of wisdom as we walked up to the statue during our hike, if we moved Harvey off his pedestal and looked at him straight on, his head would look as if he was suffering from hydrocephalus, which by the way no one suffers from any more, because of shunts (Lori knows this stuff, she is a nurse). Lori clarified, sculptors create them with very big heads and put them on pedestals so as we gaze up in awe, the perspective looks right. A side note, Harvey Scott's likeness, including his boulder-sized head, was created by Gutzon Borglum while he was at work on the Mt. Rushmore presidents.
Mount Tabor Park is home to an annual Adult Soapbox Derby. Every year home-made cars, some of which go as fast as 50 miles per hour, race down the cinder cone. This year over 40 people registered for the race which is seven-tenths of a mile. I have seen the videos. Race Day looks to be my kind of fun with its hints of cartoonish danger, clever car designs, and costumed drivers who are urged on from the sidelines by their slightly inebriated but enthusiastic buddies. This is not a sanctioned city park event, but has grown in popularity, and exaggerated pomp and circumstance over the last 20 years.
→An aside, my advice to someone looking to settle in a new city would be this: live in a place that is not afraid to be a bit silly.
Andy and I hiked through Mt. Tabor on a Saturday morning and covered 4 miles of trails. Different from hiking in wilderness where views consistently open to broader expanses of nature, this urban hike presented phenomenal cityscapes. Mt. Tabor has well-placed park benches and we passed people taking time to look back on their city. I am slow to realize things, and it took me until I was 60 years old to understand nature can also help us appreciate the constructed world. It is obvious the architects of the park took time to make this point by laying out key landscape features to frame city views.
The biggest activity in the park the day Andy and I hiked through was being driven by a large group of park volunteers. The volunteers were prepping the park for autumn and cleaning up the causalities of a long hot dry summer.
–>Here's another bit of advice I'd give to someone looking to move to a new city: consider someplace that is not afraid to be silly and where volunteering and activism is as common as the rain.     
My second time through Mt. Tabor Park I hiked with my friend Lori, who was touting a Victorian style knee brace. But Lori is ever the optimist and I am not quite sure what would ever slow her down. During our walk she found something else injured, a lamppost, and we admired people's futile attempt to save it (more silliness).
I am learning something about feet-to-ground (hiking/walking) and hands to ground (yoga) that sparks my mind and memory. But I don't have much more to say than that right now, I'm still figuring it out, & maybe there is nothing more to it than just that. I can say that Lori and I talked for 4.5 miles and 28 stories (iphone app) as we randomly moved from trail to trial. It was a stunning fall day enhanced by the surrounding nature, a vibrant friendship, and perfectly framed city views.
Urban hiking involves sharing the road a little more than hiking in the forest or on remote spits of sand. There are children, hordes of volunteers, and cyclists all of whom can step into and out of your path from moment to moment. But rather than this feeling like a nuisance, it really is a glorious mashup of nature, fellow citizens, and the city that surrounds it.
Sometimes only hyperbole will do.
Adrianne Lenker has made abysskiss, the greatest, most timeless sounding guitar folk record since Nick Drake's Pink Moon. Lenker recorded her new masterpiece, abysskiss, in one week. (She sometimes performs as the singer and guitarist of Brooklyn band Big Thief.)
Dripping with glorious minor keys and chords, the songs are delivered as easily as breathing. There are ten jewels to wonder at, given in 34 minutes. Upon finishing listening, the feeling one gets while rushing to restart the whole enterprise is that someone has just spent a half an hour sharing with you her most beautiful secrets, her most marvelous observations.
Nothing Lenker presents us with seems remotely forced, rushed, or insincere. In addition to Nick Drake, there are pleasant reminders of other artists. She invokes Mark Kozelek when he is at his kindest, Elliot Smith at his breeziest, Suzanne Vega at her barest, most stripped-down confessional.
Incredible playing and singing. The song's effects are heavenly; almost sacred. But the effects are formed by this generous artist's acute observations of the earth, and her stunning willingness to lay them open to us.
How could a better set of songs have come to us in autumn, when the spinning world turns crisp and colorful and we contemplate the plays of light and shadow between bright days and long nights?
Here are two to try by Adrianne Lenker from abysskiss (2018 Saddle Creek Records):
23 october 2018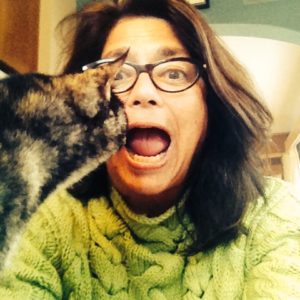 Bye summer 2018. It was a trying one; a summer that delivered a mountain of crummy things but once we got over it all, well the other side seems, for now, all sunshine and pirouetting daisies.  Despite the summer rigmarole I read an armful of books that provided constancy while the rest of the summer tumbled onward willy-nilly. Here are a few recommendations:
Shirley Jackson had it rough throughout her too short life and if you read her biography, A Rather Haunted Life, you will see what likely gave rise to her horror stories, many of which centered around 'home' or 'house' or 'hometown'.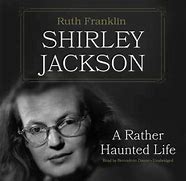 A Rather Haunted Life aligns to a theory I have that women of the Silent Generation are the saddest generation of all women (it includes women who were born after WW1 through 1940 or so). They were told things like –now you can vote! yes, we will accept you to college!– but they weren't supported in those things and it took extraordinary women to vote their minds, go to college, and take paying jobs that were
often beneath their abilities and/or education. This was the generation of women who felt they had no choice but to leave a job when they had their first child, or they were fired for getting pregnant in the first place. And the truth is most women of the Silent Generation moved from their family's house straight to their husband's house. It took decades of incremental changes to bolster the opportunities women of the Silent Generation were told were theirs for the taking. The stacked deck of society really screwed with these women's expectations and dreams. I  think this made them very sad, a lot frustrated, and a little bit crazy (check: my mother, Carmen Esperanza b. 1931). In the 70's things started to change, here are two small examples that helped make opportunities more fair.
1974: Equal Credit Opportunity Act: Until then, banks required single, widowed or divorced women to bring a man along to cosign any credit applications.
1978: The Pregnancy Discrimination Act: Until this law, women could be legally fired for being pregnant.
Shirley Jackson was a bright young woman born to an unstable society mother who discouraged Shirley's intellectual development, made fun of Shirley's looks and weight, and even went so far as to say she wished she would have aborted Shirley. Nice, mom.
After those agonizing years with Mom, Shirley married Edgar Hyman, a writer for The New Yorker and a professor at Bennington. Things weren't much better at her second home. Edgar had many affairs, mostly with his ex-students (nice hunting ground, Edgar). And Shirley ended up having numerous children, 4 to be exact. She also kept a sloppy, disorganized home, which drove her fastidious adulterous husband nuts, and in the thick of all that, Jackson produced stellar horror fiction, which today is still critically acknowledged.
Jackson is probably best known for her short story "The Lottery", originally published in The New Yorker in 1948. You've read the story if you are an American of either the 20th or 21st century, but you may not know that Jackson's provincial Vermont neighbors were used as the prototypes for the creepy townspeople in the story.
Shirley Jackson wrote that when she went to the hospital to deliver her third child, the admitting admin asked for her occupation. "Writer," Jackson said. To which the admin responded, "I'll just put down housewife."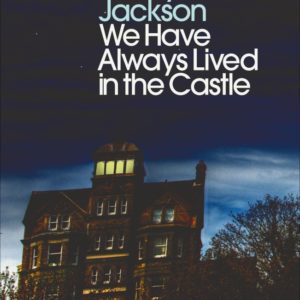 Jackson is the author of two slim novels I read this summer, The Haunting of Hill House and We have Always Lived in the Castle. Both are wonderfully gooey Gothic horror / witchy ghostly treats. And in both novels clever talented women are trapped in decaying or haunted homes. You should read both books; the novels are straightforward and superior horror stories that would be fun to read around Halloween. And if you are interested in biographies on the unique ways in which talented women writers thrived and failed in pre-1970's America, Franklin's A Rather Haunted Life, is mesmerizing.
I read other books about women in their houses this summer. Circe by Madeline Miller is the story about the goddess witch who was banished by her father (Helios) to an isolated island, Aeaea. I know nothing of Greek Mythology, but Miller's retelling of Circe's life was captivating. I am ready to learn more.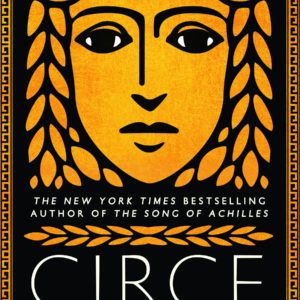 Miller reconstructs Circe's childhood and imagines the roots of Circe's personality and witchcraft. As a young goddess Circe is mocked by her more elegant and powerful family members. Because her family makes Circe feel like such an outsider, Circe escapes their presence often and wanders outdoors alone. On a sunny morning she meets a handsome human sailor and falls in love so completely she creates one of the world's first spells capable of turning a human into a god. Circe's witchcraft is found out and she is banished by her father and Zeus.
The novel takes a feminist lens to Circe's life, which I imagine was not how Circe's story was originally told. Here's one of my favorite parts: vulnerable because of her isolation and banishment, sailors come ashore to Circe's island and surreptitiously plot to take advantage of her and her hospitality. To protect herself, Circe spends a millennium perfecting her potions and spells. My favorite: she turns would-be rapist sailors and thieves into pigs.
Here's another favorite part, Circe creates a lovely home for herself, stocked with fine cloth, bottles of wine, stores of scrumptious food, and gardens of herbs (not to mention a teeming sty of pigs). So, as her life on Aeaea progresses, Circe's isolation enables her to flourish and create a magical safe home.
Circe is a sprawling tale and Miller's writing adds layers to Circe's story with many different personalities I've heard of but never had a reference for (characters like Pan, Helios, Minotaur, Daedalus, and Circe's second great love, Odysseus). My guess is that Circe will be on many of the Best of 2018 list.
Goodbye, Vitamin is Rachel Khong's first novel and I look forward to her second. This is a story of a young woman, Ruth, recently dumped by her finance who is asked to come home to her parent's house to help with her father, who is suffering from dementia. It is a sad, serious subject especially since Dad in this case is a cheater and taking care of the old philanderer stirs up conflicted feelings in Ruth and Ruth's mom.
This book smartly lacquers the bright over the dark by adding love interests and fun friends. The diary format keeps the story light and moving along. If you pick this book up to read, you'll finish it in a day.
Prairie Fires: The American Dreams oF Laura Ingalls Wilder by Caroline Fraser dispels the idea that the life and times we read (and watched) of the Ingalls' family in the Little House books were an accurate portrayal of their life. Fraser's well-researched book examines the Little House mythology by factually tracking the Ingalls family difficulties as they tried to build a sustainable farm in a variety of places.
Fraser brings in a broader historical context in her book as she tracks the Ingalls' pioneer life, and while it was less than ethically stellar, it wasn't much different from what other pioneers did as they settled the frontier. The result of all this detailed research and expert storytelling is not just a great biography but also a disturbing book on How the West was really Won. This book is a great read, and an eye-opening one too.
Remember Patrick DeWItt the author of The Sisters Brothers? His newest novel is called French Exit and I just finished it. It's funny; it's a comedy of manners set in present time. I'll tell you just a few things about the story. There are 3 main characters, Frances, Malcolm, and Small Frank. Frances is a wealthy 65-year-old New York socialite who is running out of money rather quickly. Frances is also mother to a 32-year-old man-child named Malcolm, who is loveable despite his bored detachment with everyone and every place. And then there is Small Frank who is an old decrepit black cat that really is Frances' dead husband, Franklin.
I'll tell you another thing about this book, French Exit is a phrase used to describe the situation where someone covertly leaves a party or formal event without saying goodbye to the hosts and friends. The book opens and closes with a French Exit. And between the start and the end you'll meet all other kinds of reckless, charming, and eccentric characters. And I would wager you'll have a big smile when you read DeWitt's 4th novel.