Monthly Archives:
June 2019
It's time to embrace some witchy summertime grooves. Vanishing Twin is a project based in London, but whose members include French, Italian, Japanese, and British musicians. This variety of nationalities and backgrounds has certainly contributed to the wild diversity of influences and sounds that can be enjoyed on the group's new release, The Age of Immunology. Beyond calling this music experimental, it is nearly impossible to classify.
As happens repeatedly on this page, it is not a reach to compare Vanishing Twin to Stereolab. The group likewise pulls from the same bag of tricks that Stereolab successfully used to combine everything from jazz to French yé-yé to swoony Bacharach-styled lounge music. Another clear influence is Broadcast. (One of the members of Vanishing Twinis Phil MFU, [Man From Uranus,] who worked with Broadcast.) Both acts share a super-cinematic, deeply psychedelic vibe with the spacy, noisy sensibility of kosmische Musik.
Cathy Lucas is the main vocalist and our contextual guide through these songs. She also plays violin and mandolin as well as other instruments. She started Vanishing Twin as a solo project in 2015 after working with other bands including Fanfarlo and Innerspace Orchestra. Now she has grown the outfit into its current cosmopolitan form.
She is also a survivor of a medical syndrome called vanishing twin. At around age 12, Lucas learned that before her birth, her mother had been pregnant with twins. As happens in roughly one out of every eight multiple pregnancies, either the mother or the other fetus resorbed the other fetus(es) when it/they discontinued developing. As a result, a single surviving baby is born, and for some of these people, there is a sense of survivor's guilt. The name for her project comes from her very fascination, and her existence in this light seems to provide Lucas with ample material for meditating the implications of 'what might have been….'
Nearly everyone at some time entertains thoughts of what might have been. Those meditations can, in some cases, land one in a great imaginative playground of memory. What might have happened if I had actually made a move to such and such city? What if I had pursued this dream, or that one? How might my life have played out, if only… In other cases, those meditations can place one in a battle zone of mental anguish and regret.
You will hear new things upon each listening. One haunting aspect of hearing much of Vanishing Twin's music is how much Lucas's voice reminds of the great Trish Keenan who died in 2011 and created so many masterpieces with her band Broadcast.
This is somehow dark and bubbly at the same time. Give these tunes a try and let the groovy séance begin.
Magician's Success and KRK (At Home in Strange Places) from The Age of Immunology by Vanishing Twin (June 2019 Fire Records).
Come On Let's Go by Broadcast from The Noise Made By People (2000 Warp Records).
And of course – here is this.
Coming Down and Hard Coming Love by The United States of America from their self-titled record (1968 Columbia).
23 june 2019
Bright Young Things
Nancy Mitford was born in 1904 into an eccentric aristocratic English family and was the oldest child of six fabulous sisters. It is pure pleasure to read about their rambunctious lives and there are plenty of books from which to choose, like: The Six: The Lives of the Mitford Sisters by Laura Thompson and The Sisters: The Saga of the Mitford Family by Mary Lovell. There are more.
In 1920's London the press tagged a group of notable young bohemian aristocrats as Bright Young Things. It is not a surprise, given her background, that Nancy Mitford became a part of that crowd after her public debut. As a part of that crowd she got to pal around with the likes of Evelyn Waugh –who became her lifelong friend and supporter.
Nancy Mitford's claim to fame was her writing (a couple of her sisters were famous for more notorious reasons) and this summer I picked up her first novel, Highland Fling, which was published in 1931. Nancy's novels are what many of us look for in a summer read, witty fun. The world Nancy shares in Highland Fling is long gone, but her set-ups and send-ups are ageless, and her wit is still fresh and snappy.
Here's my armchair psychologist hypothesis, a person who longs for romance and never finds it is able to write the most charming love stories. In order to appreciate Mitford's novels fully, readers should know a little something about Nancy's love life.
Nancy's first disappointment in love was a long-time infatuation was with a Scotsman who had no interest in being the object of any woman's affection. She ended up marrying her second disappointment in love, Peter Rodd, who was by all accounts a philandering bore. It may have been during her marriage that Nancy quipped: "If one can't be happy, then at least one should be amused." It is likely that Peter failed even to amuse because the couple separated during the Second World War and later divorced. Finally, Nancy moved to France to continue an on again/off again affair with Gaston Palewski, a general and chief of staff for de Gaulle. Wikipedia calls Palewski a "notorious and reckless womanizer".
Nancy got her payback in her novels by poking sly fun at the men who hurt her heart. And Nancy's clever sendups of her failed loves means trickle-down snarky goodness for us.
In Highland Fling a group of incompatible and odd characters are brought together in a Scottish castle for an annual hunt. The Bright Young Things play pranks and mock the old and the gouty (the other half of the party) throughout the story. The snippets and snipes between the characters are delightful. There is a simple love story in there too and this novel is an indication of what Nancy would deliver in The Pursuit of Love and Love in a Cold Climate, two of my all-time favorite books and published about 10 years after Highland Fling.
I would certainly start a Mitford reading spree with The Pursuit of Love and Love in a Cold Climate, they are quick and clever reads that poke fun at dullards, shine a loving light on the screw-balls, pay little heed to the inner lives of the characters, and create some of the best comedy of manner situations put to page. Mitford is on the top of her game in these two books. In Highland Fling she is simply clearing her throat, but it still entertains. Summer could not be cooler with some Mitford on the deck along with a tasty cocktail that had its birth sometime between the two big wars.
21st Century Bright Young Things
Sally Rooney, the author of Conversation with Friends and Normal People, has been dubbed the newest Bright Young Thing (although I think I am the only one who has used that moniker because there is little doubt Rooney would protest mightily at being called a 'thing'). To be precise, Rooney has been called the Voice of Millennial Fiction and The Salinger of the 21st Century by people who count.
As I read Conversations with Friends and it struck me how much Rooney's work was Mitford-like even though there is an eighty-year gap between the two -so the social constructs and commentary are very different. But like Mitford's work, Rooney's book is centered on developing relationships between lovers and the changing power structures inside those relationships. Her plot is not complicated, but her characters are.
Conversations with Friends is set in Dublin and the novel opens at a poetry night where Bobbie and Frances, two of the four main characters in the story, have just finished a joint performance. They are best friends and former lovers still attending university. At the end of the evening they meet Melissa, a famous photographer and Melissa asks the two women to her home for drinks. Almost immediately Melissa and Bobbie are drawn to each other and the story springboards from their first lusty interactions. This of course leaves Frances (the narrator) and handsome Nick (Melissa's famous actor husband) with some time on their hands…
Conversations with Friends is a whip-smart examination of modern relationships in all their machinations. This book is a great summer read –it's an easy page-turner and yet is filled with youthful insights and millennial wit.
Remember me?  I've been absent from Rocky's pages the last few months. I've been meaning to get back to you and so my first selection to tell you about is appropriately named Remember Me by Sophie Kinsella. Back in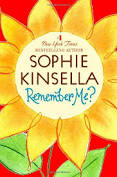 June, this book caught my eye because the cover had a light and readable look to it. Summer book reading often makes me think of page-flipping, so I took a looksee. The synopsis –  Twenty-eight-year-old Lexi finds herself in a hospital to learn she's been in a coma. The last thing she remembers is a boyfriend nicknamed "Loser Dave," and working as a low-end sales rep in New York. But when she awakes, her handsome and wildly rich husband (who is not Loser Dave) takes her home to their penthouse, and four years have passed. Whaaat?
I had a couple of snobby reservations after reading the back-cover summary.  This book could be one of those that  makes light of brain injury (a serious subject) for the sake of a hokey plot.  Remember when Gilligan gets hit on the head with a coconut, loses his memory, and then regains it when he gets hit on the noggin with a second coconut. Hilarious.
And one more pause after a look at the inside cover…  Other works by Kinsella included a whole series of  "Shopaholic" books.  Reading snobbery was kicking in.
But why not take a look?
What I found was exactly what the fellow-author blurbs promised. A light and readable book. And while the plot may have been a bit of a stretch, the brain injury facts were fairly authentic. Kinsella takes the concept of retrospective amnesia, the loss of memories before an injury or onset of a disease, and gives it a writer's stretch. It works.
After waking from her coma, Lexi discovers not only that she is married to a rich and amazing looking husband, she also discovered that she has worked her way up to a vice president position at her company. GREAT!  In addition, she discovers that in getting to where she is now, she alienated all of her friends. And one more thing… she may have been cheating on her husband with one of his colleagues.  NOT SO GREAT. And she is miserable. Readers, along with Lexi, spend the next couple hundred pages piecing together the four years she lost, hoping she can win back her friends, keep her job, and find true love. SPOILER ALERT – all looks promising in the end.
I'm not telling you you must read this. But if it was on a shelf at a beach house, you could do worse than to pick it up spend a few hours with it.
Continuing with a similar, yet more serious them, next I read the non-fiction Brain on Fire, My Month of Madness by Susanna Cahalan. At age 24, Cahalan was an up and coming reporter at the New York Post. She had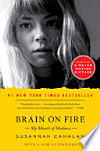 worked there in some capacity since she had first earned an internship as a teenager.  Given the prestige of the paper, we read, as well as infer, that Cahalan is smart, driven, and successful.
Written first person by the author, the book opens with Cahalan's memory of being in a hospital bed, agitated, and restrained. She recounts the days up until this point. She had been displaying conduct that wasn't her norm, but not necessarily out of the question if one was having an "off day." She was overly emotional. She was apathetic about starting projects. She was having jealous and paranoid thoughts about her boyfriend's ex-girlfriend.
Atypical behavior for her, but everyone has stressful stretches of life when they are not quite themselves.  Serious work burnout, a manic episode in a yet undiagnosed bipolar disorder, substance misuse/abuse, hormonal imbalance… all of these could cause a change in personality. And all of these possible causes were on the table.
But it turns out it was none of these and Cahalan's behavior continues to take a nosedive. She has pieced together her story from medical records, interviews from friends and family, and her own journal. During these weeks she had short term memory loss, hallucinations,  paranoid thoughts, and panic.
Her case was so complicated it mystified expert after expert until finally a neurologist, Dr. Souhel Najjar, determined she had a rare encephalopathy brought on by an autoimmune deficiency. Had she never been diagnosed and treated for this, Cahalan would have continued to live on in a fog forever. The book ends with an account of the long recovery back to her normal self.
I always find books about the brain body connection interesting especially those about what happens when that connection goes haywire. If you are too, this might be a read for you.
And now for something completely different.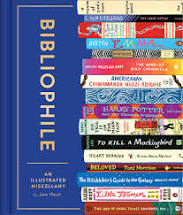 I picked up a copy of Bibliophile, an Illustrated Miscellany by Jane Mount because I was attracted to the cute drawings on the cover. I ended up reading every word. The author/ illustrator compiles lis
ts of books in various categories from most read, favorites, sci-fi, self-help, cooking… and reading related lists such as cool libraries, notable independent bookstores, literary pets…and more. It is interesting, charming, and fun to tick off the books you've read. If you come across this one in your library or local bookstore, find a chair and plan to spend some time with it.
That's all for now scramblers. I'll try not let it be too long before I check in again. Until then, Happy Reading.