It's time to embrace some witchy summertime grooves. Vanishing Twin is a project based in London, but whose members include French, Italian, Japanese, and British musicians. This variety of nationalities and backgrounds has certainly contributed to the wild diversity of influences and sounds that can be enjoyed on the group's new release, The Age of Immunology. Beyond calling this music experimental, it is nearly impossible to classify.
As happens repeatedly on this page, it is not a reach to compare Vanishing Twin to Stereolab. The group likewise pulls from the same bag of tricks that Stereolab successfully used to combine everything from jazz to French yé-yé to swoony Bacharach-styled lounge music. Another clear influence is Broadcast. (One of the members of Vanishing Twinis Phil MFU, [Man From Uranus,] who worked with Broadcast.) Both acts share a super-cinematic, deeply psychedelic vibe with the spacy, noisy sensibility of kosmische Musik.
Cathy Lucas is the main vocalist and our contextual guide through these songs. She also plays violin and mandolin as well as other instruments. She started Vanishing Twin as a solo project in 2015 after working with other bands including Fanfarlo and Innerspace Orchestra. Now she has grown the outfit into its current cosmopolitan form.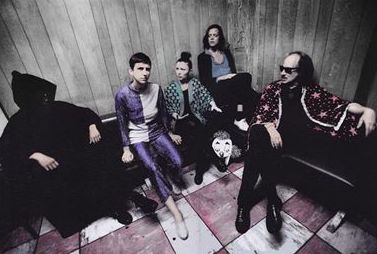 She is also a survivor of a medical syndrome called vanishing twin. At around age 12, Lucas learned that before her birth, her mother had been pregnant with twins. As happens in roughly one out of every eight multiple pregnancies, either the mother or the other fetus resorbed the other fetus(es) when it/they discontinued developing. As a result, a single surviving baby is born, and for some of these people, there is a sense of survivor's guilt. The name for her project comes from her very fascination, and her existence in this light seems to provide Lucas with ample material for meditating the implications of 'what might have been….'
Nearly everyone at some time entertains thoughts of what might have been. Those meditations can, in some cases, land one in a great imaginative playground of memory. What might have happened if I had actually made a move to such and such city? What if I had pursued this dream, or that one? How might my life have played out, if only… In other cases, those meditations can place one in a battle zone of mental anguish and regret.
You will hear new things upon each listening. One haunting aspect of hearing much of Vanishing Twin's music is how much Lucas's voice reminds of the great Trish Keenan who died in 2011 and created so many masterpieces with her band Broadcast.
This is somehow dark and bubbly at the same time. Give these tunes a try and let the groovy séance begin.
Magician's Success and KRK (At Home in Strange Places) from The Age of Immunology by Vanishing Twin (June 2019 Fire Records).
Come On Let's Go by Broadcast from The Noise Made By People (2000 Warp Records).
And of course – here is this.
Coming Down and Hard Coming Love by The United States of America from their self-titled record (1968 Columbia).
23 june 2019