Monthly Archives:
June 2018
Hola Scramblers
Hope you're all having a swell holiday weekend. Summer is here. Hail summer!!! It's time to sit on the patio in shorts and a t-shirt and your flip-flops and drink cans of Miller Light like it's pop.
I'm sorry about the long time it's been since I posted anything. Part of the reason is I had such a busy semester at work. I took on a couple of extra responsibilities and I kind of had guilt feelings when writing anything that wasn't work-related. And too also, (as Matt and I like to say to emphasize the coming excuse) … I didn't have much brain space for reading. I've read a scant five books since January, I'm ashamed to say. I started many. But if they required too much thinking, I quit. I quit some good books I hope to get back to one of these days.
With my summer semester about to begin after Memorial Day, I thought I'd take advantage of some rare free time to tell you what I've read recently, just to keep in touch.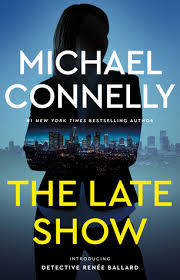 A local book reviewer who writes for the Lincoln Journal Star often reports on best sellers. Sometimes I'll take interest in a book he likes and so, on the recommendation of Dr. Francis Moul, I picked up The Late Show by Michael Connelly. It's a detective story. It's got good detail, a lively pace, and a likeable interesting main character who doesn't take any shit– Detective Renee Ballard. I like getting in at the beginning of a detective series, even though I'm unlikely to keep reading after book number two or three. I can't tell you that you are in for any break in the detective genre formula, but if it's an engaging readable story you're after with a couple of light surprises, grab this one and head to the (name your summer reading location here). This one will keep you turning pages but not use up too much brain space.
Last week I picked out a sci-fi book that looked kind of interesting. Flipping through it, I thought it seemed like a fun quick read. No wonder, it turns out Honor Among Thieves by Rachel Caine & Ann Aguirre, is a YA book. But I guess that's about my competency level right now, so I kept reading.  The first part of it, I think, is a pretty blatant knock-off of The Hunger Games. The main character Zara Cole, is a hard scrabble teen, taking care of herself and a band of others by any means she can. She lives in "the Zone," a tough part of New Detroit, where this futuristic story takes place. While on the lam for committing a serious crime against a well-known dangerous gangster, the one thing she can't escape is the constant streaming media hype about the return of the latest "Honors" and the big question about who will be selected as the next "Honors."  Honors are the few individuals selected from each region to be passengers on living alien ships called "Leviathons." They're called "Honors" and it's supposed to bean honor to be selected. Honors are typically outstanding in math, science, or music. Even though Zara is rough around the edges, it's not surprising (to the reader anyway) when she is selected as and Honor and it's in her (and her family's) best interest if she joins the Program willingly. See the obvious parallels to Katniss and the Tribute situation in The Hunger Games? Even some of the pomp and circumstance surrounding the Honors process feels Hunger-Gamey.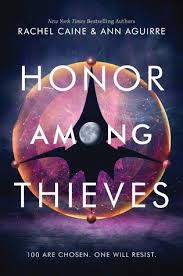 The Leviathons, too, are not entirely original. They remind me of the Cylon ships in Battlestar Galactica, which were not really mechanical ships, but biological creatures – the flying version of the former androids-turned sentient beings. The Leviathons of this story have more personality than the flying Cylons of BSG though, and I like Zara's Leviathon a lot. Its name is Nasim, and unlike evil power-hungry HAL from 2001: A Space Odyssey (another ship that had a personality and yet another copy or tribute to sci-fi stories that came before – however you want to look at it), Nasim is seemingly an angsty youthful version of the full-grown mysterious race.
Zara and her Honor partner, Bea, live inside Nasim while they cruise around the universe. Nasim hosts them and makes special  and pleasing personal places for them to be during their journey. The purpose of the Honors Program is for ostensibly for humans to learn about the universe from the Leviathons. However, it is not quite clear what stake the Leviathons have in mentoring the humans in this manner.
You know I don' t like to give away endings, and in this case, I can't because I'm only half way through Honor Among Thieves. I can tell you that Zara and Nasim seem to be in love, which is really interesting given that Nasim is an enormous living alien ship and like Jonah in the belly of the whale, Zara lives within. I think Nasim is being bullied by older meaner and probably malicious Leviathons, so is hiding information from Zara. I think some sort of War is at hand and Zara, unknown to her, is the key player. The authors have created an interesting foundation on which the story can move forward. This should easily carry me through the holiday weekend with brain cells needed to start Summer courses intact.
How about you, what are your Summer reads?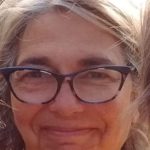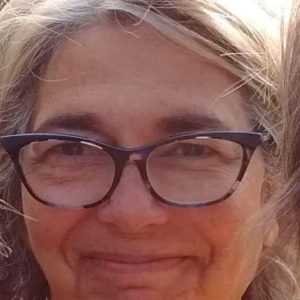 Happy Summer friends. I have a great pile of books just finished and a small mountain of new ones looking like a stack of colorful gift boxes. And now I have a favorite summer reading chair, so I couldn't be more delighted with the season or better situated.
I hope you can find some time to stake out a proper summer reading chair too (if you haven't already) and then settle in with a cool drink and the warming sun on your face. Finally, consider these books to ramp up the pleasure on a perfect self-indulged summer day.
Little Fires Everywhere > Celeste Ng
Priestdaddy > Patricia Lockwood
Sarah Conley >Ellen Gilchrist
My Favorite thing is Monsters > Emil Ferris
The Kind Worth Killing > Peter Swanson
Let me start with Celeste Ng. Ng's storytelling is like a broken necklace that slowly releases its shiny perfect pearls in a steady drop drop drop your way.
Ng begins Little Fires Everywhere with the ending — a house fire has likely been set by the youngest child of a 4-sibling pack. Ng uses this slick trick to engage readers immediately – she shares one of the biggest story revelations within the first sentences and the reader is left to wonder "why"; you just have to carry on, you must keep collecting those pearls. Celeste Ng's first novel, Everything I Never Told You, begins like this: "Lydia is dead. But they don't know this yet."
The book and the author.
There is a passel of high school kids roaming the pages of Little Fires Everywhere, and their friendships are the heart of this book. But the key drivers are 3 very different mothers — an affluent suburban mother, a mysterious and itinerant artistic mother with urban roots, and a vulnerable immigrant mother.
The story is set in Shaker Heights, Ohio which is a planned community built in the early 20th century. Wikipedia told me that Shaker Heights is known for its strict building codes and zoning laws which maintain the town's unique identity. About 75% of the area is listed in the National Register of Historical Places. It's obviously a unique and affluent city. Ng spent part of her childhood there.
Mix the children, the mothers, and the city all together and this story becomes one centered on how a quintessentially American city turns for those women and children with a privileged sense of "home" and for those women and their children with no such privilege.
You can't go wrong with either Little Fires Everywhere or Everything I Never Told You.
Oh man, please please pick up Priestdaddy and read it. I am so interested in your opinion. It is a memoir written by a young woman named Patricia Lockwood, who perhaps sees herself more as a poet than a writer but she is both. Priestdaddy is her first book and in 2017 The New York Times named it one of the 10 best books of the year. Imagine that accolade for your first book.
Did you know that the Catholic Church allows married men to become priests? They do, but only under this condition, if they were ordained in another Christian religion and then discover they have a calling to the mighty Holy See. This is exactly what happened to Patricia's father. He was a Lutheran minister drawn eventually to a Catholic vocation but only after he spawned 5 children with his eccentric funny wife, Karen.
Priestdaddy starts like this:
"Before they allowed your father to be a priest," my mother tells me, "they made me take the Psychopath Test. You know, a priest can't have a psychopath wife, it would bring disgrace."
She sets a brimming teacup in front of me and yells, "HOT!"  She sets a second one in front of my husband, Jason, and yells, "Don't touch it!"
I started Priestdaddy as an audio book with Patricia reading her own story. But the words she read were so luminous and funny that I felt compelled to look at those words on paper.
Patricia is young so her memoir isn't a traditional one and she does not follow a linear path in the telling of her story. The book is closer to a David Sedaris collection than a modern memoir. You'll find a bit in each chapter that will make you laugh aloud or at the very least there will be passages that will draw a long and easy smile from you.
Here's an interesting aside about Patricia, she wrote a poem called "Rape Joke" in 2013 before she wrote Priestdaddy. It made her a little famous on the interwebs. I found the poem online and it will draw your body taut as you read.
Patricia Lockwood is new to me and her words are lush and they sparkle and I savored each chapter and experienced pleasure, yes pleasure, in reading her work. Ellen Gilchrist is not new to me. I've been reading her books for more than twenty years. Words like "lush"' or "luminous" are not words someone would use to describe Gilchrist's style.
Ellen Gilchrist does however tell her stories like a seasoned dart thrower; her language is undecorated and plain like the old neighborhood pub and her sentences come at you in short speedy staccato throws.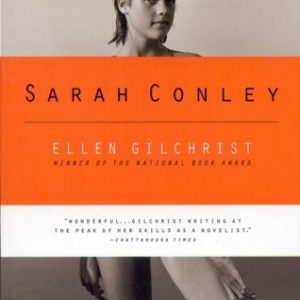 Here's how I got turned on to Gilchrist. Somewhere somehow in the first years of the 1990s I came into possession of an early collection of Gilchrist short stories, one of which used Lincoln's Zoo Bar as a partial setting and a real-life Lincoln murder as the subject of the story. The story focused on the killer/husband and the victim's marriage. A few years later I would come to know the lawyer who had been asked to defend the killer pro bono. This is how small the world is.
Gilchrist's key protagonists are usually brash and gifted women from eccentric southern families. They have great capacity to love, are magnificently desirable beings, and have endless strength to move on in search of more despite the trail of emotional detritus they know they will leave behind.
Sarah Conley is not a recent book. It was written in 1997 but it was displayed prominently in a used book store I wandered into recently and when I spied it, I was felt an old familiar longing for the Gilchrist girls and the Gilchrist style.
In Sarah Conley, Sarah and her best friend, Eugenie ( both are beautiful and brilliant of course and at least one comes from a rich family), marry two handsome brothers. Surprise, both women are in love with the same one, a fellow called Jack. But since Eugenie saw Jack first, she gets Jack (plus Eugenie is the rich one and so is Jack and so it goes) and their marriage is prosperous and long lasting. Sarah's marriage falls apart though and along with that she loses custody of her son. Sarah resorts to channeling her anger through the creation of successful novels that are poorly disguised rehashings of Sarah's youth spent with Eugenie and the brothers. The crew splits apart and Sarah is cast into the sea of Yankeeland.
Cut to the middle of the story and we see Sarah, now 50 years old and an editor at Time magazine. Eugenie lies dying in a hospital bed down South. After a deathbed makeup scene between the two women and a tearful goodbye, Sarah and Jack immediately hook up and decide to marry. But then Sarah is offered a screen writing gig in Paris…
As I said, it's been awhile since I've read a Gilchrist book and this one seemed more abrupt than others and the characters felt a little colder, a little shallower. Yet I raced through the pages every night, not because I wanted to finish it, but because I wanted to learn what happened. I still believe in the Gilchrist girls and there is something Gilchrist consistently touches in me that wants her characters to end up happy (even though they are mostly spoiled asses).  But it comes down to this, this is summer reading fodder at its best –Ellen Gilchrist's pop romances set comfortably against a gooey Southern Living backdrop. But maybe try reading Victory over Japan or Net of Jewels or Rhoda before Sarah Conley.
Wow, talk about summer sleaze. I listened to The Kind Worth Killing on Audible and sorta hated myself for liking it but honestly, I really liked it. This book is fast and filled with all kinds of hooks and twists.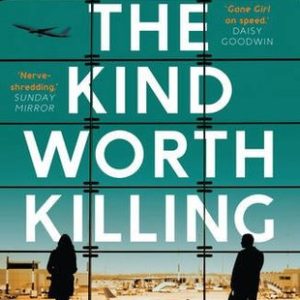 The Kind Worth Killing is the young cousin to Strangers on a Train. In Peter Swanson's take, Ted, who is wealthy, meets a beautiful woman named Lilly at an airport bar. They hit it off. After a few martinis, Ted confides to Lilly that his wife, Miranda, is having an affair and half-jokingly says he should kill her. Surprise! Lilly offers to help.
The book then begins to alternate between Ted and Lily's points of views and in doing so we learn a lot about these characters' pasts, including Ted's relationship with his wife Miranda and Lily's psychopathic behavior that started early in her life.
Of course, Ted begins to lust after Lilly but they keep some pretty big secrets from one another as they plot Miranda's death. The reader can't help but wonder how exactly the whole murder plot will fall apart. It has to. There is just too much deviousness for it all to hold together. I'm not a seasoned thriller reader and maybe the twisty plot is more of the same to people who read a lot of these types of stories but for me the book was full of unexpected turns and the end was jarringly clever. The end re-opens a deadly situation that someone thought was taken care of earlier on. So, I am guessing: sequel.
This book is being made into a movie and that is no surprise. The Kind Worth Killing is a great option for the sleazy and fun thriller one this summer.
Mother and Karen, as werewolf girl.
Finally, My Favorite Thing is Monsters is one of the best graphic novels of all time ever ever. It is certainly the most beautiful. I mean it. So buy it!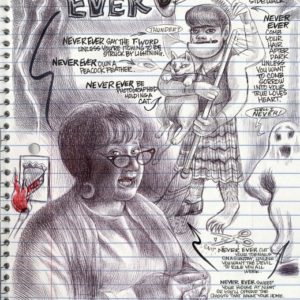 My Favorite Thing Is Monsters is set in 1960s Chicago. It is the journal of Karen Reyes, an intriguing and odd young girl. Karen lives with her mother and her older brother, Deeze, who just happens to be a bit of a womanizer and an artist. But he is also protective of Karen and the two are close. One of Deeze's redeeming qualities is that he is taking the time to craft a love of art in Karen.
Karen fills her journal with art lessons and sketches of her favorite paintings she visits with Deeze at the city's art galleries. Even though Karen is uber cool and quirky she is an outcast at school for a variety of reasons. And because she identifies with monsters, Karen draws herself as a werewolf girl throughout her journal.
Being an outcast Karen doesn't have a lot of friends and the ones she does call "friend" are their own kind of misfit toy. One of her closest buddies is a mysterious woman who lives in the upstairs apartment, Anka. Anka exudes an aura of tragedy and mysteriousness and Karen is captivated by that vibe.
When she was alive, Anka had a sad blue vibe about her that Karen saw.Karen, transformed into werewolf detective girl.
One day Anka is found murdered in her apartment and Karen vows to get to the bottom of it. Here's where you will fall completely in love with Karen, Karen transforms herself from werewolf girl to full-on werewolf detective girl.
I won't tell you more. My Favorite Thing Is Monsters is brilliant and beautiful. Buy it, read it and I am sure you'll love it. Your summer needs some bright beautiful comics in it.