Judy's Summer Reading 2018
Hola Scramblers
Hope you're all having a swell holiday weekend. Summer is here. Hail summer!!! It's time to sit on the patio in shorts and a t-shirt and your flip-flops and drink cans of Miller Light like it's pop.
I'm sorry about the long time it's been since I posted anything. Part of the reason is I had such a busy semester at work. I took on a couple of extra responsibilities and I kind of had guilt feelings when writing anything that wasn't work-related. And too also, (as Matt and I like to say to emphasize the coming excuse) … I didn't have much brain space for reading. I've read a scant five books since January, I'm ashamed to say. I started many. But if they required too much thinking, I quit. I quit some good books I hope to get back to one of these days.
With my summer semester about to begin after Memorial Day, I thought I'd take advantage of some rare free time to tell you what I've read recently, just to keep in touch.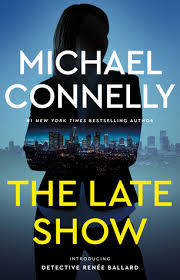 A local book reviewer who writes for the Lincoln Journal Star often reports on best sellers. Sometimes I'll take interest in a book he likes and so, on the recommendation of Dr. Francis Moul, I picked up The Late Show by Michael Connelly. It's a detective story. It's got good detail, a lively pace, and a likeable interesting main character who doesn't take any shit– Detective Renee Ballard. I like getting in at the beginning of a detective series, even though I'm unlikely to keep reading after book number two or three. I can't tell you that you are in for any break in the detective genre formula, but if it's an engaging readable story you're after with a couple of light surprises, grab this one and head to the (name your summer reading location here). This one will keep you turning pages but not use up too much brain space.
Last week I picked out a sci-fi book that looked kind of interesting. Flipping through it, I thought it seemed like a fun quick read. No wonder, it turns out Honor Among Thieves by Rachel Caine & Ann Aguirre, is a YA book. But I guess that's about my competency level right now, so I kept reading.  The first part of it, I think, is a pretty blatant knock-off of The Hunger Games. The main character Zara Cole, is a hard scrabble teen, taking care of herself and a band of others by any means she can. She lives in "the Zone," a tough part of New Detroit, where this futuristic story takes place. While on the lam for committing a serious crime against a well-known dangerous gangster, the one thing she can't escape is the constant streaming media hype about the return of the latest "Honors" and the big question about who will be selected as the next "Honors."  Honors are the few individuals selected from each region to be passengers on living alien ships called "Leviathons." They're called "Honors" and it's supposed to bean honor to be selected. Honors are typically outstanding in math, science, or music. Even though Zara is rough around the edges, it's not surprising (to the reader anyway) when she is selected as and Honor and it's in her (and her family's) best interest if she joins the Program willingly. See the obvious parallels to Katniss and the Tribute situation in The Hunger Games? Even some of the pomp and circumstance surrounding the Honors process feels Hunger-Gamey.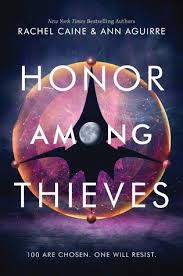 The Leviathons, too, are not entirely original. They remind me of the Cylon ships in Battlestar Galactica, which were not really mechanical ships, but biological creatures – the flying version of the former androids-turned sentient beings. The Leviathons of this story have more personality than the flying Cylons of BSG though, and I like Zara's Leviathon a lot. Its name is Nasim, and unlike evil power-hungry HAL from 2001: A Space Odyssey (another ship that had a personality and yet another copy or tribute to sci-fi stories that came before – however you want to look at it), Nasim is seemingly an angsty youthful version of the full-grown mysterious race.
Zara and her Honor partner, Bea, live inside Nasim while they cruise around the universe. Nasim hosts them and makes special  and pleasing personal places for them to be during their journey. The purpose of the Honors Program is for ostensibly for humans to learn about the universe from the Leviathons. However, it is not quite clear what stake the Leviathons have in mentoring the humans in this manner.
You know I don' t like to give away endings, and in this case, I can't because I'm only half way through Honor Among Thieves. I can tell you that Zara and Nasim seem to be in love, which is really interesting given that Nasim is an enormous living alien ship and like Jonah in the belly of the whale, Zara lives within. I think Nasim is being bullied by older meaner and probably malicious Leviathons, so is hiding information from Zara. I think some sort of War is at hand and Zara, unknown to her, is the key player. The authors have created an interesting foundation on which the story can move forward. This should easily carry me through the holiday weekend with brain cells needed to start Summer courses intact.
How about you, what are your Summer reads?