In past years I rolled my eyes at you when you said how great music sounds through headphones. I was wrong to do that. I am sorry.
In addition to converting to headphones, music still filled the air in our house this year. Judy has been learning guitar. That has been fun. For some reason there was somewhat less new music around our place to check out. Still, there are a few standouts, and even a few groups that we found so impressive that they lured us out after dark to hear them live.
Real Estate – Atlas (2014 Domino).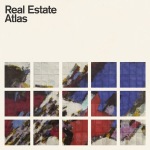 There is an unforced earnestness to each beat, note, and syllable that makes this collection of songs feel not only brand new, but also somehow like an album that's been around a while. This is the best of 2014 and is Real Estate's strongest LP. Along with the rest of their catalogue I will continue to enjoy it for years. All three of the band's records have a wistful summery feeling that I think a lot of people pick up on and dig. What it is: That feeling that something wonderful is happening, and you have not processed how important it will be to you in the future. You know that something wonderful is going to end – soon – and that the freedom that comes with that something wonderful is evaporating.
I never read a better description of the record's (and the band's current) summertime vibe than this one by Pitchfork's Jason Greene: "The once-ideal pool party band … has turned to soundtracking the cleanup: Everyone's gone, the sky's threatening rain, there are cigarette butts floating in the pool, and we've all gotta work tomorrow."
This is music to play as you head happily home or toward a loved one you are eager to see. A song and a sentiment so simple and so beautiful – this makes me shake my head in wonder:
Horizon by Real Estate.
Dum Dum Girls – Too True (2014 Sub Pop Records).
Dee Dee Penny is the radiant face and the main songwriter of the Dum Dum Girls. Combining an assured and silky delivery with her searching lyrics she often brings to mind a range of singers from the girl groups of the 60s. Few acts can claim the successful synthesis of musical and personal styles created by the band. Together they wed great, introspective pop songs with a cultivated and sincerely detached, great, dark collective image. The comportment and the look of the band are consistently darker than the actual music which often has more in common with straightforward, skilled, cool rock-and-roll than any goth-y post punk. Dum Dum Girls never disappoint, and I knew right away that this record with its short, to-the-point songs and driving pop rock would be one of my favorites of the year.
Phenomenal pop songs, these were highlights of the band's terrific live set at The Waiting Room in Omaha in October.
Rimbaud Eyes by Dum Dum Girls.
Girls Intuition by Dum Dum Girls.
St. Vincent – St. Vincent (2014 Loma Vista).
Is anyone else challenging the ideas and limits of rock music as successfully as Annie Clark? The new persona is a trope. Like David Bowie's creations Aladdin Sane and Ziggy Stardust, she's playing a far out, (and, one supposes, a temporary,) character. Aside from her current incarnation as the transfixing silver-haired, vinyl-clad high priestess of white spirits, there is her jarring music.
She is a fearless and often brilliant experimenter, and has always zigged when one expected that she'd zag: unexpectedly slowing things down a beat, going a half note sharp here or there, blasting trumpets when you expect a gentle flute. There is so much to be impressed by – in what seems on the surface to be over-the-top there is an agonizing restraint.
She is astonishing live, and KILLED it at Omaha's Sokol Hall in April. These songs are from a concert in Berlin earlier this year. They are a trifle rough, but worth it to catch her mystifying presence in performance.
I Prefer Your Love by St. Vincent.
Huey Newton by St. Vincent.
Also loved:
Beverly – Careers (2014 Kanine Records).
This band provides the low-glamor, tossed-off fun of magic marker 'tattoos'. It is in super-heavy rotation at our house. This music is huggable.
Honey Do by Beverly.
Caribou – Our Love (2014 Merge Records).
Beat heavy, generous with hooks and groovy elements of disco. Dan Snaith is Caribou, and may be the best in the business in the dreamy, neo-psych, electronica game. Test him.
Silver by Caribou.
D'Angelo and The Vanguard – Black Messiah (2014 RCA).
Fantastic. And it's a little time machine. Like it's R & B brethren from the 1970s, (and VERY much like the records of Prince!!) it is funky and fun, straight up sexy, soulful, and sonically weird and experimental.
Till It's Done (Tutu)  by D'Angleo and the Vanguard.
Hundred Waters – The Moon Rang Like a Bell (2014 OWSLA).
Absolutely beautiful. Fans of Bjork, Cocteau Twins, and Hammock – plug in. Like looking down from a great height through the clouds at the rolling ocean.
Out Alee by Hundred Waters.
Temples – Sun Structures (2014 Heavenly Recordings).
Psychedelic music weaves its way organically into so many different genres – it is a vibrant part of rock, folk, soul, funk, and electronic dance music. Temples are not really pretending to break any new ground – they have generously acknowledged their many influences – and here prove that psychedelic rock remains fertile creative ground. Temples' consistently successful new iteration of the tradition of psychedelic rock music sounds to me like creatively joyful homage. They are big and getting bigger.
Representing the super-psych-a-licious sides of predecessors The Beatles, T. Rex, The Shamen, and Pink Floyd:
Colours To Life by Temples.
TheWar on Drugs – Lost in the Dream (2014 Secretly Canadian).
Hippy please. This release got a reputation for being a redux 70s/80s classic-rock record, and I am disappointed to report that may have had the effect of causing me to delay giving it a serious listen. The rep is understandable, but this record is SO much more. It has marvelous ambient stretches and multi-layered production that provides surprises upon each new listen.
The Haunting Idle by TheWar on Drugs.
Warpaint – Warpaint (2014 Rough Trade).
Dreamy and dark. Like a marijuana-fuelled Radiohead record, Warpaint will reward you if you like the kind of expansive and patient music of Massive Attack, or the soundtracks for films of David Lynch. It is composed and more of a grower than their immediately likeable previous record, The Fool. Spacious and mature, Warpaint delivers the same commitment and energy as ever and they come together powerfully.
Drive by Warpaint.
Given more time, these may find their way into the favorites list:
Haunted Hearts – Initiation (2014 Zoo Music/Dream).
A Sunny Day In Glasgow – Sea When Absent (2014 Lefse).
TV On The Radio – Seeds (2014 Harvest).
Thurston Moore – The Best Day (2014 Matador).
14 Dec 2014