Have another cigarette and have another cigarette…
Remember how much you loved The Psychedelic Furs? You did. You loved them. They made you feel great. Even their name made you happy. So apt, so evocative, so druggy and cool — few rock bands have selected a name as perfectly fitting*.
Actually, you love them still. Super dark and rich in the center, The Psychedelic Furs' early sound was somehow still bright and gossamer at the edges.  And, to be sure, I am only thinking about the band's early output which often was completely brilliant — from their punk-inspired beginnings (the self-titled masterpiece debut, The Psychedelic Furs,) through their fourth record, (the uneven Mirror Moves). From there, they suffered the sort of tragic popularity that is so unfortunate for many fans: a popularity that dulled the band's edge – a tragedy that befell a few other great outfits in the late-1980s.
The early recordings give me the "time travel experience" that I love so much in some music. Listening to it now can still make me dizzy with delight. The zeitgeist of The Psychedelic Furs first few records does not weigh their sound down negatively, though. It is transcendent. The music still works so well because it is direct and original; it has dark rock-n-roll swagger; and it's sincere, moving, and important.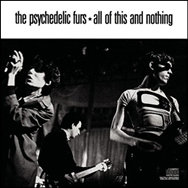 All of This and Nothing is an excellent track from the second LP, Talk Talk Talk. This tune exemplifies the band's wonderful mixture of snapping beats, drunken saxophone, ringing guitars, and ethereal, whooshing production. All of this tied together with Richard Butler's assured and smoky voice.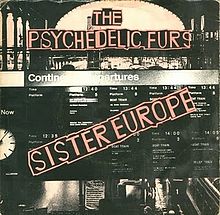 And Richard Butler was impossible! He achieved and maintained an unattainable version of cool and somehow he managed to seem accessible. There was a flicker of at least vague possibility that he was the type of guy who would sit down and share a cigarette and a beer with you. His voice is absolutely distinct and his lyrical interpretations are unimaginable by another performer. He had a straightforward androgyny that pushed to the front of his performance and set a clear tone, stating from the start with his appearance and his actions that he was a performer both honest and unforced. You can see him shaking it all up and spilling it out in Sister Europe:
* Of course, you'll think of some other great, fitting band names. Like Lush, maybe. Or The Velvet Underground. Now go listen to The Furs!