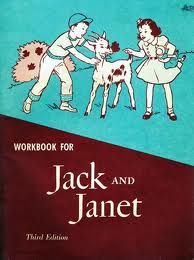 Janet & Janet Series and Tip and Mitten Series
 the basics:
Janet and Janet series
Tip and Mitten series
"Tip and Mitten" was part of the Reading for Meaning series.
As the series progressed we were introduced to "Jack and Janet".
It was disconcerting later in life to find out that the rest of the world had been reading about Dick and Jane. Or a duck that was a duck.
Who's Dick? Who's Jane?  What sort of charmed lives had they been living? Apparently our school district could not afford Dick and Jane and had to settle for Jack and Janet. I'm pretty sure that Jack and Janet ended up in the 47%.
Jack's on permanent Disability. Janet has a minimum wage job and still lives with her parents. Don't know what happened to Tip. It's a mystery.
I'm sure Mitten is just fine.
She always seemed to land on her feet.