Every season needs a soundtrack. Summer is a favorite, with its joyful hazy nights and its stupefying bright, hot days. Here are a couple of new things to check out that will help you fill in spots on your summer soundtrack.
— Good god, Hundred Waters makes beautiful songs — perfectly formed sweets for the mind and ears. The amazing vocals, the skill of the music, and the meticulous craftsmanship of production come together to distill a very particular energy. The song linked below is a good example from a group that constantly seeks to lift listeners up. The result is the fulfillment of a simple promise to wrap you in hyper-pleasant sound.
Blanket Me by Hundred Waters, from the forthcoming release Communicating (OWSLA Autumn 2017).
— David Kenneth Nance is a fascinating artist on the other side of the spectrum. Nance is more interested in spraying energy than distilling it, and the result is consistently successful and always super-vibey. Check this one-minute promo from Nance's label, Ba Da Bing Records, for his 2016 release More Than Enough. Bring on the glorious noise!
The prolific spiritual brother of Ty Segall, Nance is also channeling Brian Jones, Lou Reed, and Anton Newcombe. There is a lot of music that you can track down on his bandcamp page: davidnance.bandcamp.
His songs are little meals, and as Nance cooks them up, they are mostly meat and spuds, (guitar/bass/drums rock and roll,) but the dishes are clearly coming out of the kitchen of an eager omnivore. The influences are too numerous to count, but that is part of the pleasure of listening to Nance. That, and the cat just plain goes for it. All the time. Check out a new one linkable below.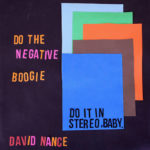 Negative Boogie is the title track from the new release by David Nance (2017 Ba Da Bing).
— Cool, dark basements in the summer are heavenly havens. The Montreal duo, She Devils conjure up the summery feel of both a suburban home's basement on a blazing afternoon, and a basement nightclub on a warm night. Here are sultry songs formed with samples and voice that feature the groovy, early-60s French Yé-yé feel.
Hey Boy by She Devils from She Devils (Secretly Canadian 2017).
Come by She Devils from She Devils EP (2016).
As fun as it is to find new music, sometimes you must go back and listen to older music. A sparkling example is the 2015 full-length release by Montreal band No Joy called More Faithful. The record fairly screams "SUMMER!" Its songs explore all the dazzling excitements of blistering summer days as well as the ravishing thrills of youthful summer nights.
No Joy construct sonic walls that feature muscular, rhythmic bricks held together with a sweet mortar of swirling fuzz. Jasamine White-Gluz takes care of the lyrics, and hers are often rich with straightforward adult desire. She treats sexuality like hunger and need, both nutritional and epicurean – there is the kind of healthy expectation that sex feeds, restores, and satisfies as readily, and as often, as a snack or a meal.
Hollywood Teeth packs a lot into 2 minutes, and has some wicked time signature shifts that will make your body buzz. There are also three more titles linkable below for you to enjoy. I never get tired of listening to this record.
Hollywood Teeth; Moon In My Mouth; Everything New; and Remember Nothing by No Joy from More Faithful (2015 Mexican Summer).
20 july 2017
(Parts of the No Joy section were adapted from an earlier post.)