___________________
NEWEST CONTENT
Minutia and Majesty
I am always grateful for Spring Creek Prairie. It's a place equally energizing and relaxing. It's a place to reflect alone or to be together creating shared memories. A place to clear your mind or to feed it.
For both its majesty and its minutia, the woodland area east of the visitor's center is a favorite spot. You should go there.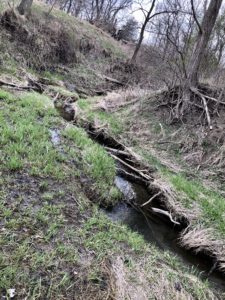 On the short walk to the woodland trails, look up. There's an unobstructed sweep of towering prairie sky. As you enter the woodlands, look forward. Accept the gentle embrace of muscular limbs and trunks; the shelter of massive branches. When you are well into the woodlands, look down. Go quiet. Squint among the exposed roots of an oak to see clearly a tiny, ornate pillow of moss.
Many years ago my friend Cathy taught me that the Japanese have a wonderfully descriptive word for the way that sunlight filters and dances through the foliage of trees: komorebi. Springtime is here bringing buds and leaves to the black walnuts, the burr oaks, and cottonwoods. Soon the trees will fill in and the woodland's shaded spaces will overwhelm its bright ones.
That is something precious to anticipate, because that is when the flickering phenomenon of komorebi will deliver its nearly crippling beauty.
It is coming. So many extraordinary things are coming.
Here is a pretty song for this extremely strange spring:
Cloak of the Night performed by Ed O'Brien and Laura Marling (from Earth by EOB 2020).
12 April 2020
______________________________________________________________
"The world has raised its whip; where will it descend?"
Put in the context of the past couple weeks, that is one timely quote from Virginia Woolf's great novel, Mrs. Dalloway. In just ten words, (only eleven syllables!) the quote delivers a brusque promise, not an empty threat. Woolf brilliantly captures a sense of stark anxiety and certain danger.
Something mightily f***ed up is coming. Really coming. Not if, but when? What will it hit? When? And with what crackling, savage severity?
The knowledge that the lash is up and is certain to strike somewhere leaves us wrapped in a thick fog of unknowing. It leaves us with a crippling sense that nothing will ever be the same as before.
Stick around. Or don't.
This evening I should be packing my bags. I am scheduled to take a six o'clock flight tomorrow morning. Jude and I were going to take a trip to visit friends, hike, and get away. Instead, for the foreseeable future, we will be getting away, as usual, to the local bike path and the neighborhood sidewalks for our hiking.
No complaints – it makes me happy that we can do that. Among the many confusions and disappointments of these days, something like the normalcy and simplicity of these neighborhood excursions will provide a consolation and a boost.
Anyway, instead of packing, I sat down to think a few things through. What would I want to tell my current self with the hindsight of coming weeks or months? Maybe this.
Don't play down big disasters, but stay positive – you have very much to be grateful for.
Keep making plans, but accept things you can't control.
Don't waste time, but relax.
Identify problems, but focus on solutions.
Keep listening to lots of music, it will make you feel better.
And especially this, look out for others whenever you can.
Maybe we'll all know a little more about what's happening on April 3, when bass master, Thundercat, releases his new album, It Is What It Is. The man's long list of collaborators includes Flying Lotus, Childish Gambino, and Kamasi Washington. He has a distinctive but familiar sound; funky and soulful. He has favorably addressed past comparisons to the magnificent artist Shuggie Otis, and OH MAN the single below sounds like a Shuggie song. Hope that the whole thing is in this vein. Dig these.
Black Qualls by Thundercat, (with Steve Arrington and Steve Lacy,) from It Is What It Is (2020 Brainfeeder).
Inspiration Information by Shuggie Otis from Inspiration Information (1974 Epic).
Please note that the musical artist is no relation to the master pouncer, Thundercat, who shares space with Judy and me. The name is quite a mouthful, but I love the nickname that our sister, Linda, has given him: Thundy.
Meow meow. Ciao ciao.
19 March 2020
_________________________________________________________
Free of Constraints
Breezes from the south are intoxicating with the nuzzling promise of springtime. Days shine brighter longer. Occasionally, we walkers of the Great Plains can even move about outside without keeping our shoulders reflexively up around our ears, and we can roam free of the constraints of layers of protective gear. Come, spring!
And talking of throwing out constraints – MUCH LOVE to the artists who resist working within the constraints of a particular genre. They make more exciting songs. Check out these two genre-bending artists.
Archy Marshall is King Krule. He is my dude. On the two singles that you may link below, you'll hear why there is SO much anticipation for the release on 21 February of his newest, Man Alive! At just 25, London's King Krule is already a full, growling decade into his recording career.
Marshall keeps listeners off-balance with a thick and woozy swirl of guitar, bass, and electronic effects. His vocal delivery creates constant drama by mixing tons of restraint with sudden bursts of urgency and abandon. It is like watching and listening to someone who is hypnotized. They grab your attention with steady whispers, then in a flash they shake out of their thousand-yard-stare trance, and they give you the loud, wild-eyed meat of a mystical message.
There are elements of jazz, trip hop, and rock, threaded through with King Krule's own brand of demented lounge. So many great sonic ideas – all of them shrouded in darkness and even danger. (Listen for the 10CC sample in the second tune below.) Dig it.
Alone, Omen 3 by King Krule from Man Alive! (2020 True Panther Records).
(Don't Let the Dragon) Draag On by King Krule from Man Alive! (2020 True Panther Records).
The composer/drummer Moses Boyd is also based in London, and he has a wonderful new release called Dark Matter. It is a great example of a jazz artist embracing the possibilities of multiple musical genres. The Guardian calls Boyd's efforts "cross-pollination," and "London-hybrid jazz" — those descriptors seem just right. This new record is a powerful cocktail of jazz, dance, afrobeat, grime, and electronica.
Boyd and his players give us highly imaginative, super energetic music. There is a half and half mix of instrumental tracks to tracks that feature vocals. Sounds like the future. Get funky.
Y.O.Y.O. by Moses Boyd from Dark Matter (2020 Exodus Records).
Shades of You by Moses Boyd with vocals by Poppy Ajudha, from Dark Matter (2020 Exodus Records).
Time for a check-in from you-know-who — Our Thundercat instinctively diversifies the genres he works in — refusing to be pigeonholed. He is as comfortable helping with the dishes as he is with laundry, with sweeping, and making beds. Thunder says, "I am not just one thing. A whole host of amazing talents will not be contained."
Ciao ciao. Meow meow.
20 February 2020
____________________________________________________
You Look Like You Could Use a Hug
You look like you could use a hug, and Thundercat is here to answer your wish.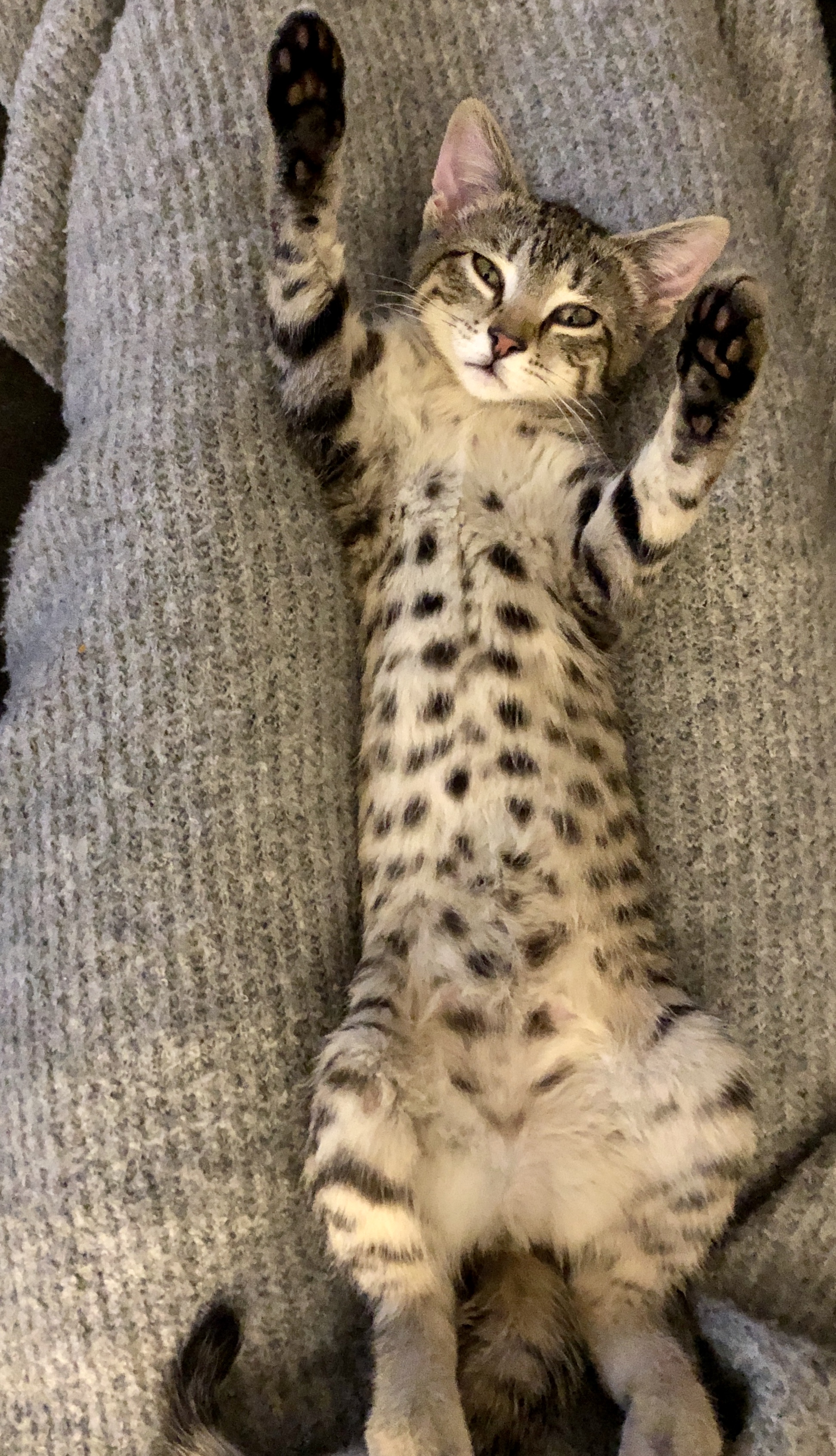 Oh, dear lads and dear, dear lassies, 'tis February on the Great Plains, and this shortest of months, with its still-shortened daylight, typically takes what feels like a long and very cold time to pass us by. Along with your warm embrace from a sweet snuggling kitten, here are some glowing new tunes to help get you through until the bright spring comes. 2020 is shaping up.
Sparkling guitars, lush synthesizers, and pretty vocal harmonies are all wrapped in a fresh swirling breeze of electronic effects. These sounds have characterized the music of Pia Fraus for over two decades. The five-piece outfit from Tallinn, Estonia, have created a lovely, easygoing new entry to their dream pop catalogue called Empty Parks. It has quickly become a favorite from this young year.
The group's influences, Stereolab, Lush, and My Bloody Valentine, are in evidence here. Insistent drumming drives the songs along, and the band continues its experiments with feedback and pedal effects. The assured and soothing sweetness of the vocals are in counterpoint to the urgency of the instruments and the surprisingly playful sonic effects, and they serve to balance the intensity.
Keeping shoegaze vital, check out Pia Fraus.
You're Not In Love and Hidden Parks by Pia Fraus, from Empty Parks (2020 Seksound Records).
Some deep grooves are being laid down in Florida. The new act, Flow Ensemble, has a haunting new self-titled release. This is the fine experimental jazz project of the charismatic multi-instrumental artist Chad Jasmine and the superb trumpet player Marcus Parsley. Jasmine, who is also an extraordinary vocalist, has put together Flow Ensemble as a purely instrumental and super vibey exploration of tone. This is a soundtrack for contemplation and reflection, and it stars trumpet and bass guitar. 
Jasmine handles the bass, providing a superior, cool rhythmic foundation. The duo share keyboard and drum programming duties. Dipping into comparison, the effect of Parsley's delicious, meditative brass playing puts the listener in the mind of saxophonist/genius Joseph Shabasen, whose solo work, as well as his work with Destroyer and War on Drugs, has been commended on this page for years. Both players are comparable in that they are always effortlessly elevating the ambience with their amazing fluidity and flow.
Are you looking for something marvelous to play at the cookout or the cocktail party? Check this out and turn your friends on to it. Available on Apple Music, or streamable in its entirety on youtube with the link below.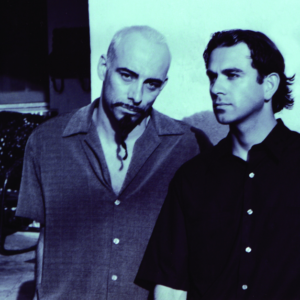 Flow Ensemble by Flow Ensemble.
My main man and poetic ghost, Dan Bejar, leads Destroyer, and you need to get involved with the group's latest, Have We Met. This is Destroyer's best since 2011's masterpiece, Kaputt, and it will be in heavy rotation around here.
Piano and guitar are often out in front, and complex arrangements provide a platform for Bejar's elaborate lyrical genius.
Keeping Adult Oriented Rock vital, listen here: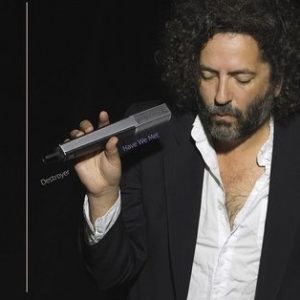 It Just Doesn't Happen and Crimson Tide by Destroyer, from Have We Met (2020 Dead Oceans).
1 February 2020
________________________________________________________
Fixing to Roar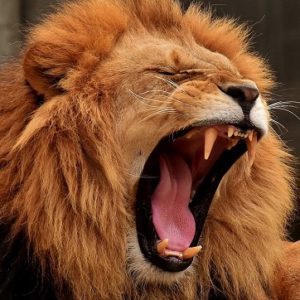 A century ago, the years of the 1920s roared in and started becoming memorable for flourishing innovations in art, fashion, and style. The era became so deeply influenced by a musical style that it is memorialized in name by that great American invention, Jazz. Just like the Jazz Age a century ago, our 20s have the opportunity to roar instead of bore. It is exciting thinking of what might be next.
So, the new decade has arrived, and before looking fully forward, a little glance backward. Hopefully the music (and this page!) will flourish and roar with wonderful treats for our ears in the 2020s. First though, a little look back at the final year of the teens. I can recommend some great music, and also a couple of worthwhile books that I read in 2019, that both share music as their threads.
Please pick up the beautiful, fascinating, messy 590 page sprawl known as Beastie Boys Book by Michael Diamond and Adam Horowitz (2018 Spiegel & Grau.)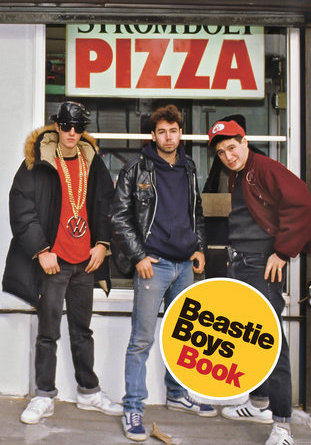 This is a graphic, photographic, and wordy treasure for fans of the Beastie Boys, (an all time favorite,) yet I also encourage casual readers to treat themselves here. This book is a feast of information, storytelling, and fun visuals. It's like a little microcosm of what Beastie Boys did so well for so long: they took existing forms of music and remade them into awesome new forms. And they sounded unlike anyone else. So it is with Beastie Boys Book, familiar in its form, (oh, it's a book alright,) yet so unlike any other book I have ever seen.
They have documented their backgrounds and beginnings, their fame, their influence and their debts, their foibles, their times, and their fuck-ups in glorious detail. The book is also a love letter to their dear friend, beautiful soul, and fellow Beastie, Adam Yauch, who died in 2012. Even just flipping through Beastie Boys Book is entertaining.
Another good music read is Daisy Jones and The Six by Taylor Jenkins Reid (2019 Ballantine Books, 355 pages.) The book is set up like an oral history of the swift rise and blazing success of a (fictional) group of rock musicians who come together to form a legendary band in California in the 1970s. The interview/oral history format works well as a pacing device, (the book really moves along,) and the format is effective for getting the multiple perspectives, opinions, and egos of the vibrant characters involved with the band.
Reid really captures the sex, drugs, and rock-n-roll indulgences of times. She also grounds readers in that golden age of California rock that took over the world. And maybe her best trick is making us think of the fictional Daisy Jones and The Six as being as iconic as actual bands and performers like The Eagles and Fleetwood Mac.
The book is being turned into a 12 part TV series, (it would not be a surprise to learn that the rights were sold before the book was even published,) and I will be tuning in.
And here are a dozen recommendations for listening from 2019, in case you missed them.
Swim Team – EP by Christelle Bofale.
The Age of Immunology by Vanishing Twin.
Placeholder by Hand Habits.
U.F.O.F. by Big Thief.
Deceiver by DIIV.
SPECIAL ATTENTION:
Quiet Signs by Jessica Pratt (Mexican Summer Records.) Pure witchy magic. Casual, almost effortless-sounding, Pratt mixes her distinctive vocals with folk guitar. Try: This Time Around
SASAMI by Sasami (Domino Records.) Shoegazey at times, great 60-s influences of jazz and pop. Try: Morning Comes
Father of the Bride by Vampire Weekend (Columbia.) Brilliantly varied. Masterful. Try: Sympathy
Chastity Belt by Chastity Belt (Hardly Art.) These pretty songs probably logged more time playing in my headphones this year than any others. This group provides superbly laid back, slightly shaggy guitar rock with lovely lyrical self-reflection. Try: It Takes Time
FAVORITES — TWO artists at their individual PEAKS:
Norman Fucking Rockwell by Lana Del Rey. Nearly perfect in capturing it's weedy southern-California vibe. Her singular lyrical abilities and the production set her apart from the rest of the pack. Just listen to the whole darn thing, ok? 
All Mirrors by Angel Olsen (Jagjaguwar.) It has been critically noted that some of Angel Olsen's songs sound as if they have always existed. Here, she is so confident, so big, and so, so beautiful. Try: All Mirrors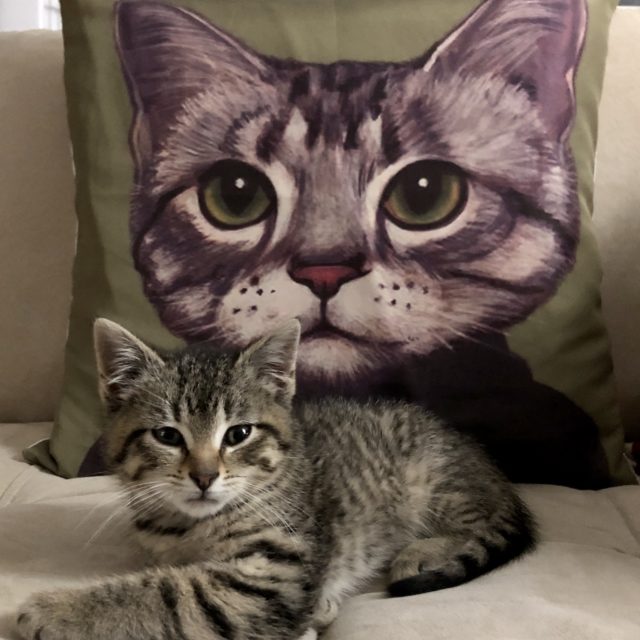 Finally, I wish to introduce readers to Thundercat, our new family member, and probably a regularly featured beast on this page for the future. Meow meow. Ciao ciao.
1 January 2020
_______________________________________________
Genius Steals
Possibly attributable to the great thief and aphorist Oscar Wilde:
"Talent borrows – genius steals."
It is sometimes surprising when something can trip our tastes and tip the scales of our opinions. What if that something is stolen?
If you've liked but not loved Angel Olsen, and you are a wild fan Annie Lennox and her work in the duo Eurythmics with Dave Stewart, prepare for a tripping and a tipping. Olsen's lovely new work, consciously or not, reaches into the past for a Lennox-y vibe that embodies both nimbleness and strength. Her new album is due this week.
Olsen's newest singles, Lark, along with the title track, All Mirrors, are already available to listen to. The pairing of her exquisite singing with the huge sweep of cinematic production on the latter song is thrilling.
I love what Sam Sodomsky wrote about Olsen in his Pitchfork review of the song All Mirrors: "Some of Olsen's songs feel like they've always existed—lost country standards or themes from old romantic films…" That seems just right – and in addition to reminders of Annie Lennox in All Mirrors, think of the best James Bond film themes like Shirley Bassey's Goldfinger and Diamonds Are Forever.
This is so confident, so big, and so beautiful.
All Mirrors by Angel Olsen from All Mirrors out 4 October (2019 Jagjaguwar).
This staggering song of deep longing and the willingness to risk everything to make a human connection will celebrate its 35thanniversary in November. Wow–I love it beyond description.
For the Love of Big Brother by Eurythmics from 1984 (For the Love Of Big Brother) music from the motion picture Nineteen Eighty-four (1984 Virgin).
Another track that is available to hear and also feels like it has existed forever is Haim's Summer Girl. At first, it seemed like a guilty pleasure pop song, and on repeated listens it revealed itself as a genius reworking of elements from a couple of masterful mega-pop songs: Annie Lennox's Why, and Walk on the Wild Side by Lou Reed. There is the propulsive trap and bass line essentially lifted from Reed's song and modified to move us along. Summer Girl even features a rework of Reed's signature "doo, doo-doo, doo-doo-doo-doo" Also, there are the horns and strings that are mixed in David Bowie's production of Reed's song. Near Summer Girl's end, there is an elegantly rapped set of lyrics that are inflected and driving the song in the way Lennox rapped/sang the insistent, familiar pleas of Why.
Summer Girl by Haim (2019 Polydor).
Why by the brilliantAnnie Lennox from Diva (1992 RCA/Arista).
Walk on the Wild Side by Lou Reed from Transformer (1972 RCA).
1 Oct 2019
______________________________________________
Transformations
Sights, scents, and even slants of light can send us straight to our memories. I am transformed, taken to different times in my life, by seeing certain cuts of shadow and light in the sky — the way a low-slung sun shines, fervently tilting its beams through trees, early on a warm, blue summer morning, eager to spread its heat.
Nearly all of us can be taken back in time by delicious kitchen aromas, sprightly perfume or dankly scented oils, or even the mustiness of a summertime basement. Suddenly, through a breath, you are rushed back into a pleasing or wistful memory.
As I get older, sound, and most especially musical sound, is a memory conjurer.
Two homes in my neighborhood, both large by the standard of houses built in their 1930s vintage, are undergoing total transformations. Both are made of red brick that had been at some time painted white. Now, the paint from each has been mostly sandblasted giving each house a new appearance, pleasantly weathered. The houses sit about four blocks from each other, and I like walking past them often to watch the progress and note the different philosophies being used for renovation.
As I approached one house on a recent walk, there were workmen breaking up a large old concrete and stone patio. The work was done "old school," with sledges and chisels. I saw a man wheel barrowing away debris, but I didn't hear jackhammering.
Instead, I heard music. I heard a violin concerto.
One expects to hear music playing from construction areas. Usually through a beat-up black and yellow Dewalt work-site radio — tinny pop, or super-trebly classic rock, or Regional Mexican music like Mariachi, Norteña, Ranchera, or Tejano. But here, on this work site radio, was Mendelssohn, loud enough to hear clearly from the street as I passed by.
Not what one would expect…
Mendelssohn Violin Concerto in E minor, Op. 64. Violinist Ray Chen with the Gothenburg Symphony Orchestra and Maestro Kent Nagano.
In this case, that unexpected music shot me through with a memory of a morning in 1987.
I started piecing the day together – it was over thirty years ago. Was it windy and gray on that day? Or was the sun's light bending through leaves in the way it was on my neighborhood walk? Was it late September or the first part of October? I couldn't remember. I thought it probably was cool and overcast, but no matter the weather on that long ago day — it was the hushed and steady determination of the workers, and especially the music, that brought my mind to my mother and a morning when she and I worked together gardening.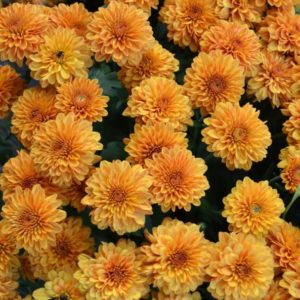 Early October 1987. Together, my mother and I pruned plants and cleaned up flowerbeds around my parent's house. We transplanted chrysanthemums from pots into the ground. We delicately spread thick, fresh mulch around roses. On the porch attached to a short brown extension cord was a portable Sony "boom box" that I had brought outside and set up. And then I remembered clearly, that morning was gray and windy – it was cool, too. Autumn was settling early.
On that 1987 morning she would have been pretty close in years to my current age. And although the song swirling on our portable player was not the same – Bach, not Mendelssohn, the memory surged. There I was in my head, transformed, a young man gardening with his mother – a cello, violins, a viola, and a harpsichord flowing through the winter-promising breeze.
We worked together without rushing. We worked together simply and quietly enjoying our tasks. And here is the most important part of the memory — we worked together and communicated with almost no talking.
In addition to communicating silently about our gardening chores, we were also communicating about this: Pure Uncertainty. I had finished college that spring and had spent the summer pretty actively not planning for any kind of post-college life. I had worked most of the summer while living at home. I had been away from family and friends, and uncommunicative, on a trip to Italy during August and September. I was going to be moving away from Nebraska to Boston in a few days and had no real idea about what I would be doing there – not even about where I might live. Most punishing for her — my father's health was poor. She was filled with well-founded apprehension, and I was filled with eagerness and anxiety.
Many questions – scant inklings of any answers.
It all worked out. In the way that gardens need attention, or the way that homes need attention, need periodic transformation — their shutters removed, their paint sandblasted, their patios broken up and carted away – our lives get shaken up and we metamorphose. And it all works out.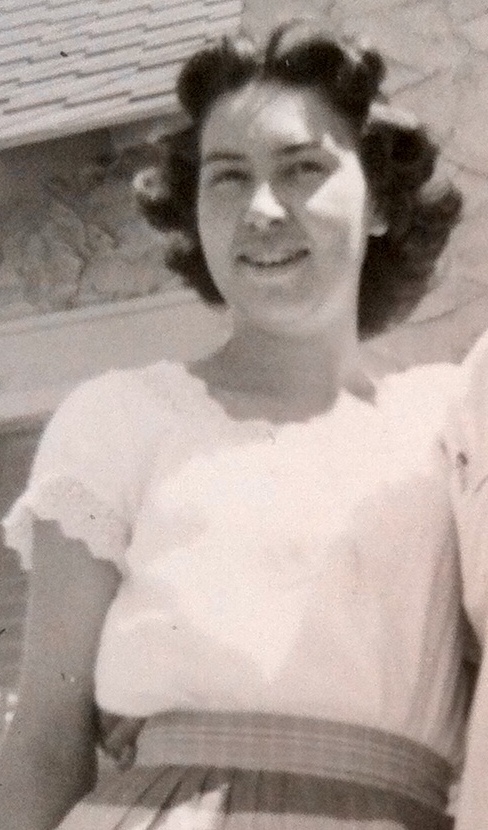 I am grateful to have had this memory, spurred by the sounds of stunning classical music emanating into the open summer air from inelegant speakers. Most of my recent memories of my mother have come from her in her later, end years, when she was confused and so frail. But I got a lucky picture in my mind of my 1987 mother — her friendly ghost. I began to imagine her at different ages. She was younger, surer, sound, and healthy. And I got a clear glimpse of a morning from my past when my mother and I found several calm moments together, quietly connecting, each forgiving the other of our fleeting fears while our lives underwent their separate violent evolutions.
It all worked out.
J. S. Bach. Harpsichord Concerto in f minor. BWV 1056 (II y III) (Larghetto & Allegro). Ímpetus Madrid Baroque Ensemble Yago Mahugo, Harpsichord / Conductor.
21 August 2019
__________________________________________________
Vanishing Twin
It's time to embrace some witchy summertime grooves. Vanishing Twin is a project based in London, but whose members include French, Italian, Japanese, and British musicians. This variety of nationalities and backgrounds has certainly contributed to the wild diversity of influences and sounds that can be enjoyed on the group's new release, The Age of Immunology. Beyond calling this music experimental, it is nearly impossible to classify.
As happens repeatedly on this page, it is not a reach to compare Vanishing Twin to Stereolab. The group likewise pulls from the same bag of tricks that Stereolab successfully used to combine everything from jazz to French yé-yé to swoony Bacharach-styled lounge music. Another clear influence is Broadcast. (One of the members of Vanishing Twinis Phil MFU, [Man From Uranus,] who worked with Broadcast.) Both acts share a super-cinematic, deeply psychedelic vibe with the spacy, noisy sensibility of kosmische Musik.
Cathy Lucas is the main vocalist and our contextual guide through these songs. She also plays violin and mandolin as well as other instruments. She started Vanishing Twin as a solo project in 2015 after working with other bands including Fanfarlo and Innerspace Orchestra. Now she has grown the outfit into its current cosmopolitan form.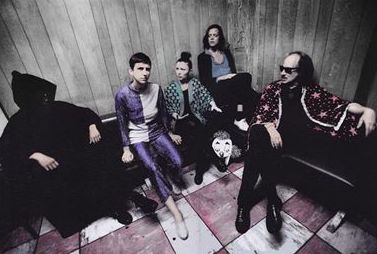 She is also a survivor of a medical syndrome called vanishing twin. At around age 12, Lucas learned that before her birth, her mother had been pregnant with twins. As happens in roughly one out of every eight multiple pregnancies, either the mother or the other fetus resorbed the other fetus(es) when it/they discontinued developing. As a result, a single surviving baby is born, and for some of these people, there is a sense of survivor's guilt. The name for her project comes from her very fascination, and her existence in this light seems to provide Lucas with ample material for meditating the implications of 'what might have been….'
Nearly everyone at some time entertains thoughts of what might have been. Those meditations can, in some cases, land one in a great imaginative playground of memory. What might have happened if I had actually made a move to such and such city? What if I had pursued this dream, or that one? How might my life have played out, if only… In other cases, those meditations can place one in a battle zone of mental anguish and regret.
You will hear new things upon each listening. One haunting aspect of hearing much of Vanishing Twin's music is how much Lucas's voice reminds of the great Trish Keenan who died in 2011 and created so many masterpieces with her band Broadcast.
This is somehow dark and bubbly at the same time. Give these tunes a try and let the groovy séance begin.
Magician's Success and KRK (At Home in Strange Places) from The Age of Immunology by Vanishing Twin (June 2019 Fire Records).
Come On Let's Go by Broadcast from The Noise Made By People (2000 Warp Records).
And of course – here is this.
Coming Down and Hard Coming Love by The United States of America from their self-titled record (1968 Columbia).
23 june 2019
____________________________________________________
Have a Good Summer
The friendly old refrain is very much alive on America's campuses: "Have a good summer." I was working this sunny spring week at a big university in the middle of the country, and those words were in the air a lot. There are friends and acquaintances, over 30,000 of them, who lived, worked, and played together for eight or nine months during the academic year, who said goodbye for a spell as they finished exams and split off from each other.
As we interacted briefly, a few kids, (strangers to me,) even gave me, "Have a good summer," as a pleasant goodbye. It is a nostalgic phrase to hear, and my mind floods with images of fresh young faces — long-ago friends engaged in smiley handshakes and hugs — memories from 35 years ago.
Well, I intend to have a good summer, and I will need a proper soundtrack for the season. Mine will begin with lots of songs from the recent self-titled release by Sasami Ashworth, who performs as SASAMI.
She is new to me. SASAMI is a music school graduate and multi-instrumentalist. Until recently she was the keyboard player for the rock outfit, Cherry Glazerr. A little over a year ago, she left the group to pursue her own career as a solo artist. In addition to playing keys she is a wonderfully straightforward and expressive singer. Her vocals sometimes carry an unaffected quaver that matches the woozy synth melodies. The combo's guitarist is Sasami's brother, JooJoo, who plays his instrument with the aural equivalent of someone wielding a beautiful kaleidoscope.
Fans of early shoegaze music, (think Cocteau Twins,) and fans of the un-bright, Bacharach-styled, 60s-influenced jazz/pop of groups like Broadcast and Stereolab will find lots to love.
Here are a four songs to get you started. Keep them in your back pocket for playing some night soon when the sun sets late, and the sun-warmed earth radiates its insistent heat upward after dark.
Not The Time; Morning Comes; Jealousy; and on the quieter side: Free by SASAMI from SASAMI (2019 Domino Records).
12 May 2019
_____________________________________________
Quiet Signs
Her voice sounds as if it is travelling across a great distance to reach you. There is not only a sense of exaggerated physical space between Jessica Pratt's voice and our ears, she also summons the feelings on her masterful new album, Quiet Signs, that her songs have travelled through the distance of many years.
At times Pratt sounds as if she sang a song while standing on the breezy parapet of a castle at sunrise during a cool medieval morning — she sang through a pleasant swirl of fog and wood smoke — and her song has been making its way gently toward you, finally having arrived through the mist of centuries.
At other times her quiet voice and her simply plucked guitar seem to be floating through the very dimly lit air of a low-ceilinged bar in California during the middle 1960s. There is Pratt standing with her guitar, singing from a corner stage — you can feel the nighttime outside, and along with the faint smell of beer, coffee, and cigarettes, the room is peppered with scents of patchouli, cinnamon, vanilla, and cloves.
Quiet Signs is Pratt's third full-length release, and it is brief — just nine songs presented in less than half an hour. Pratt's nimble voice and straightforward guitar are front-and-center, with subtle atmospherics perfectly provided by flute, piano, organ, and string synths. The record is a sprightly marvel.
How casually, almost effortlessly, Pratt delivers her pure, witchy magic. Here are two songs to check out by Los Angeles artist Jessica Pratt from Quiet Signs (out 8 Feb 2019 on Mexican Summer Records.)
9 February 2019
_________________________________________________________________
As Easy as Breathing
Sometimes only hyperbole will do.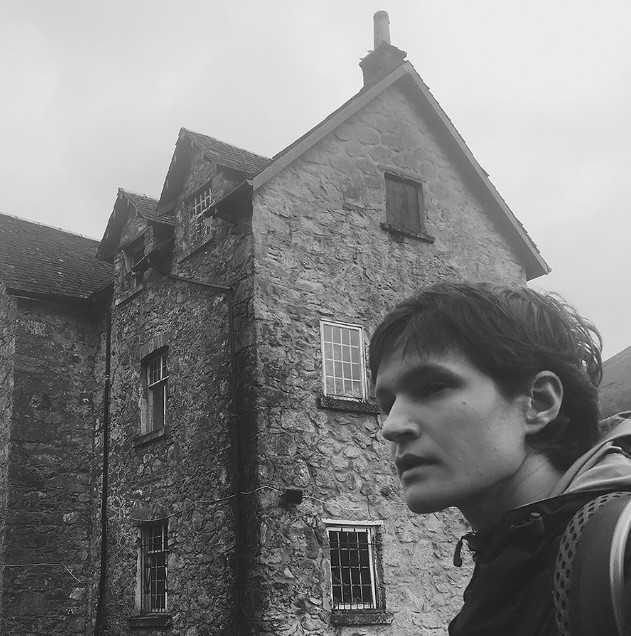 Adrianne Lenker has made abysskiss, the greatest, most timeless sounding guitar folk record since Nick Drake's Pink Moon. Lenker recorded her new masterpiece, abysskiss, in one week. (She sometimes performs as the singer and guitarist of Brooklyn band Big Thief.)
Dripping with glorious minor keys and chords, the songs are delivered as easily as breathing. There are ten jewels to wonder at, given in 34 minutes. Upon finishing listening, the feeling one gets while rushing to restart the whole enterprise is that someone has just spent a half an hour sharing with you her most beautiful secrets, her most marvelous observations.
Nothing Lenker presents us with seems remotely forced, rushed, or insincere. In addition to Nick Drake, there are pleasant reminders of other artists. She invokes Mark Kozelek when he is at his kindest, Elliot Smith at his breeziest, Suzanne Vega at her barest, most stripped-down confessional.
Incredible playing and singing. The song's effects are heavenly; almost sacred. But the effects are formed by this generous artist's acute observations of the earth, and her stunning willingness to lay them open to us.
How could a better set of songs have come to us in autumn, when the spinning world turns crisp and colorful and we contemplate the plays of light and shadow between bright days and long nights?
Here are two to try by Adrianne Lenker from abysskiss (2018 Saddle Creek Records):
23 october 2018
_______________________________________________________
Slow Screaming Bewilderment
I welcome the nihilism. Message received. Just these four words and a link. Sent from my friend Jeff, I clicked the link. The band's name: Frigs. The first few seconds of sound sent me back in time to the days of post punk at their darkest and most glorious fringes.
The song Jeff sent is Talking Pictures (linked below.) It announces itself with a fast ringing guitar that is quickly joined by a thick, urgent drumbeat and clear bass. Frigs use their instruments like weapons, and the band's atomic bomb is the voice of Bria Salmena. Her singing combines the best of rock and roll theatricality with sincere rage and desperation.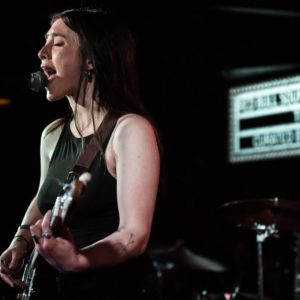 Basic Behaviour is Frigs first full-length release and it's a really great listen. It is filled with lots of intensity and lots of two-and-a-half to three-minute songs. There really is a strong whiff of nihilism hovering over this enterprise – and it is strangely purposeful and super satisfying.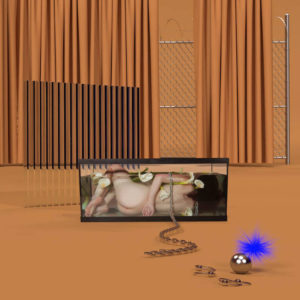 The group can take a tender turn, too. Songs like the beautiful and dreamy Gemini are keyboard driven and brimming with a spaced-out longing. There are also meltdowns like Trashyard, a tune that starts with a warm and assured bass groove and marches through its six plus minutes swirling into slow, screaming bewilderment.
Frigs are based in Toronto, and have shared bills with the likes of Lydia Lunch, Protomartyr, and Deerhoof. They will support SUUNS for the Canadian leg of their North American tour this autumn. After that, a British tour with a couple of dates possible in Europe. I imagine that as a live act, Frigs are savagely affecting. Catch them if you can.
Take a few listens. From Basic Behaviour by Frigs (2018 Arts & Crafts):
13 September 2018
_____________________________________________________
Twinkly
Hopefully you had one too – a dark summertime place that you could go to – an isolated country place where you could lay on the hood of a car at midnight and take in the perfect sky and its impossible thickness of stars.
We had a place east of town that we called Sleepy Hollow, far enough from the city to support the magical blackness of a rural summer night, and close enough that we could see the orangey glow of our city lights spread on the distant horizon.
A couple of times each week we'd drive to Sleepy Hollow. We rode with windows down and music filling our ears. The Smiths, R.E.M., or Siouxsie and the Banshees. Simon and Garfunkel or The Beatles. By the edge of town, the volume would creep up. By the turn off the highway to a dirt road that led us through miles of cornfields, music roared from the speakers, wind spilling in, filling us with whooshing sound.
We'd stop on the dirt road on a low railroad bridge and wait for one of the frequent, mile-long freight trains to rush under us to push up the summer heat and dust. Then northward to the gentle hills on the dirt road where sometimes the fields sparkled with thousands of fireflies, mirroring the sky.
Then a preserved stand of a dozen Cottonwood trees at the edge of a cornfield provided our Sleepy Hollow. We'd park at the far edge of the trees so we could see the full flickering sky. Time slowed. We would stalk along the road and trade stories of our day, sorting out our passions. Eventually we would land on the car hood and sip beers and smoke cigarettes and get lost in silence. We would cast our individual twinkly eyes up to the unimaginable points of glistening stars.
Night inspires. My friend, Amy Plettner, an award-winning Nebraska poet, used a nighttime drive, music, and a great artist to inspire her to strike a feverish and sensuous tone with her poem:
Nebraska Road Trip With Tom Waits
Highway sixty-six, Sunday, early morn,
churches still dark, steeples shrouded with fog.
Streetlights flash yellow. We take no caution,
whiskey gone from our breath,
headed west into a thick drizzle. It's April,
a Christmas star atop the grain elevators,
corn the true Savior, and the path to salvation's
an iron rail guiding us past Tuxedo Park,
Avengers playing at the Isis Theatre,
and every hour's happy hour at the Someplace Else bar.
The streets are all named after trees, though this is prairie,
and I'm still living on the alimony.
You're wearing your wedding ring,
cut diamonds and garnets in a swirl of silver-gold.
You find your way beneath my skirt.
We're cruising in the red Galaxie.
I close my eyes, move to the slap of wipers,
the rain getting harder.
(Originally published in Misbehaving Nebraskans 2018, and reprinted with permission of the poet.)
Here is a great new song by some kids who are now about 20 – the age now that we were then:
Twinkle by Sorry from the single Showgirl (2018 Domino).
The Man:
I Beg Your Pardon by Tom Waits from One from the Heart (1982 CBS Records).
Disintegrating:
Christine by Siouxsie and the Banshees from Kaleidoscope (1980 Polydor).
Then we'd go get donuts and coffee.
Ain't Even Done With the Night by John Mellencamp from Nothin' Matters and What If It Did (1980 Universal).
14 june 2018
_______________________________________________________
Place of Memory
Languages die surprisingly often, and for a multitude of reasons. It is probable that most of the languages that die are so remote that they do so unrecorded, and so will be forever lost. According to a 2015 article in The New Republic, of the roughly 7,000 diverse languages now in existence, linguists predict that half will die over the next century. More aggressive forecasters assert that 80 to 90 percent of existing languages will die in roughly the same amount of time. A National Geographic (2012) article claimed that a discreet language dies about every 14 days.
Some languages are relatively rare, but they hang in there. For example, in Great Britain, some 5,000 people claim to be conversational in Cornish, one of three Brythonic (Celtic) languages. (Welsh and Breton are the other two.) But Cornish may boast fewer than a thousand fluent speakers, and perhaps far fewer — only 400-500. (By comparison, about 6,000 people are fluent in the Lakota language.)
The artist Gwenno has released a wonderful new record called Le Kov, sung entirely in Cornish. You may be sure that its pleasures will not be missed because of a language barrier. Gwenno Saunders was a member of the 2000s pop group The Pipettes. She then released a debut solo record as Gwenno called Y Dydd Olaf (2014) sung mainly in Welsh, with one song in Cornish. Le Kov is her second record.
Her influences enjoy a broad range, and there is a pervasive wooziness to the production that compliments all these stylistic influences. Piano is up front on some songs, with tidy string orchestrations and horns joining the act, so there is a distinct and groovy Bacharach vibe.
Fans of Broadcast and Stereolab will be rewarded by the confident and laid back la-la vocals. Some of the more dedicated electronic instrumental backing would be right at home on a Boards of Canada record.
Welsh singer Gruff Rhys, who fronted the marvelous Super Furry Animals, joins Gwenno on a song, and several of the rhythmic elements on Le Kov are reminiscent of SFA, with driving bass and drums.
I love it when an artist can mix so many influences and come up with something that still sounds so original. The title means "place of memory." This page obsesses with memory and music's ability to act as a portal both for remembrances, and the building of new memories. There is much here to set us free in our memory, despite the lack of lyrical understanding. It is just beautiful and it is a testimony to the power of music to transcend the sometimes confining nature of language. Its passion shines. Below is a link to a song from the record, called Jynn-amontya:
Le Kov by Gwenno (2018 Heavenly Recordings).
Slow Life from Phantom Power by Super Furry Animals (2003 Epic).
9 March 2018 
_______________________________________________
The Loss of Dear Things
This has been going on for months – maybe even years. I think I am losing my hearing. Certain voices have become hard to hear – it is almost like the sounds don't register even as I see words being formed on lips, and it is especially hard to hear some voices when there is a noticeable bit of background noise. So, I made an appointment to have a hearing evaluation.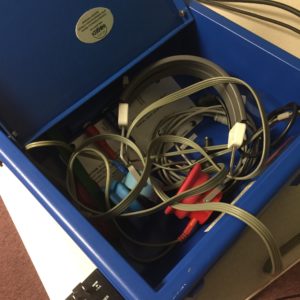 As I anticipated the evaluation, I thought of reasons that may have contributed to hearing loss.
I suffered from repeated ear infections when I was younger. One ear infection episode in my mid-20s was so protracted and painful (multiple steroid and antibiotic courses) that I was damn near ready to turn in my ears for good. Just be done with them.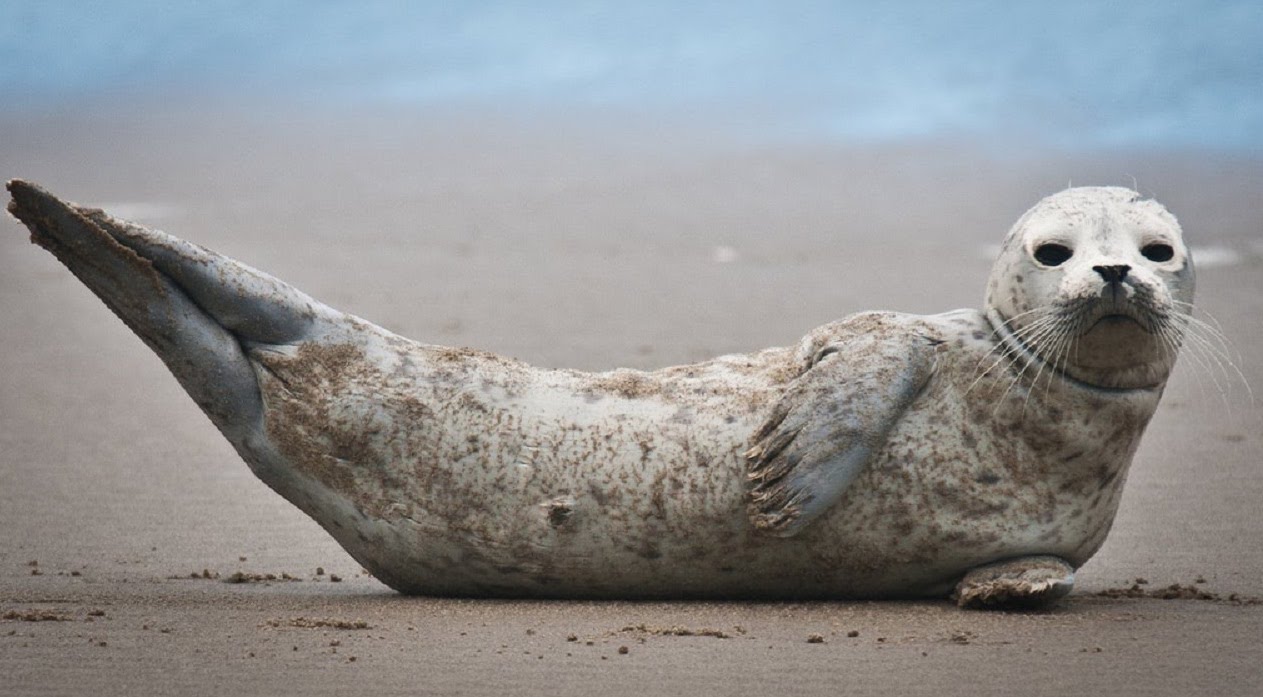 Could an ear infection from half a lifetime ago – one that lasted for several weeks – have tipped the balance toward a slow hearing loss?
Through the years I have worked at some super loud jobs, but have often worn ear protection. Would the times I did not wear ear protection have created a crack in the armor to contribute to some permanent hearing loss?
And then there are these.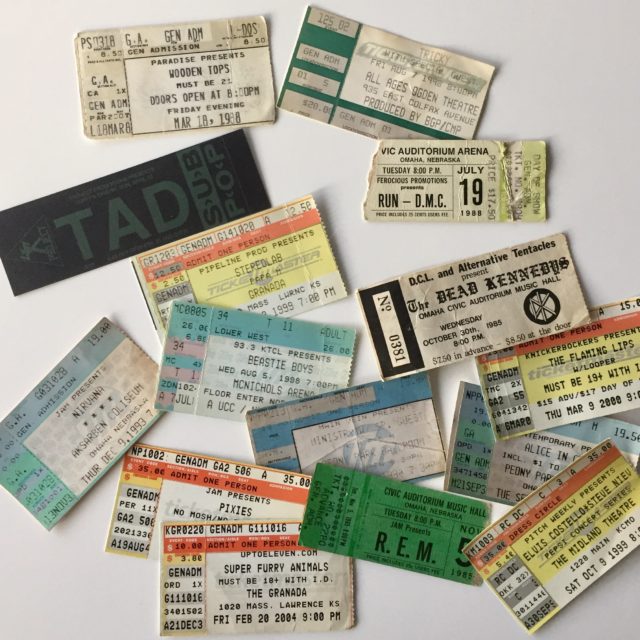 These tickets stubs represent a fraction of the live music concerts I have attended over the years – mostly without ear protection. There would certainly have been a negative cumulative effect on my hearing from all the beautiful (and very loud) music I heard through the years. Could it have been a single incident? Was it Deerhunter in 2010? Stereolab several times in the 90s and 2000s? Metallica in 1989? Dead Kennedys in 1984? One of the half dozen or so times I got to see the Flaming Lips?
The evaluation was this morning. I have been thinking for weeks about what hearing loss would really mean to me. What would it be like to lose something so dear?
Then, last night, I learned that someone who was very special to me had died. (She was special to everyone who knew her, by the way.) My friend, my Dear Steffanie, had an incandescent smile and an easy laugh. She also had a very cruel disease, (as well as punishing complications that followed her disease,) that she dealt with in an almost superhuman way. A truly brave way.
We became friends in junior high school and became closer in high school. We went to the same college, and perhaps it was there especially, as we matured and our lives became more complicated – even though the trajectories of our individual lives continued to diverge – we became closer still. Our friendship, (even just thinking about our friendship,) acted throughout my adult life as a placeholder for returning to a time when things were blessedly simpler.
Learning that Steffanie had died made me want to listen to music. Music was her default mode, and she was herself a talented, joyful singer. At first, I thought of listening to sad, pretty songs sung by women. I listened to Teardrop and Song to the Siren sung by Elizabeth Fraser.
But I quickly concentrated on the news that Steffanie had died at peace, on her terms, and surrounded by family and with her friend Jon. I decided to find some upbeat songs from the time when we were young. I wanted songs that would represent youthful abandon. I disregarded the lyrics or found instrumental songs that would make me close my eyes and bob my head. Songs that I would want to play very loudly. Songs to remember times when my friend was young and healthy. Here are a few.
You, The Night, and The Music by Tones on Tail from Burning Skies EP (1983).
I've never felt better in my life…. The Classical by The Fall from Hex Enduction Hour (1982).
Magic, magic, magic… Every Little Thing She Does Is Magic by The Police from Ghost in the Machine (A&M 1981).
Ladybird by XTC from Mummer (1983).
Windout by R.E.M. from Dead Letter Office (IRS recorded 1984 – released 1987).
I "passed" the hearing test this morning, which is good news. I get to keep exploring what is going on there, but for now the assessment is that my hearing is normal, and, of course, the whole thing seems pretty insignificant in light of Steffanie's passing. So I have let that go for now and instead I have been thinking about how lucky I have been to have had such friendships. Even when we'd drift apart sometimes, we could pick back up where we left off with a shared language.
I have been thinking of all the people whose lives my friend touched. I have been thinking about losing dear things. And I have been thinking that there are some things that you never lose.
Dear Steffanie, goodbye. Among other things, you were a proud redhead with a blinding grin. A teacher, a singer, mother, daughter, sister, and friend. There was no one else like you. Your very presence was cheering. You were easy to love. Thank you for the memories, dear things I will never lose. Goodbye, Dear Steffanie.
Barramundi by This Mortal Coil from It'll End in Tears (4AD 1984).
Rest… Ma Soeur by Tindersticks from Nénette et Boni.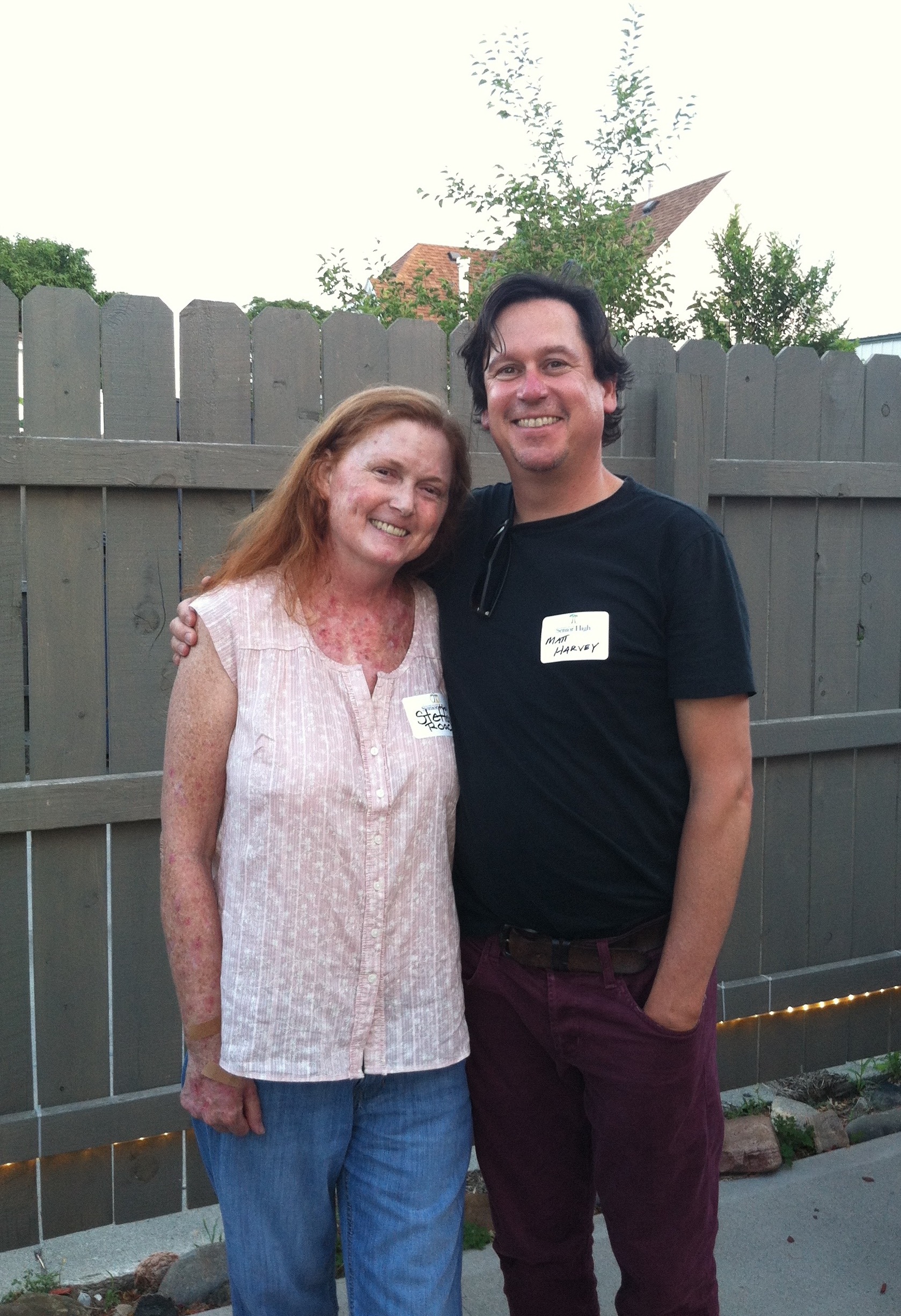 28 Feb 2018
________________________________________________
This is Not a Rabbit
Sometimes the old world feels a little wobbly – half a click off its axis – and our comforting routines evaporate. Things are not as they seem. On a walk this morning, the "feels like" temperature was -11. The ground was covered in still white snow. Tall bare trees crackled on either side of the trail, and in the distance ahead of me I watched a brave and fluffy rabbit take twenty or so hops steadily forward. My rabbit then leaped on a tree trunk and scramble up to its limbs. My rabbit was a squirrel. Weird.
If you are lucky like me, routines take a hit because of positive life changes. In addition to other things that have taken my attention, I've happily had extra work this year, and we moved to a new home – so my off-kilterness is both explainable and manageable.
I gravitate towards songs to help me find some balance, and this year has provided bountiful musical treasures that were beyond my ability to harvest and bank them. All that I have missed listening to greatly outweighs what I have caught. But these are a few of note, including a couple of **recaps from earlier in the year.
**The lasting power of punk is evident here — Priests are not satisfied to simply build graceful songs from the rubble of musical bedlam. They are also taking the next step by making their sound essential. This music has consequences – the band wants you to (for the love of god!) feel something. Artistic rebellion takes the form of making beauty from chaos. Nothing Feels Natural is the title track from this year's release by Priests (2017 Sister Polygon Records).
I love Fleet Foxes Crack Up, and one of 2017's musical highlights was when Jude and I got to see them perform an outstanding concert supporting their new record. (The link will take you to the full album, released on Nonesuch.)
**Through luxuriously layered vocals and crafty instrumentations Moses Sumney investigates intimacy, isolation, and existence. Experience a journey inward with his deeply introspective recent release, Aromanticism (Jagjaguwar.) Try Make Out in My Car.
I keep going back to Mac DeMarco's This Old Dog (2017 Captured Tracks.) Chilled out and thoughtful beyond its simplistic surface, this is a great representative tune: My Old Man.
Off the beaten trails, Simon Raymonde, co-founder of Bella Union Records, and bassist of my beloved Cocteau Twins, formed a new band called Lost Horizons with former Dif Juz percussionist, Richie Thomas. The new release is Ojalá, and I learned about his new project from an interview he did with Bob Boilen of NPR. It is linkable here, AND you can listen to a beautiful song from it with vocals by Karen Peris called, I Saw The Days Go By, with barely a scroll.
**RTJ3 by Run the Jewels (self-released) probably logged the most headphone time for me this year. Killer Mike and El-P pack so many ideas and such power into 14 songs that I often found myself hitting replay at the end of one listening to begin another. This one really moves: Call Ticketron.
There is one special release from this year that has occupied my thoughts a lot. I have been concentrating on it, and here are a few ideas:
My friend Tama is a dedicated meditator. She compared the feeling of going a day without meditating to the icky-ness of going a day without brushing one's teeth. I feel that way on days when I don't get to take a walk. I guess it is my form of meditation. Even when walking with a companion, or with headphones on, I get the sense of clearing my mind, and I have loved taking regular walks since I was a little kid.
Fairly often, I return to the town of my boyhood. Sometimes when I make these visits I carve out a few minutes to drive familiar roads and lay eyes upon some cherished old sites. When I re-explore my hometown it seems each time to have shrunk.
For instance, I recently drove roughly the route from the house I grew up in to my old elementary school, a trip taken on foot many hundreds of times. At age eight or nine it seemed far, and in my memory the walk almost always provided at least a bit of an adventure. In fact, though, it would take perhaps six or seven minutes to walk that distance now, over 40 years later.
I think this is not uncommon. The world seems huge when you're a kid. And to me, in memory it seems nearly paradisiacal. Returning as an adult, the un-hugeness of my own remembered world is disorienting.
Sometimes one craves the possibilities of a big world. Driving around my old town gets me thinking of all my years growing up there, when the world seemed larger. I think of fights and friendships; exploring fields and ponds on the edge of town; crushes, romances, and the little heartbreaks that did not seem little at the time.
As I drove around on that recent visit, I thought especially of the summers I used to spend there between college semesters. And I thought of a particular work of art, a movie, that inspired and helped to inform my aesthetic. When I was about 19, Jim Jarmusch's deliberately slow and wonderful film, Stranger Than Paradise, appeared. (Click on this for a summary of Stranger Than Paradise.) It was a movie I watched repeatedly and studied. For a few of my friends and me it was a formative movie that featured characters that were extremely different from us, but they were people we recognized and related to. Jarmusch had a vision — in his strange paradise, the mundanity of everyday existence was given an exotic sheen; life's inevitable boredoms were studied and cool.
Like those adventurous walks to and from elementary school as a child, Stranger Than Paradise made the world seem huge, and the movie was something I wanted to be as familiar with as the steps covering the blocks that I walked each day as a little kid.
All this is to say, sometimes when we are not looking, we get lucky and are provided with new art work that inspires and helps to re-inform our aesthetics. In 2017, such was The Ooz by King Krule. There is no kooler kat than King Krule, and his unclassifiable music makes my wobbly world seem pleasantly bigger and full of possibility.
There are elements here of jazz, rockabilly, rap, and ambient. I think I will be listening to this for a long time – and I certainly do not tire of this tune — check out Dum Surfer.
It sure wasn't perfect, but I will look back on 2017 with some special fondness. Here is hoping that 2018 provides everyone great memories, and lots more good music. Enjoy!
27 December 2017
_____________________________________________________
September Roses
Ways of expressing how music makes us feel are as limitless as our own imaginations. Recently, my friend Cathy described the experience of seeing a concert in this way:
"September roses from the yard … an image of what Fleet Foxes' show sounded like last night."
That's really good, isn't it? You get the message of natural beauty immediately – even if you don't know the band – and especially if you are familiar with the sometimes soaring, sometimes intimate, and always pretty music of Fleet Foxes.
Music can be, music is, much more than just the arrangements of notes or sounds. The image of a bouquet or a mountain forest in flames; the aroma of rich baking chocolate or a cloud of sweat; a slant of light that forces you suddenly into a squint, or the shiver of waking from a dream: these are music, too, in their simple or complicated evocations.
Music inspires us to our own expression through forms as varied as romantic dance and violent protest. Music influences personal styles as far flung as Ellington-style elegance, the pleasant messiness of neo-hippie chic, or torn up and raggedy punk.
Sometimes, though, music takes us inward – often straight into our own heads – and we focus on things like the disparities of our own self-perceptions. We may ask big questions like, "What is my place in the world?" or "What is my place in the universe?" These questions may arise from insecurities or from healthy and continual self-discovery, and the very asking of them may help us to learn about how we relate to others.
Experience the journey inward with the recent music of Moses Sumney whose newest release Aromanticism, is deeply introspective. (Out 22 September 2017 on the Jagjaguwar label.)
Through luxuriously layered vocals and crafty instrumentations Sumney investigates intimacy, isolation, and existence. The 36-minute record took three years to make, and while the sounds are often light, dreamy, and ethereal, the thoughts that Moses Sumney provokes are heavy. The music weave guitars and pianos with unexpected live instrumentation like clarinets and flutes, and there is a mass of electronic musical mastery used through beats and looping.
At its least adorned, Sumney's music can remind you of the plainest (and maybe the greatest,) songs of Johnny Mathis – distilled to feature almost miraculous vocal ability. At its most complex, there is in Sumney's music Radiohead's gorgeous and dreamy saturation of minor chords. And dreams are to be desired here. In an interview with NPR, Sumney said the record took a long time to make because he was, "…sculpting the sound to  … be like a dream … I hope people will fall asleep [when they listen to it.]"
Check it out – these are gentle, confessional songs. Sumney describes Aromanticism as, "a concept album about lovelessness as a sonic dreamscape. It seeks to interrogate the social constructions around romance." Headphones suggested. Italicized titles below are linkable to hear songs by Moses Sumney from Aromanticism (2017 Jagjaguwar):
His Web site, for concert dates and links to purchase his music:
Here's Johnny:
An Open Fire and Tenderly by Johnny Mathis from Open Fire, Two Guitars (1959 Columbia).
______________________________________________________
My Old Man loved my Mom and she loved him. It showed. That it showed was instructive, and I believe that their love for one another may be what makes me think of them both often. Sometimes I dream of them, and distant joys and pains are resurrected by the crafty old Sandman's mysterious impulse.
I like to look at pictures of them from long ago and imagine their lives before I was around. And I like to look at pictures of them from their healthy adult years, before they were brought low by ill health and infirmity. Like this one: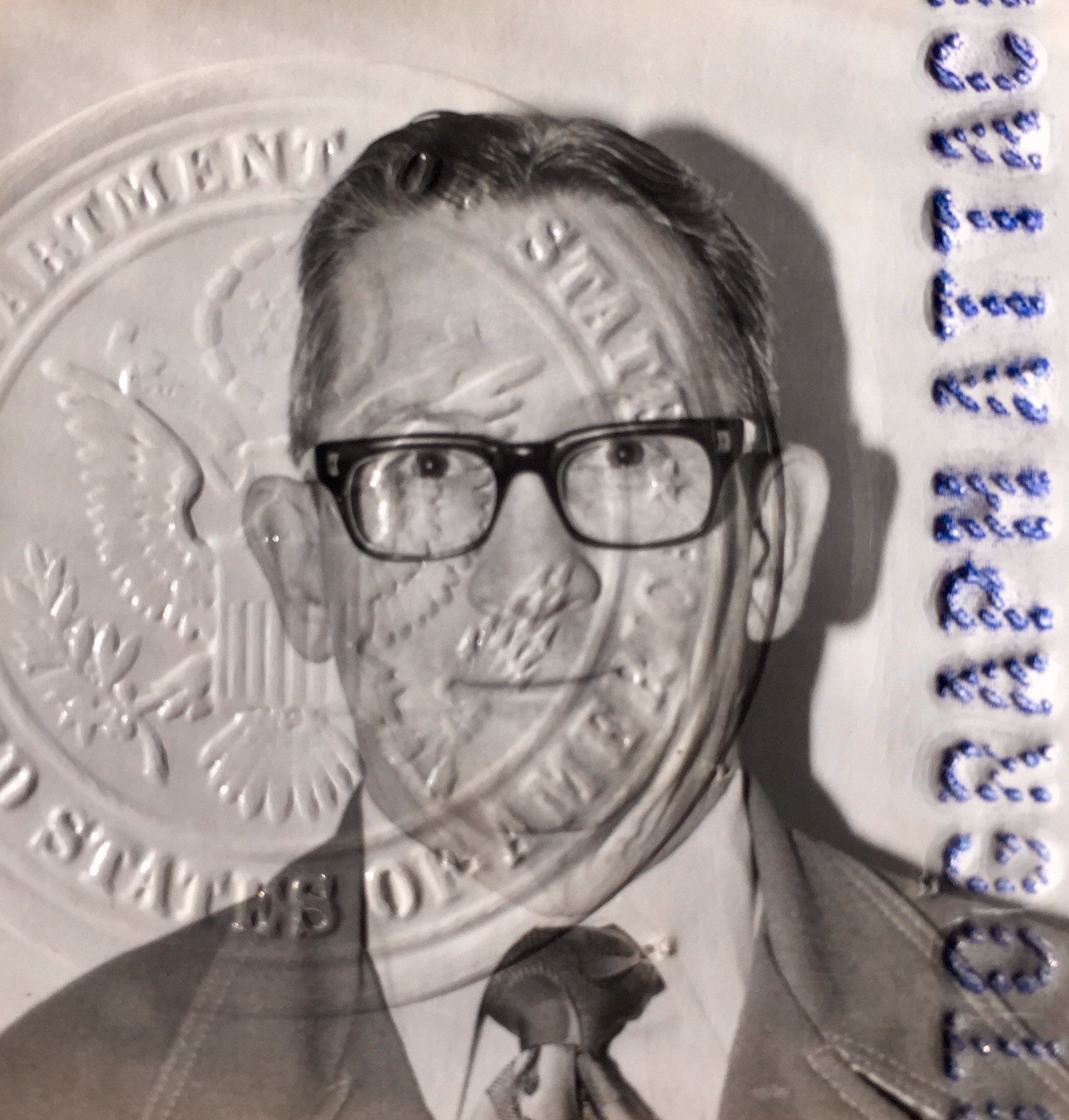 Several people have said how much I look like my Dad. I suppose that's right, but in photographs my Dad always looks dignified — even in pictures from when he was a little kid or a very young man, there is a confidence and a sense that he felt he was at the exact right place at the exact right time. The cast of dignity is especially clear in photos of him from adulthood, say, when he was around my current age. At 51 he had three grown daughters and a 13 year-old son.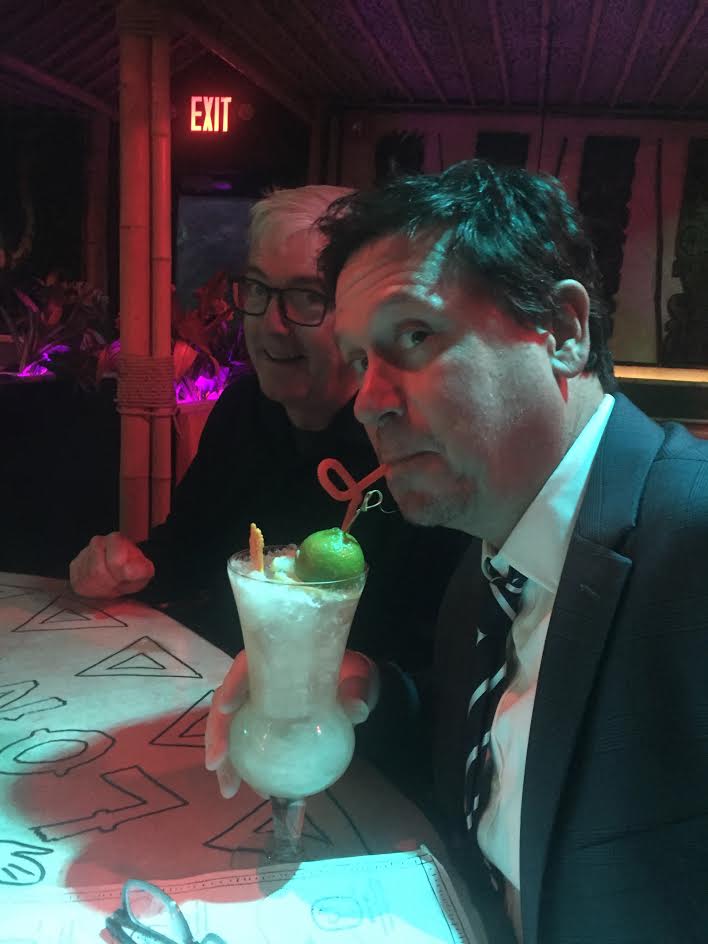 In photographs, I clearly don't always look dignified. As a matter of ice-cold fact, in photographs I often look like a deranged, if somewhat tallish, elf.
I have been thinking of my old man especially often – most especially about the fact that over half my time on earth has been spent without him physically in it. Lately I have also wondered if, when he was 51, he thought much of his own father. I have been reflecting on Dad's appetite for music, and how that influenced me. If I didn't inherit his sense of being at the right place at the right time, or what I regard as his photogenic quality, at least I got that hunger and thirst for music.
I have been thinking about his taste in music. It ran toward big band, ragtime, and Dixieland jazz on the lively side, and on the more contemplative side, toward traditional- and folk music, and some American jazz from the late-1950s and the 1960s. He liked big choral music and orchestral music. He liked Sinatra and Crosby. As I have noted more than once on this page, he liked to sing and was not afraid to range in the land of the sentimental.
He could definitely have got behind this simple and sincere new number from Mac DeMarco, and you should, too. It is beautiful and I love it.
My Old Man by Mac DeMarco from This Old Dog (due May 2017 Captured Tracks).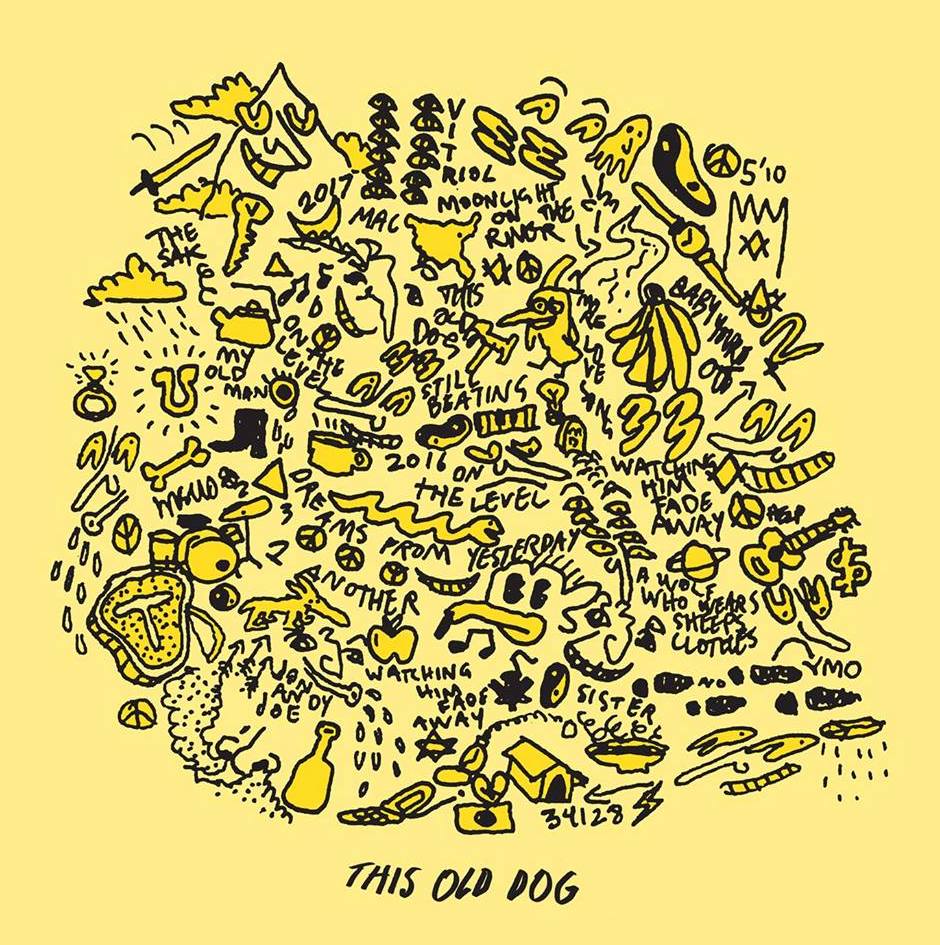 Song For My Father by The Horace Silver Quintet (1965 Blue Note).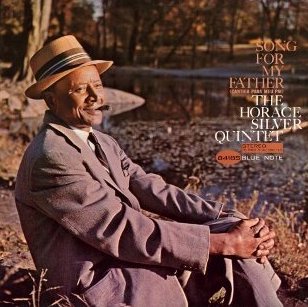 Swinging On A Star and Too-Ra-Loo-Ra-Loo-Ral by Bing Crosby from Going My Way (1944).
Wish you were here.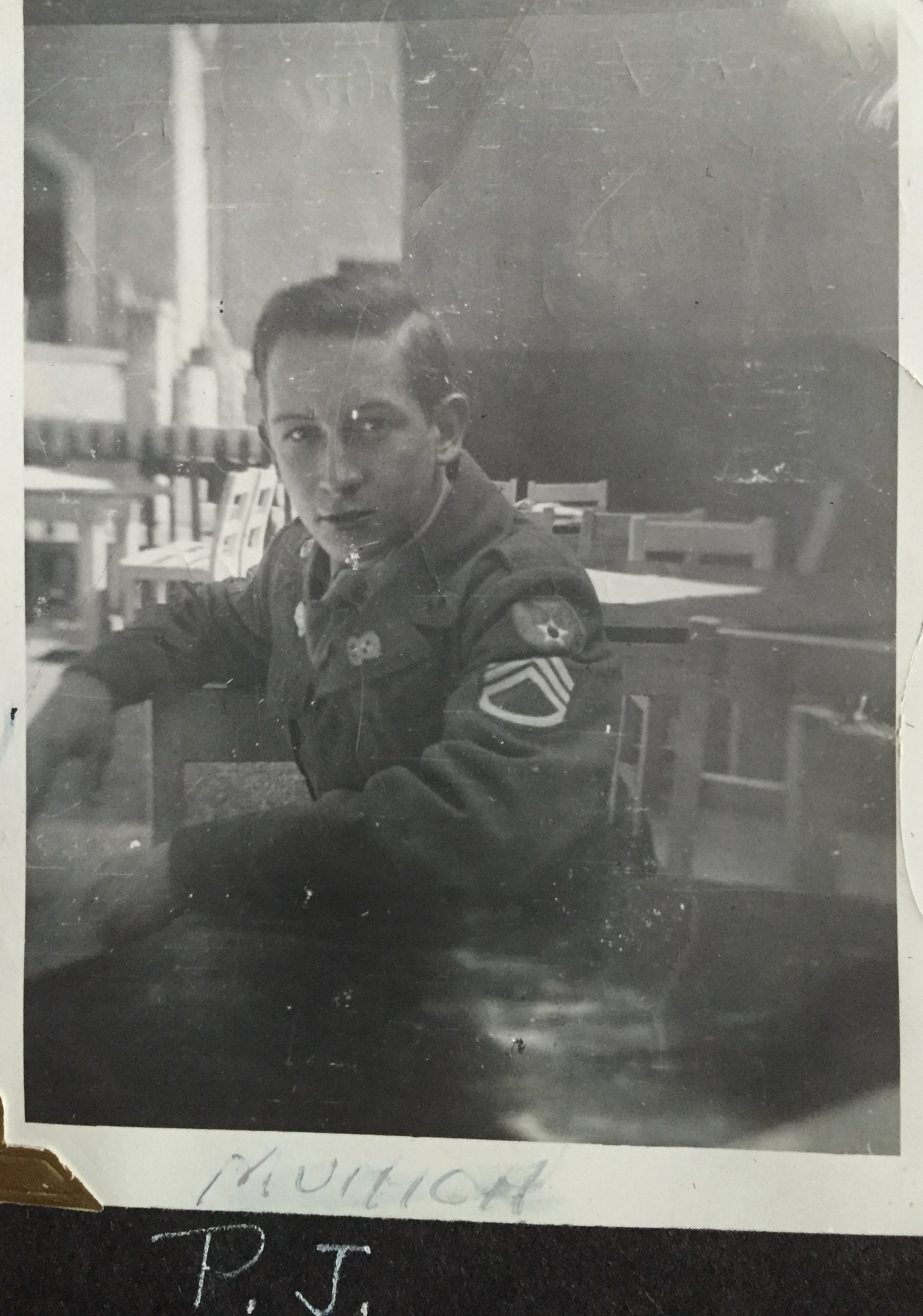 17 March 2017
____________________________________________________
Be good to one another, increase loveliness, and treasure originality!
____________________________________________________
Here are two songs to check out — Maze opens the record, and Travelogue.
_____________________________________
The Potency of Symbols
Man, the South is strange. I have not spent too much time down there, and want to be careful not to paint the people and collective judgments of thousands of square miles with the same brush – but man, it's strange.
Judy and I were just down in Arkansas with a couple of our dearest friends, Diane and Howard, and we were having a great time – a really fun short getaway. Because, the South is not only strange, there is also lots of upside in the South, like great food and sweet warm weather. And there are curious, charming specifics of regions, like a comfortable pace for instance, and being called 'Mr. Matt' by people to whom I have only just been introduced as 'Matt.'
But the South, boy – there are things that make me pretty uneasy, too.
With our friends, we rented a cool old house in a compact, tidy town – we were walking nearly everywhere. In the center of the old business district was an open block town square with handsome sculpted gardens and symmetrical walkways. For some reason we had not walked through the town square until the final night when Howard suggested that we do so.
Ugh. In the center of the square was a largish circular fountain, and in the center of the fountain was a tall stone sculpture of a Confederate soldier mounted on a pedestal. In bold block font on each of the pedestal's four sides was the word CONFEDERACY. The vibe cast by this town square's memorial shook all four of us simultaneously. Then …
Double ugh. As we stood in the lamplit square, not really saying anything to one another, along the pretty main street came rumbling one of those tricked-out pickups – jacked up with gigantic tires, etc. The truck's very loudness caused us to turn and look. There in the breeze of a nice warm night – flapping on a pole that was secured in the bed of the truck – an oversized Confederate flag.
Oh South, you are strange. Compared to the statue, my reaction to the flag was more intense – it was internal, visceral, and spooked – the potency of the symbol nearly put this Yank off of his catfish and fatback grits.
One of the kindest favors music can do for us is help us to travel in time. In my recent case, I wanted some music that would improve or erase the temporary poor impression of the South. So I traveled back to a time that I associate with growth, happiness, light hearts, and some simplicity. This year marks the thirtieth anniversary of two records that influenced my listening heavily and that I have enjoyed over and over. I thought these two deserved new serious listens, and might be just the things to rid me of the ugly taste of celebrated Confederacy. I was rewarded, and I generated a few new thoughts after revisiting the following music.
First, Skylarking by XTC (1986 Geffen/Virgin Records). Some of my friends and I probably never expected to hear a better record than Skylarking. We were fans of the earlier records, and I think now that I like the five that directly precede Skylarking best: Drums and Wires, Black Sea, The English Settlement, Mummer, and The Big Express. But at the time, and for years after, the sounds of Skylarking came to symbolize a whole time for me – a time of rich personal inspiration and ambition. Skylarking was more grown up. It was lyrically brilliant, discussing big existential and philosophical ideas, and asking questions about how how to function in the world – taking on religion and class, life and death.
I found its broad range of ideas and styles, and its musical sophistication enthralling – and the band had never been afraid of being a little daffy in the name of fun.
The two bands' stories and trajectories are different, and certainly XTC never was going to dominate the world in the way that the Beatles did, but I think there are strong cases for comparison. Both bands had the ability to cut quickly and decisively from light, boyish goofing to dropping deeply introspective nuclear bombs – they could both go from pastoral lushness to explosive pop/rock in a convincing snap. Certainly both bands were wildly imaginative and unafraid of experimentation and expanding on ideas that had been set down before them.
All of this holds up so beautifully…
The Man Who Sailed Around His Soul
The song below was originally on the UK release of Skylarking. The U.S. release instead featured the b-side for the song Grass, called Dear God.
And then, good old Graceland by Paul Simon, (1986 Warner Brothers).
Like most people at the time that Graceland was released, I suppose, I had limited experience hearing Western pop music integrated in that way with African music. (Peter Gabriel released the gigantic-sounding, African-influenced hit So that same year.) The album gave listeners an unusual balance by combining the exotic rhythms of Tex/Mex, Latin, zydeco, and multiple African cultural sounds, with the iconic, familiar voice and heady confessional poetry of Paul Simon. His ability to make these things work together had the effect of making us feel smart.
This album played in super-heavy rotation during most of my senior undergraduate year, and became so habituated that it is a bit strange to listen to it anew now. As a whole, I still very much enjoyed it, but the songs that became hits, (especially the silly You Can Call Me Al,) register almost automatically as simple background music – nothing wrong with that.
Accusations of cultural appropriation and genre-tourism bedeviled Simon at the time of the record's release. There was even a case related to a song on Graceland, where the band Los Lobos called Simon a straight up thief. Some of this seems quaint in light of the explosion of hip-hop – many of whose very best artists function as thieves and appropriators. It is interesting to note these social and cultural matters inasmuch as social and cultural political matters were the impetus for me to re-listen.
There are still a couple of real stunners. He is, of course, incredible with duets:
Under African Skies Paul Simon with Linda Ronstadt.
And he can be darkly funny, too:
Certain things stick around – they become so familiar that they fall away into the environmental ambience. We become so used to songs, or streets, or statues, that they are hardly noticeable. Some of these things are mostly benign, some can still rise up occasionally and thrill us. Some come rumbling down the pretty street to confuse and even disgust.
Be thrilling, occasionally.
16 March 2016
_____________________________________________________________
A Little Help From My Friends 
A lifetime of collecting music to love is a bit like a lifetime of saving money – when times are tough and you can't come up with any new tunes to enjoy, you need an "account" of old music to draw upon to get you through. But you always want to be sticking a little more into the old bank. I'm constantly on the hunt for holy money: the sweet rewards of new music – or more accurately, music that is new to me.
Regular readers may remember that a consistent theme threading through these posts is the experience of music as a form of time travel. With a little help from my friends, I recently got hipped to two great things worth sharing – and both of them fit right in for experiencing music as time travel.
First, thanks to my friend Amy Farnstrom. She and I have exchanged opinions on music from time to time since we were at college together. Our tastes run close so it is no big surprise that when we would catch up to exchange suggestions with one another, (sometimes after long stretches of being out of touch,) we'd discover that we had picked flowers from the same musical garden. She helped turn me on to one of my all-time faves, Belle and Sebastian; she was always a huge fan of David Bowie; and she championed wailing guitar gods like Johnny Marr and Pete Townshend.
She recently sent me the link for the self-titled first record of the band Heron Oblivion. I got a chance to listen to the whole thing once through this morning. There were immediately "grabbing" elements that Amy knew would be in my wheelhouse – especially the wonderful female vocals and the psychedelic rock aspects of the songs. I could also tell that the record will be a "grower" and that there will be much to pull out and appreciate on repeat listens.
The expansive sound percolates with fantastic rhythm provided by great 60s/70s style rock and folk drumming, and by creative bass flows. Throughout the record you can depend on the sweet, dull roars and resounding flickers of psychedelic guitar. And the big star for me here is singer Meg Baird – her vocals fairly sparkle.
The time travel machine invoked by Heron Oblivion can take you back to any of the prior five decades. The opener, Beneath Fields, has the assured trippy psych-folk quality that I would associate with a smoky subterranean San Francisco bar in the mid-1960s. My immediate favorite song, Faro, conjures the late-80s and the 90s with a driving, insistent, wildly experimental pluck and flow of sound that is straight out of Sonic Youth's playbook – including the freaky guitar tunings and the breathy lyrical delivery that Kim Gordon mastered – a mixture of spoken and sung words that convey simultaneous vulnerability and confidence.
The record is due 4 March 2016 on the Sub Pop label. You can hear individual songs, or the whole thing here, now:
Heron Oblivion – NPR First Listen
Thanks also to friend Scott Lewandowski for his recent 'reco'. Sweet Lew and I were boys together, and have stayed in close touch ever since. He has always had a great ability to sniff out cool sounds – and he recently unearthed a band that we had missed from the early 1980s – ESG – Emerald Sapphire Gold. (They recorded 1980-1985, and again for a time after 1991 – their music was reissued in 2010 on the Fire label.) I have just been poking around on YouTube to sample the band's tunes and every click leads to a delightful new find for me.
It turns out that we have all probably heard lots of ESG's music because so many great bands, including Public Enemy and Beastie Boys, have sampled it. Their influence on the original music of bands like Luscious Jackson is easy to hear, too. What is so crazy is that the Factory Records' sound guru, Martin Hannett who is associated with Joy Division, produced the band's first EP.
ESG's main drivers were the Scroggins sisters from the south Bronx. They created a pretty stripped down and original music that is remarkable for its variety – from weirdly dark to just funky and fun.
Lew suggests checking out this one because, "the chorus sounds like dogs barking," and he, "loves the tambourine."
Dance by ESG from Dance to the Best of ESG (reissued in 2010 Fire Records).
This should be familiar:
UFO by ESG from the EP ESG (1981 Factory/99 Records).
Naked Eye by Luscious Jackson from Fever In Fever Out (1996 Grand Royal).
New Town Velocity by Johnny Marr from The Messenger (2013 Sire Records).
Get in touch with an old friend.
27 Feb 2016
___________________________________________________________
______________________________________________________
You Can Leave Your Cares Behind
With nearly a month under our belts 2016 is shaping up to be a nice year. Today the sun is shining cheerfully and I had a nice walk and chat with my friend, Mary. Every few weeks we take an hour to circle around the lake that she lives on with her husband, Jim. It was great today, bright and cool and windy. Geese and hawks were swooping around, and the two of us threaded our way through the muddy trails and trees while catching up. It is wonderful to talk with someone about the things you care about, and to discover that in so doing, you can leave your cares behind.
Something else to be happy about – DIIV has a new release due next week that will feature 17 tracks. In case you are new to DIIV, the band's front man, multi-instrumentalist Zachary Cole Smith, has a proclivity for loose-fitting clothing and mind bending, complex, shoegaze pop.
Thanks to the folks at The Guardian, who have put up an exclusive live stream to the entire piece, you don't need to wait another minute to hear Is The Is Are, DIIV's follow up to their brilliant 2012 debut album Oshin.
You can link to Is The Is Are by DIIV (due 5 Feb 2016 Captured Tracks) here:
I am about halfway through the first listen and have loved every second so far. Go ahead, link to it and then you can dance if you want to. Like its predecessor, Oshin, this new DIIV release, Is The Is Are, will be in extra heavy rotation around here, and will show up on many best of the year lists.
Be kind to each other.
29 jan 2016
_____________________________________________________________________
New and Delicious 2016
Finding and hearing new music is one of the great sensory pleasures of life – as satisfying as stroking a purring cat or eating a wonderful meal. There are scads of very rewarding places to find new music, (some are discussed briefly at the end of this post,) and lately there's been a spate of fine new tunes to discover – including music from this fine fellow.
Listen to this song from The Arcs. It was released late last week and I must have played it a twenty times already – I seriously can't get enough of it. It was inspired by the case of a Wisconsin man who spent 18 years in prison for a crime he didn't commit. Beyond the lyrics, it has beautiful minor chords and a tempo that puts me in the mind of a slightly rocked up version of Jobim's Girl from Ipanema. It is dreamy and addictive – simply slaying. It is as if the guitars are programmed to make you sway and swoon. I am going to listen to it again right now.
Lake Superior by The Arcs.
Thanks to pal Andy Agena for hipping me to this: Tim Gane of Stereolab formed an exciting new collaborative project called Cavern of Anti-Matter in 2013. A triple LP is due next month and guests include Deerhunter's Bradford Cox and Sonic Boom from Spacemen 3. They've offered up over twelve minutes of new material that has the same propulsive and varied electronic invention that Stereolab delivered for about two decades.
The piece linkable below is all instrumental, (the multi-signature sound of Stereolab was wedded to the inimitable vox of Laeticia Sadier, and the dear, late Mary Hansen,) but Gane mines the gamut of instruments and apparatus to satisfy your craving for groovy syncopation and hooky drone.
Tardis Cymbals by Cavern of Anti-Matter from the upcoming full-length void beats / invocation trex (due 19 February 2016 Duophonic).
The four-piece band Savages are the answer to the question, "Where has the intensity gone?" Three English players and an almost unbelievably ferocious French singer deliver a thoroughly potent mix of post punk that channels Joy Division. I am so eager for their new release that is expected later this month.
The Answer by Savages from Adore Life (due 22 January 2016 Matador).
The artist whose name appears most frequently on this blog is David Bowie's. His broad range of magical, seemingly limitless talents have influenced, awed, delighted, and educated me as much as any artist. He is responsible for forming my musical taste as much as anyone else, and his music has given me so much pleasure. I owe him enormous gratitude. His new project with producer Tony Visconti is called Blackstar, and it is a jazz/rock masterpiece – extraordinarily challenging and innovative. It was released only several days before his demise at age 69.
He was always fascinating. There was no one like him. I wish safe travelling for him into the stardust. Thank you, and please rest in peace.
Lazarus and Blackstar by David Bowie from Blackstar (2016 Columbia).
Here is precedent for the mad, jazz mastery of David Bowie and his cohorts that was recorded over 40 years ago. It still sounds brand new. Bonkers. This will leave you shaking your head in wonder and joy.
Aladdin Sane by David Bowie from Aladdin Sane (1973 RCA).
Note:
I am really thankful to some of the outlets at my disposal for the collection of new music, and for learning about things I may have missed along the way. The question comes often: "Where do you find out about all this music? First, I have great friends with great taste who have taught me throughout the years. Jeff Runnings, Peter Palermo, Cathy McBride, Robert G. Bennett, and Peter Acheson all come immediately to mind and get big nods – and there are lots of others whose names will rocket into my mind the second I post this. Thanks all. I am indebted in ways big and small to the people, programs, and sites that help me learn about, and turn me on to music. This is an incomplete list, but it's a start. I endorse the following
I never miss a podcast episode of All Songs Considered. I have been a longtime fan of the criticism of Bob Boilen and Robin Hilton and their colleagues at NPR. They almost always seem to "get there first!" They play a mix of established and obscure musicians and combine criticism with interviews, stories, and live performance. The focus is on new music, and while I don't always agree with their tastes or takes, I do always listen.
Sound Opinions is a weekly podcast from radio station WBEZ hosted by Chicago-based writers, Jim DeRogatis and Greg Kot. They feature lots of live performances, interviews, and breakdowns, as well as reviews. The focus is on providing musical context, and while they primarily feature new music, there are healthy doses of exposition to historical and multi-genre music. Again, I don't always agree with them, but I do always listen.
I look at Pitchfork a few times a week. A comprehensive service to lovers of lots of new music, they post news, reviews, and links to music. Pitchfork Media is considered an iconic tastemaker by many, and considered overreaching, insufferable, and ubiquitous by many others. I like it.
There are tons of cool (and much less hyped) outlets, too. Hardly anything is as cool as Jack Rabid's project The Big Takeover that started examining and championing the underground of new music as a classic zine in 1980.
I learn about so much great music by listening to Sirius/XM's satellite radio station SIRIUS/XMU. Highlights include:
-D.J. Jenny Eliscu.
-The featured weekly show called Download 15 (the fifteen most frequently downloaded songs of the week.)
-Access to specialty shows from music bloggers like Brooklyn Vegan, Carles, gorilla vs. bear, and even monthly treats like Serious Boredom hosted by Patrick Carney (and as a tidy bookend, Carney is the Black Keys bandmate of Dan Auerbach – who led this post off with his side project The Arcs…)
I have to admit it is a mixed bag and change the channel often to get away from some of the dreck that is played on SIRIUS/XMU, too.
Phew – lots of info there! Be good.
11 january 2016
__________________________________________________________________
19 nov 2015
____________________________________________________________
Speak Low by Kurt Weill, lyrics by Ogden Nash, performed by the absolutely brilliant, incomparable Lotte Lenye, from the Broadway musical, One Touch of Venus (1948).
There is a live performance film by Director John Albrecht called Deerhunter Sunday Redux (link below). It is a marvelous documentary testimonial to the creative, raw power Cox and Deerhunter can have. It was filmed at the Bourbon Theatre in Lincoln during the band's 2010 tour. I got to see that concert, and what a wonderful experience it was. It had the perfect effect of making the audience members feel that they were in the exact right place at the exact right time. The opener, Helicopter, is captivating – slow building and patient. We were hearing it, and several other songs that made up Halcyon Digest, months before its release.
_____________________________________________________
31 july 2015
Paul Weller was only 20 when he wrote and recorded this exotic and romantic masterpiece. It is about devotion. With his voice and quiet guitar, he captures the painful promise of youth, and also the mature willingness to become weary just from the plain and complicated act of loving.
This song might make you want to lie on the floor together – hold hands and just stare at the ceiling –
English Rose by The Jam, (from All Mod Cons, 1978.) http://bit.ly/1g2qY03
Maybe I'm Amazed by Paul McCartney.
I am absolutely baffled by my good fortune to be loved. (And I am often confused by a good number of other things.) Here, Paul McCartney brilliantly captures the bewilderment that life can cause and that love can help to assuage. And he lets you know how lucky he feels about that.
For the Love of Big Brother by Eurythmics.