My unsentimental wife recently had some encouragement for me. She thought I ought to consider not posting anything about family for this installment. Instead, she said I should get a few thoughts down about some of the terrific new music that has been filling up our house. There is much to be excited about in this still young year. Here are a quartet of high-quality releases from January and February.
St. Vincent by St. Vincent (2014 Loma Vista)
Is anyone else challenging the ideas and limits of rock music as successfully as Annie Clark? The new persona is a trope. Like David Bowie's creations Aladdin Sane and Ziggy Stardust, she's playing a far out, (and, one supposes, a temporary,) character. Aside from her current incarnation as the transfixing silver-haired, vinyl-clad high priestess of white spirits, there is her jarring music.
She is a fearless and often brilliant experimenter, and has always zigged when one expected that she'd zag: unexpectedly slowing things down a beat, going a half note sharp here or there, blasting trumpets when you expect a gentle flute. There is so much to be impressed by – in what seems on the surface to be over-the-top there is an agonizing restraint.
Huey Newton by St. Vincent: http://bit.ly/1fF114L
 *******
Too True by Dum Dum Girls (2014 Sub Pop Records)
Dee Dee Penny is the beautiful face and the main songwriter of the Dum Dum Girls. She is the genuine article. Really, she's radiant and should be a huge star. I want her and her band to be successful, too. I hope they are selling tons of records and selling out their shows. I also temper my kind wishes with the thought that they are just about successful enough. I love everything they have released, and sometimes when the bell of great fame rings, (the ring that cannot be unrung,) it is the undoing of my romance with a band.
Few acts can claim the successful synthesis of musical and personal styles created by Dum Dum Girls. They wed great, introspective pop songs with a cultivated and sincerely detached, great, dark collective image that is reminiscent of the (truly) indie early 1980s. The vibe of the band is consistently darker (think of Siouxsie Sioux) than the actually music. The music often has more in common with the straightforward, skilled and cool rock and roll of the Pretenders than any goth-y post punk. (Especially on records preceding Too True, Dee Dee sometimes sounds hauntingly like Chrissie Hynde.) Dee Dee's delivery is always right on, and combined with her searching lyrics, she often brings to mind a range of singers from the girl groups of the 60s.
Dum Dum Girls never disappoint, and this record with its short, to-the-point songs and driving pop rock will be one of my favorites of the year.
Lost Boys and Girls Club by Dum Dum Girls: http://bit.ly/1n7CT10
*******
Cursing the Sea by September Girls (2014 Fortuna POP!) 
Taking their name from a Big Star song September Girls is a Dublin band. They have made a really wonderful and noisy debut album that is drenched in reverb and distortion effects. They claim inspiration from The Cure, The Jesus and Mary Chain, My Bloody Valentine, and The Velvet Underground. Among the fantastic layers there is also a beating heart of pop sensibility that owes a debt to 60s girl groups. In a rich rock style, most of the songs are torn through in less than three minutes.
Heartbeats by September Girls: http://bit.ly/1q1jxNo
*******
Warpaint by Warpaint (2014 Rough Trade Records)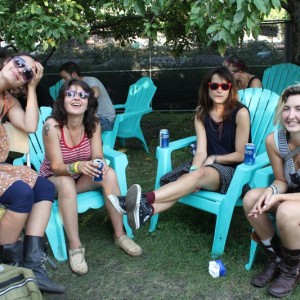 This record will reward you if you like the kind of dark, expansive, and patient music of Massive Attack, or the soundtracks for films of David Lynch. Radiohead influences are very apparent, too; Warpaint was mixed by Nigel Godrich.
It is atmospheric and composed and is more of a grower than their previous record The Fool, which was so immediately likeable. The music here is spacious and mature. Warpaint delivers the same commitment and energy as ever and they come together powerfully.
Biggy by Warpaint: http://bit.ly/1i4ekyR
5 march 2014
_______________________________________________________________