I have a dear cousin who grew up in Cordova, Alaska which is a land-locked fishing village on Prince William Sound. Her father kidnapped her and her two sisters from their mother in Florida when she was just two and then he stashed all three sisters in an apartment in Cordova while he moved in with his girlfriend up the road. The oldest sister, who was then just 8 years old, was put in charge of caring for the two younger ones. The girls had an open account at the grocery store, bought and made their own food, kept up the apartment, and walked to school on their own, even during the treacherous winter months. Everyone in the village knew about their living situation but it was never questioned, even as the girls entertained themselves by firing guns from their deck, aiming at seagulls in flight.
Over the years my cousin has enchanted me with 'My Life in Alaska' stories and I came to understand that Alaska had a culture like no other state. My desire to visit the modern frontier was always on a low-level burn but I never got around to learning much about the state other than what I gathered from my cousin's stories. That is, not until I landed in the Anchorage airport in August. And it took just one look at the Chugach mountains looming through the gate windows to make me feel small and realize how unprepared I was for a visit.
"You can only make one mistake in Alaska", my cousin had warned me. (The 'otherwise' part of that sentence hangs in the air and is unspoken, which makes a person imagine the worst, and that of course turns out to be the right way to think about it.)
I bought books about Alaska in the airport about 10 minutes after landing and several more in Anchorage at a well-stocked local bookstore named Title Wave.
Here are a few of the Alaska books I read this summer:
Pilgrim's Wilderness: A true story about innocence and madness on the Alaskan Frontier by Tom Izzia.
One review summarized this book as, Into the Wild meets Helter Skelter. And I probably shouldn't write more than that, because it is a perfect summary.
This true story takes place in a remote outpost called McCarthy. It's difficult to travel to McCarthy and there are only about 29 people to greet visitors when/if visitors finally get there. But if you want to understand how the 1980 Alaska National Interest Lands Conservation Act impacted the local homesteaders' mental state -which was likely, for many, already fairly disturbed- this is a good book to pick up.
Pilgrim's Wilderness is about Papa Pilgrim, his wife, and their fifteen children who came to McCarthy to squat on land the government had recently brought under their control. Initially the 20 or so McCarthy residents felt that the Pilgrims were a shining example of homespun Christian life and welcomed the family into their community. The McCarthy community held other internal conversations about continued community support as long as the clan could show they were able to fend for themselves through long winters. The citizens were true to their word, they supported the Pilgrim's illegal behavior and squared off with the government for a while, backing the Pilgrim's criminal actions, which included squatting and disturbing public land.
But not a surprise, behind all the Pilgrim's piety and old-timey family singing the author uncovered the Pilgrim's backstory that was steeped in religious creepiness and criminal behavior in other states.  Izzia is a crafty story teller and slowly reveals the early years of the Pilgrim's weird and illegal actions while interspersing the present-day story of the escalating war with the Park Service.
Papa Pilgrim's actions not only sparked multiple confrontations with the National Park Service but also divided McCarthy on the topic of where citizens' rights end and where the government's powers start. It is likely a similar topic would pop up if you talk to local Alaskans on a visit. And if it does, you'll hear words like 'over-reach' and 'my gun' more than a few times.
As events escalated in McCarthy we also read about the abuse Papa Pilgrim's children were enduring at home. Rescue was required.
Izzia had extensive access to Papa Pilgrim as he gathered material for this book and the story is enriched because of it. This is a page-turner that captures the ways in which some Alaskans interact with and talk about their land, the government, and one another.
The Sun is a Compass by Caroline Van Hemert
When I finished reading this book, I was so inspired I wanted to take out on a real crazy adventure.
The Sun is a Compass begins as Van Hemert is finishing a graduate degree in ornithology. And as grad school can do, the day-to-day grind led her to reexamine her life choices. She wasn't happy with lab work or her research or the prospect of living her professional life in academia.
Van Hemert grew up in Alaska with parents who were peak baggers and naturalists. So it makes sense that Van Hemert took a step back into her past idyllic environs to reflect on her future.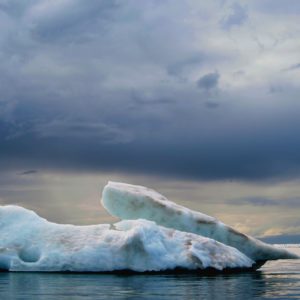 Most of us who endured grad school had our break-down moments. Here's what I did for mine: I stayed home and watched MTV for a week straight and smoked a lot of cigarettes. Here's how Van Hemert handled her grad school breakdown: she and her husband Pat decided they would take a 4,000-mile trek from Washington state to northwest Alaska, traveling entirely under their own power.
Their adventure begins in sea-worthy rowboats that Pat built in the garage. The initial leg of Van Hemert's grad school re-consideration started with a 1,200 mile row from Bellingham, Washington to Haines, Alaska. Then after the long row (and numerous close calls) they switched to skis and headed into the mountains between Alaska and the Yukon. In this leg they faced avalanches, lurking crevasses, and unstable weather. Then Van Hemert and Pat hiked and skied a few more thousand miles and used inflatable pack rafts when they needed to cross rivers and lakes.
This is an amazing story filled with close calls, life-impacting revelations, and up-close interactions with nature to a degree that few people will experience. Van Hemert is a great writer and she has a wonderful thrill-ride to share. It's good to know she and Pat are still at it, the New York Times recently ran an article about the couple and their children who were all taking an Inside Passage sail.
Spoiler alert: Van Hemert did not pick academia.
The Great Alone by Kristin Hannah
My cousin recommended this book as one of the few fiction books she feels accurately captures what it was like to grow up in Alaska in the late 20th century. Hannah has Alaska cred too, in the 1980's her parents co-founded the Great Adventure Lodge in Sterling, Alaska.
The novel begins in 1974 when a Vietnam vet, Ernt Allbright, suffering from PTSD discovers he has inherited a cabin and 40 acres outside of Homer. The inheritance is good timing, Ernt is recently unemployed and not for the first time; he also can't manage his drinking. Believing the inheritance is a good omen he moves his wife and young daughter, Leni, into the wilderness outside of Homer into a falling-down cabin. This is done with a promise to his wife and daughter that he will 'get better'.  Sure.
This is no fairy tale and life doesn't get better for Ernt. His drinking escalates, and he befriends Mad Earl who is the local white supremist. Mad Earl is not the influencer Ernt needed in his life but Ernt is incapable of appreciating the good people of the community. In the meantime, Ernt's daughter, Leni, grows up in Alaska's wild splendor – long before it was ruined by cruise ships and roads that lead to actual places- and she thrives as her father twists into alcoholic violence.
There is more to the book, like Hannah's description of the caring and accepting community that helps the Allbrights prep for their first winter and Hannah also shows the other side of that same community, the one that stands aloof as it witnesses Ernt's increasing violence against his family. And there are eccentric and heroic Alaskan characters throughout the book and the handsome son of the town rich guy, who can't help but notice the bright and capable Leni. And in the end, there is that 'one mistake' plus one more that my cousin warned about, which ruins Leni's dreams.
I raced through this story. It is dramatic, filled with eccentrics, heroes, and villains and loving descriptions of Alaska's natural beauty. The books reads a little like a YA novel, but Alaska has that vibe as well. I trust my cousin on this one. If you want to get a feel for what it was like to grow up as a young girl in Alaska in the 1970's and 80's, this is the book to pick up.