It's been a long time, so I'll simply wade in and won't make excuses for those slipped-away days with no Rocky post. Here are favorite books I read during those missing months.
Robot Zen books: Good news on the future, at least from a couple authors. Becky Chambers has written a delightful book about a time and place where robots have gained consciousness. And get this, they did not decide to become cruel overlords or opt to continue to serve humans, instead they took to the wilderness to be free. A Psalm for the Wild Built is a slim book with two delightful characters, a tea monk called Dex who is the first character I have read who uses they/them pronouns.  The second character in this charmer is the robot, Mosscap.
"Sometimes, a person reaches a point in their life when it becomes absolutely essential to get the fuck out of the city" is Dex's opening line. And it takes only a bit of wagon outfitting before they head for the hinterlands to serve tea to humans living outside city walls.
As Dex travels through the hinterlands, where people farm and create art for those who live in the only city on the small planet, his tea ceremonies become more elegant with practice. Dex serves all who come to them tired, sad or a little lost.
By the time Dex meets robot Mosscap, they are a well-known tea monk and welcomed throughout the countryside. However, Dex is unsure if they understand what people truly need.
(Note: after reading a few sci-fi books with a positive spin on the future, I thought I might use the phrase, robot zen in my Rocky post. But recently I came across the word solarpunk, which is used to describe this newer and more hopeful spin on the future.  According to Wikipedia: solarpunk is a literary movement that envisions a sustainable future interconnected with nature and community. I'll use it going forward, but I kinda dig robot zen.).
Chambers' next book in the Monk and Robot series is A Prayer for the Crown-shy.  It's on my TBR pile.
All Systems Red by Martha Wells is the first in the series of Murderbot Diaries. Wry humor winds its way throughout the book in the voice of self-named Murderbot, who is not the heartless killing machine it must pretend to be.
Truth is Murderbot is a deployed security unit and private defense weapon owned by a shady corporation that is involved in all space explorations. Somehow this security unit is able to override its operating system and no longer receives updates pushed from the corporation. After breaking free of the downloads, the security unit names itself Murderbot.
However, "As a heartless killing machine, I was a total failure" Murderbot sighs. You see Murderbot has an insatiable weakness, soap operas, and given its ability to download hours of soaps, Murderbot opts to indulge his addiction rather than look after the human scientists it has been tasked to protect.
But you know how things go in deep space…
There are six slender Murderbot Diaries. In addition, Wells has written a full-length Murderbot novel, Network Effect, which Andy read.  Andy gives big props to the book, which is saying something for a fellow who is primarily a reader of non-fiction WW2 spy stories. But upon consideration, Murderbot and WW2 spy stories aren't that different.
Memoir:  I love finding a good memoir, it satisfies my snoop gene without getting me in trouble for peeking through key holes. In Last Chance Texaco: Chronicles of an American Troubadour Rickie Lee Jones opens up about her tough childhood, which seems to have been fodder for her vivid song writing and those plaintive breaks in her voice. When I first listened to RLJ in 1979, I wondered if she imagined a gritty life or if she lived it. Turns out, she lived it.
RLJ was born in Chicago and grew up in Arizona and those parts – her family was an unsteady one. RLJ attended multiple schools as her family consistently burned bridges, broke apart, came back together, reconfigured, then moved on to another dumpy small town.
RLJ started hitchhiking during the summer for the entire season in her early teens. She simply walked out the front door of her disorganized home at 14 years and hitchhiked up and down California highways for a couple months. It is amazing she survived, a good part of her memoir covers those formative and lucky days. She would return home for school but her solo summer rambles continued until she left home for good.
Last Chance Texaco contains everything – Jones' great passions, which include Lowell George, Dr. John, and of course, Tom Waits, her great love. Then there is her life in the Tropicana Motel with Waits in a crummy LA neighborhood (Waits keeping it real too), her rise to fame, her addictions, her family tribulations. Her memoir is exotic and gritty and frankly, scary. I'll leave you with this, one of the more normal events of her life involved a leprechaun picking her up as she walked into the woods to find Van Morrison (who it seems, according to RLJ, is weirder than that leprechaun).
A powerful series: Reading Elizabeth Strout's Lucy Barton novels, My Name is Lucy Barton, Anything is Possible, Oh William, and Lucy by the Sea has been one of my most pleasurable reading experiences in a long while. Strout's strength is…well, everything.  She can craft a simple story and fill it with characters complex and honest. She will write a story that seems to be the whole story and then she retraces her plot points and tells it from another perspective, another place in time, maintaining the truth of earlier insights and layering the plot line (there is none of this 'unreliable narrator' trickery for Strout).
My Name is Lucy Barton is the start of the Lucy series and it begins with Lucy in the hospital where she is visited by her mother, whom she hasn't seen in years. Lucy's mother visits for 5 days and it is this visit from which the rest of the story hangs. Over 5 days the reader hears tales of Lucy's marriage, her children, and her path to becoming a writer as she catches up with her mother.  In turn, Lucy's mother talks about people in their rural Illinois hometown and we are exposed to the place and people from where Lucy struggled to be free.
Audio books:  I listen to audio books in summer as I work in the yard. My preference is to listen to lighter books, cozy mysteries, romance, humor.  A few stand out from this summer:
The Woman in the Library by Sulari Gentill.  This is a smart metafiction whodunit (not quite sure that is the right usage/classification, so let me try to explain.)
A well-known mystery writer, Hannah, is at work on her current project and we read correspondence between her and an aspiring writer. The aspiring writer, Leo, inveigles his way into Hannah's orbit convincing her to send him her current work so he can provide feedback.
Hannah's initial letter to Leo relates a frightening incident in a public library where she was working on the novel. While sitting at a table with multiple strangers, a scream rips through the library. The strangers at the table become fast friends when they learn a woman has been murdered and discovered dead in the library not far from where they were all sitting.
Then Gentill pulls the switcheroo, this is in fact Hannah's novel and the library characters we have become attached to, well those characters are really characters in Hannah's new novel. Or is it the woman in the library who is writing about Hannah and Leo? Anyway, at least one character in each storyline begins to emerge as a dangerous person.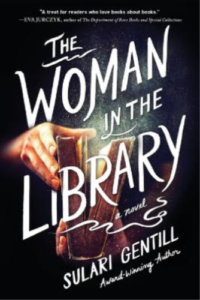 Small Game by Blair Braverman is a fast-reading (listening) thriller. The protagonist Mara is a young woman who grew up off-grid and currently teaches outdoor survival skills. Mara thinks she has what it takes to win the reality tv show that has asked her to audition. The game lasts a mere 6 weeks and the $100,000 prize is the perfect amount to spring her from her slacker boyfriend and the crummy trailer they share.
Mara is quickly selected as one of five people for the reality TV show called Civilization. The game begins when she is dropped by helicopter into a lake in the middle of god-knows-where. Once she swims out of the icy water and climbs on to shore she is given prehistoric wear – canvas tunics, shorts, and leather sandals. The group begins building a shelter, fire, and exploring the surrounding wilderness but they are hampered by the producer, who is a jackass. And one film crew member is sweet on Mara, and insists upon meeting her in secret spots to pass along food. It's obvious in little ways that nothing is going to go as planned. Then, one morning the five contestants discover that the crew has disappeared from the island.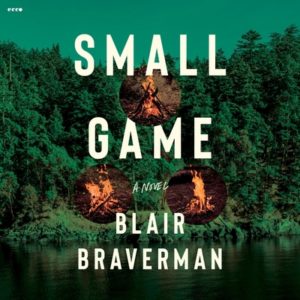 Resolved: to post more regularly in 2023. Peace out readers. And note: the featured image at the top of this post is from my Glacier trip. So while I was not posting, at least I was appreciating.