Hazy nights, and more great joy – thoughts after a first listen …
Every season needs a soundtrack, and we may have a new one for the hot days ahead. The sparkling new full-length release by Montreal band No Joy is called More Faithful, and it is as welcome as the first day of a long summer vacation. These songs explore all the dazzling excitements of bright summer days as well as the ravishing, hazy thrills of youthful summer nights.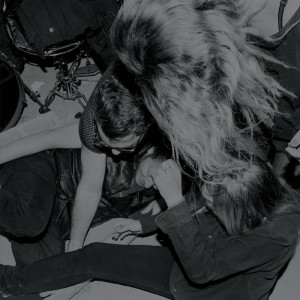 With fixations on a few memories from young summers – and in the spirit of those days and nights – here are a few time-traveling, summertime stabs at what the new No Joy record sounds and feels like …
— July 1975 – A few neighborhood girls and boys in shorts and tank tops. We meet under the streetlamp at the corner after dusk for kick the can. Someone brings a transistor radio, leans it against the lamppost, and quietly tunes in the Top 40 station.
I run through the dark heat to hide, feeling graceful and light-headed and lucky – twilight a cover for my actual clumsiness. There is the chuck-chuck-chucking of sprinklers – I get too close. I find a good spot, and after hiding, struggle to control my panting. There is the summery sting of cold waterdrops drying on my warm skin. Breathing calms a bit and I notice every emerging star in the still darkening sky.
Someone is looking for me. Time slows. I am happy. I want to be found, and not to be "it".
This one played on the little transistor under the streetlamp a few times in 1975.
I'm Not In Love by 10cc from The Original Soundtrack (1975 Mercury).
— Summers of 1985, 86, 87 – Late years of the cold war. We swim in the river or in the lake, turning brown as cigars.
Still in swimming clothes, we lay sleepily on pillows on the soft carpeted floor of the big basement – dark, dry, cool. We watch MTV or classic TV reruns – Bewitched, Jeannie, Don Knotts as Barney Fife.
The surprising, deep heat of Judy's sun-warmed skin – her bare, copper shoulders – her legs. Time slows. I am happy. Like dreams coming true.
From the mid-80s, this embodies timelessly crazy yearning, intensely fevered passion.
"It" by Prince from Sign 'O' The Times (1987 Paisley Park/Warner Bros Records).
— In Chicago – late-June 1992. It's been over 90 degrees and the day is ending – now it's just barely dark – the streetlights have all blinked on.
We are half-full of beer, walking to the Cabaret Metro to see Pale Saints. From the sidewalks, slow waves of heat arise – like stove burners that have recently been shut off. Inside the theatre it is perfect and disorienting – loud and cool. Time slows. I am happy. Guitars sound like they are coming apart and we have the sensation of being at precisely the right place at the exact right time.
Cool, cool, cool.
True Coming Dream by Pale Saints from The Comforts of Madness (1990 4AD).
Ordeal by Pale Saints from In Ribbons (1992 4AD)
The new No Joy record screams "Summer!" They construct sonic walls that feature muscular, rhythmic bricks held together with a sweet mortar of swirling fuzz. This one packs a lot into 2 minutes, and has some wicked time signature shifts that will make your body buzz.
Hollywood Teeth by No Joy from More Faithful (releasing 9 June 2015 on Mexican Summer).
3 june 2015
For more on No Joy, scroll down for the post Great Joy, fromNovember 2013.