The Seduction and Romance of Faulty Memory, Part Two: Every time she turns around my mother is forgetting something
Every time she turns around my mother is forgetting something. She may pick up and look with pure delight at an inexpensive bauble then set it down. Five seconds later she'll pick it up again with renewed wonder – unable to remember she'd only just looked at it. "Isn't this pretty!"
She might look at the same photograph of a newborn child half a dozen times in the span of a couple of minutes and each time ask through a sincere, squinty smile, "Who is that baby?"
New information won't stick. For another example, here is a sample exchange I might have with mom and my sister, Beth:
Me: "We just went out for lunch."
Mom: "Yes, it was really good."
Beth: "Oh, cool. What did you have for lunch today, mom?"
Mom: "I had lunch?"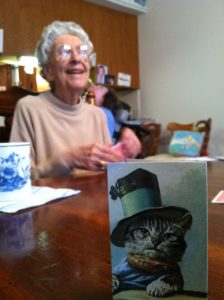 But old information – much of that has stuck. We will frequently sit around the dining room table and play cards. Mom still likes to play – she plays well and often wins. Even though much of her winning comes from maddening luck, there is still skill and experience in her game. She has played since she was a very little girl, and her family's main social activity was playing games of pitch, cribbage, gin rummy, and pinochle. Thousands of hours spent playing cards has made the activity automatic, but it's still fun for her.
Lots of other old information sticks, too. While playing cards she might take a chance glance at an heirloom ring on someone's finger and launch an elaborate story about its origins in our family's history. She might look at a photo taken 65 years ago and passionately recount stories laying out the happenings of the whole day the photo was taken. My sisters are good about encouraging and seizing upon these types of opportunities. They are great about getting her bubbling up stories from her girlhood in the 1930s and 40s.
Movies are a big part of her history, too. When she was very young, and then into her late teens, my mother, my aunt LaVina, and my great-aunt Florence used to walk to a theater and see a movie every day, often two on a weekend day. I like to get my mom talking about old movies and musicals. It makes her happy to talk about her favorite movie star, Dennis Morgan. He was a singer and good-looking actor and it is easy to know why my mom liked him so much – he made almost 80 films and never played a villain – always a good guy. In his off-screen life, there were no scandals and he was married for 61 years to his only wife.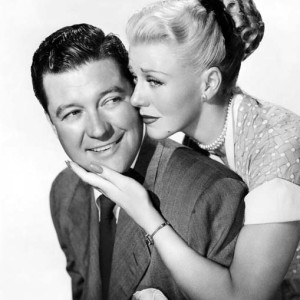 Q: "Mom, what was the story of Kitty Foyle?" (A film that starred Dennis Morgan, and for which Ginger Rogers won the 1940 Academy Award for Best Actress.)
A: "OOH, that was Dennis and it's a REALLY good one," she will say. "I'm sure I saw that with Vina and Aunt Florence." Then, she's off to the races, "Well, Kitty is a working class girl in New York or Pennsylvania and she falls in love with Dennis Morgan's character – but he's an east coast socialite and his rich family doesn't approve of her. Well, they marry anyway, and…"
She could recount that 1940 movie plot for you with no problem. And, although they were very close, (they lived next door to one another most of their adult lives,) now my mother needs a note as a reminder that her sister has passed away last year.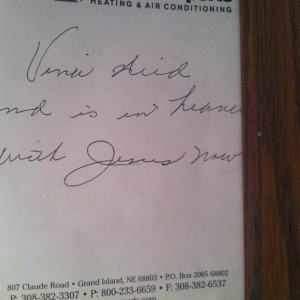 Because of my mom, movies became a big part of my life, too. Animated musicals were a good introduction, and it was really a treat when she took me downtown to the beautiful Grand Theater to see re-released Disney classics when I was very young. I would have been in kindergarten when we saw Pinocchio (re-released 1971), and first grade when we saw Dumbo (re-released 1972).
The stories are vibrant, sad, and terrifying; the music still is thrilling. Frugal, my mom would pop popcorn at home and sneak it into the theater in one of her enormous purses. We'd split a Dr. Pepper (with no ice) from the fountain. For a nickel you could get a Styrofoam cup filled with Good and Plenty or Mike and Ike candy from gumball style machines that stood in the fancy lobby.
Among my family, my mom is an admitted and notoriously poor singer, so perhaps it is natural that great singers were a marvel to her. She liked the musicals of actors who came from theatre like Gordon MacRae. She seemed to gravitate toward extremely sentimental songs and stories. Though in her real life at home, even among the high emotions of movie musicals, she strived to keep our family lives normal, fairly bland, and mostly stripped of emotion.
Here's a nice example: He had such power – listen and watch 'Soliloquy'  from Carousel (1956), performed by the masterful Gordon MacRae.
Dancing fascinated my mom. She could even be impressed and transported by dancing that one wouldn't expect. For instance, we watched Captain Kangaroo together pretty much every weekday when I was young and she would be positively rapt watching Dancing Bear.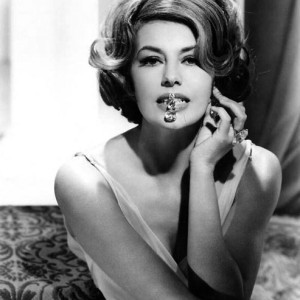 Later, when we had cable television in the mid-1970s, the mornings were dominated by syndicated cartoons from the 1940s, 50s, and 60s, and also by feature movies from those same years. That also meant a lot of music and a lot of dancing. Movies introduced an extraordinary amount of glamor into an unglamorous home.
Another beautiful example: Hold on to your doggone hat! It's Cyd Charisse and Fred Astaire together in The Band Wagon (1953): Girl Hunt Ballet
I can remember that around ages 12 and 13 I felt I should think that those old stories and musicals were corny and stupid. But I didn't. Instead, I began to think of myself as a person who was probably born out of his time – that I would have fit in better if I had been born in, and lived in an earlier era. Watching some of those old movies with my mom also helped me to get a picture of her as someone other than just my mom. Because movies meant so much to her, she would talk about them, revealing some of her feelings that might not otherwise have come to light. She was a person with her own dreams and her own past – not just someone's mom.
On cable one day you might see a wonderful classic like Casablanca (1942). (Trivial note: What a different movie that could have been. IMDb reports that Dennis Morgan was originally cast to play the role of Rick Blaine that was made so famous by Humphrey Bogart.) The next day you might see something that had mostly been forgotten like The Dolly Sisters (1945) with Betty Grable. (Trivial note: At age 18, my father sailed from New York to Le Havre, France, in August of 1945. He was part of a massive swap of young non-combat soldiers who headed to Europe for an Army of Occupation. World War Two combat veterans would return on the same vessels back to the U.S. On each of the ships were several popular film reels that, one supposed, contained a number of different movies meant to provide a glimmer of entertainment variety for the men as they crossed the Atlantic. Many of dad's fellow soldiers were like him, small-town kids who had no inkling of what awaited them in war-ravaged Europe. The movies were meant to give them a little bit of home and normalcy on each evening of their journey. Instead of packing five or six different films on my dad's ship, and five or six different films on the each of the other transport ships that were also making the crossing, someone packed five copies of The Dolly Sisters on my dad's ship. He said, "The Dolly Sisters with Betty Grable. It would have been nice to see a few other movies, but we watched it every god damned night.")
Movies were an indulgence that my mother could live with. So even as I got a little older, I was eager to make room for musicals like The Wiz (1978), (for which my mother did not share my enthusiasm,) and Emmet Otter's Jug-Band Christmas (1977), (for which she did share my enthusiasm.) All of this was truly formative – around the same time that I was opening up from listening to mostly Top 40 music to begin experiencing the wonderful weirdness of Talking Heads and the B-52s.
And as square as that was, I didn't care. All That Jazz (1979) fascinated and confused me – I loved that movie so much. It has a place in the formation of my musical and aesthetic tastes that rivals The Beatles. Oh, I could go on and on, but I already have. You get the picture.
And in case I forget, thanks Mom, for teaching me to like movies and musicals.
This is an inspiration – 'An Actor's Life for Me' from Pinocchio (1940), performed by Walter Catlett.
29 jan 2014