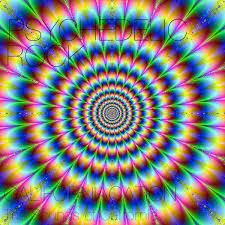 J Recommends…
I've read my favorite book of 2020 so far, and I can't see it getting knocked into second place. Utopia Avenue, by David Mitchell, is a story about a British band, of the same name as the title, formed in 1967. Hippies, Yippies, Politics, Sex, drugs, and rock & roll…this book has it all. It is about Utopia Avenue's rise to serious rock superstardom just on the heels of the "British Invasion." Contemporary musicians of the time – Jimmy Page, Keith Moon, David Bowie, Janis Joplin, and many many more, make the scene in this fictional history.
Band manager Levon Frankland has an ear for good music and a good head for business. He assembles bass guitarist Dean Moss, lead guitar Jasper de Zoet, jazz drummer Peter "Griff" Griffin, and female folk artist and keyboardist Elf Holloway into a one-of-a-kind psychedelic, rock, jazz, folk band.  The band's origin is just the right amount of ordinary and legendary, the likes of Lennon meeting McCarthy as teens and forming a band.  Mitchell makes obvious comparisons to The Beatles throughout. Dean, raised by his father after his mother passed away, is a good looking, talented bassist, with a dry sense of humor and an endless stream of girlfriends. Jasper is a guitar savant who plays and thinks on a different level than others, and also – many girlfriends. Griff is a wry wit, a Steady Eddie, and precise drummer.  The outlier is Elf, the folk singer and keyboardist. Being "the girl in the band," she constantly has to prove she's a musician and not a just a gimmick. Levon is definitely the fifth member of Utopia Avenue, their Brian Epstein. Mitchell inserts obvious likenesses to other musicians of the period as well. He infuses the story of the band's evolution with folklore and myths of the 1960s music scene.
Except that Utopia Avenue is a forward-only moving story with no time tricks or shifts, it is little reminiscent (for me anyway) of another favorite – Jennifer Egan's A Visit from the Goon Squad.  The message – we are the sum of our parts. Youthful choices make us who we are. Each of the young musician's life decisions and events influence what comes next.  As readers, we watch it all unfold. Because I loved this story and its characters so much, when any member of UA was in trouble, I worried. When things went their way, I was relieved. When I wasn't reading about them, I missed them. I wish I could tell you about their adventures, but to reveal anything about a book I know you are going to love, before you read it, would be a violation of the Readers' Code of Ethics.
If I didn't care about you discovering every bit of this book for yourself, I would be writing a different kind of post. But what I will tell you is that Mitchell has not only created a compelling story with interesting and likeable characters, he also writes with skill about music – the pleasing feeling of jamming with friends, hitting on combinations of notes and chords and beats that sound good together, writing lyrics that are personal yet resonate with others. He writes about relationships and how music is always connected and connects us.  This is a book for music and book lovers. And who doesn't love both those things? Go get this one, find a comfy spot, start reading, and enjoy. And let me know what you think when you're finished.  There's much to talk about.
Read on Scramblers.