When you were a little kid, you occasionally had dreams where you were running. And in your dreams, your running became almost like flight. Remember? You ran with total ease, picking up speed, and after a number of paces your body was so solid and light that the lengths of your steps widened almost impossibly. Your foot just barely touched down before propelling your churning body back up, springing from the ground, floating forward.
To have the waking musical equivalent of your old running dream, check out this fantastic tune by Jon Hopkins called Open Eye Signal. It is eight minutes of thoroughly entrancing music. If you let it, it will make you float forward.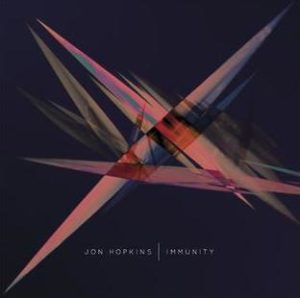 The song comes from Jon Hopkins' Immunity (2013 Domino) and every track is strong. Immunity is back in my rotation largely because my friend Andy created a group to share music — (Hello music21, and thanks for including me, Andy!) — and one genre that gets a lot of shares falls into the very broad realm of electronica. I try to listen to whatever is shared and admittedly, it's often been a challenging genre for me.
I came to Hopkins' music on my own, though it is mainly outside of the sophisticated and melodic electronic music of groups like Air that I find easier to love. It's rewarding to stretch and find things to love that are beyond my usual zone. I am almost always better off for having persevered and opening my mind and tastes to difficult things.
I can recommend two of Hopkins' other releases (both are also on Domino.) From 2018, Singularity, and from December 2021, the beautiful, meditative Music for Psychedelic Therapy.
This most recent album features field recording of sounds from nature: rain, birdsong, and waterfalls. It is introspective and works like organic medicine for lowering blood pressure. Now, if I can only persuade Thundercat to listen to it….