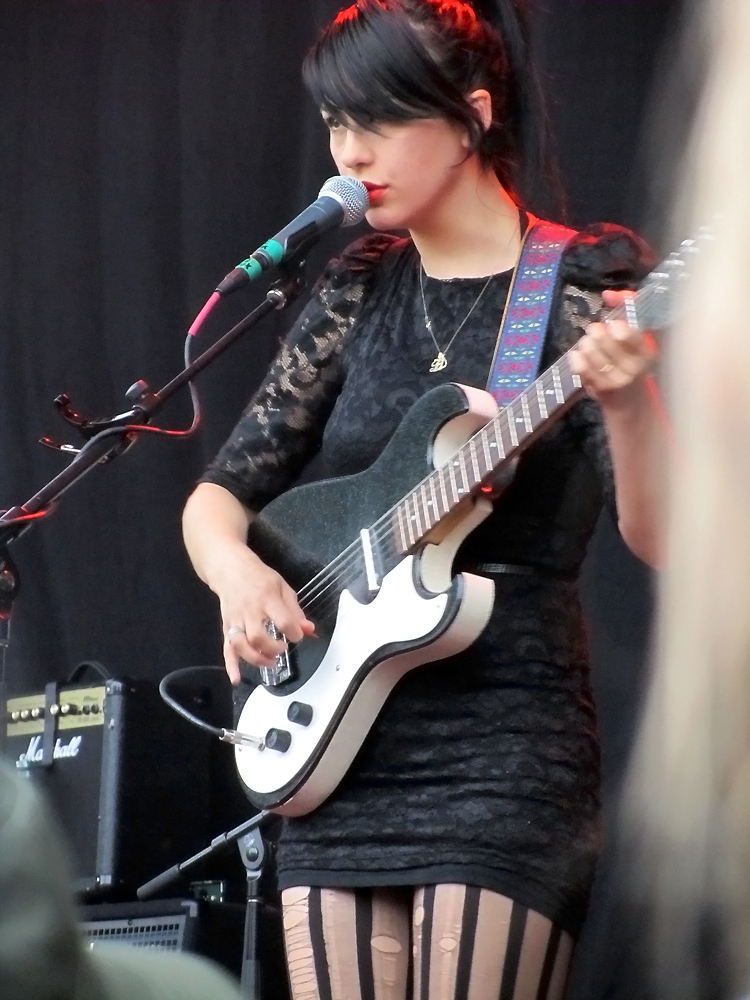 Dee Dee Penny is hotter than lava and she deserves your full attention. She is the leader of the American band Dum Dum Girls, and with her husband, Brandon Welchez of Crocodiles, she is also one furiously beating half of their side project, Haunted Hearts.
Dum Dum Girls started in 2008 in Los Angeles as a solo bedroom project of recorded music. Less than six years later, Dum Dum Girls is a full band, playing in the studio and touring live, with material from three LPs and four EPs.
Dee Dee is almost magical. She can flash more raw might and seduction at you with the barest swish of her pinky than most pop stars can muster with the full and concentrated force of their whole beings. This is a great example of how Dee Dee can parlay softness and vulnerability into the kind of power that few possess:
Under These Hands by Dum Dum Girls, from Too True, (2014 Sub Pop).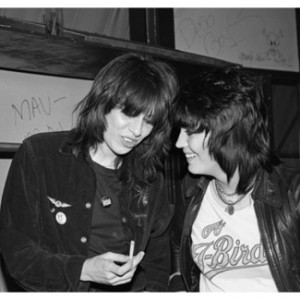 In a very short amount of time Dee Dee has gained a deserved place in the rock and roll pantheon, and her throne should be situated close to those of PJ Harvey and Debbie Harry, and perhaps directly between Chrissie Hynde and Joan Jett; ALL of whom, like Dee Dee, have been known to handle a guitar like, "the last machine gun in the universe."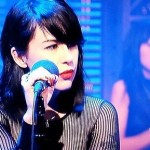 Approachable on the surface, but challenging to figure out at depth, Dee Dee's Dum Dum Girls songs comfortably blend her diverse influences. Not to oversimplify, but I think these can be identified in three or four classes. Here are some songs from other artists with a Dum Dum Girls 'analogue' song for comparison:
–First, the pop sensibility of girl groups ranging from The Ronettes or The Crystals to Madonna and beyond.
He Hit Me (And It Felt Like A Kiss) by The Crystals, from the 7" single, (1962 Philles Records – b/w No One Ever Tells You).
Lord Knows by Dum Dum Girls, from the EP End of Daze, (2012 Sub Pop).
–Next, there are prevalent dark and goth-y layers on much of the work, ala Siouxsie and the Cure.
Spellbound by Siouxsie and the Banshees, from the LP Juju, (1981 Polydor).
Johnny Jupiter by Haunted Hearts, from their new album Initiation, (2014 Zoo Music).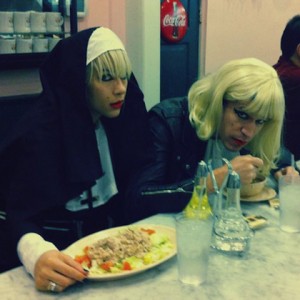 –Then, there is the high attitude rock and roll vocal delivery: the lip curling, knowing, and smiling sneer of The King.
That's All Right by Elvis Presley, from the 7" single (1954 Sun Records – b/w Blue Moon of Kentucky).
Little Minx by Dee Dee Penny from the Dum Dum Girls' LP Too True (2014 Sub Pop).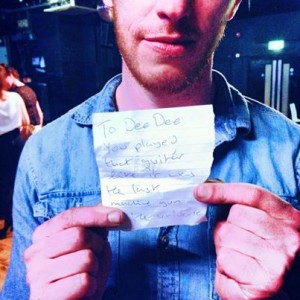 –Finally, the fun, charisma-spewing, and seemingly effortless ability to rock out.
Message of Love by The Pretenders, from Pretenders II, (1981 Sire).
Dress by PJ Harvey, from Dry (1992 Too Pure).
He Gets Me High by Dum Dum Girls, from the EP He Gets Me High, (2011 Sub Pop).
Few acts can claim the successful synthesis of musical and personal styles created by Dum Dum Girls. They wed great, introspective pop songs with a cultivated and sincerely detached, great, dark collective image. They are wrapping up a massive tour of the United States and Europe. I absolutely loved this New Yorker magazine notice for the band that mentioned Dee Dee's, "impeccable craftsmanship and vixenish allure." 
She is a huge talent who is having a big and busy year. In fewer than six months, and in addition to releasing two albums and supporting one of them with a tour, she also: starred in an esoteric short film that was written by Bret Easton Ellis, and was made for the Los Angeles Museum of Contemporary Art; released at least six song videos; and has been featured by Vogue and AllSaints. Please don't come around Dee Dee with your wax wings, Icarus, because she is hotter than the sun.