My friend Cathy taught me that the Japanese have a wonderfully descriptive word for the way that sunlight filters through the leaves of trees: komorebi. It is a phenomenon of nearly crippling beauty that I have been fortunate to experience on some of the most exquisite hikes the planet has to offer.
If you crave mind-bending walks in nature, it is difficult to imagine more satisfying hours than the ones you may spend on the densely forested Pacific capes of Oregon's coast, including Capes Perpetua, Lookout, Kiwanda, and Meares.
In both their majesty and minutia, these places present a primeval aspect. One moment looking up you enjoy the spray of a towering waterfall while feeling the undeniably and essentially grave powers of earth. In the next moment looking down you may be forced to squint to see clearly a tiny, ornate pillow of moss that appears to be waiting for a baby bunny's head to gently occupy it.
Regarding its provisions to protect land and to make it accessible, Oregon is a very enlightened state. As one example, Oregon's beachfront property is safeguarded from private ownership, so it features remarkable open public access to all of its coastal land
Think that's not a treat? Visit California. As a comparison, Oregon's neighbor to the south made big headlines recently when seven and a half miles of beachfront were protected from private development – (and bravo for California – that's great – some of that land will even be made accessible to the public.)
Perhaps the best hike to enjoy the unrestricted luxury of zero development is on Bayocean Spit, where you can walk for flat miles along Tillamook Bay. The bay offers tree-lined, lake-like calm where one can explore mudflats, coves, and swamps. The loop takes hikers through scattered driftwood and sandy shrub- and scrubland dunes to reach the ocean side. And there it is – the glorious ocean – where, while the tide is out, you can walk and walk and walk.
When I am visiting I often think to myself, "Oregon, you genius." You can dial it back there. It is an inspirational place.
Oregon inspired many of the songs on the brilliant new record by Sufjan Stevens, titled Carrie & Lowell. He has proven himself a masterful chronicler of places, (states in particular, with Michigan in 2003, and Illinois in 2005,) and the way that places, people, and memories can comingle to transport us in time. I think it's safe to guess that this record was never going to be called Oregon, though. He is up to something a bit different here. The record is named for his mother and stepfather, and on it, Sufjan Stevens takes the modern musical folk/pop art form beyond the confessional and into the sublime.
When he was a baby, his mom felt that she was unable to care for Sufjan and his family. She split and was not much around through his childhood and entire life. She reappeared in his world when she remarried, and Sufjan spent the summers in Oregon with Carrie and her new husband, Lowell, from ages five through eight. Stevens told Pitchfork, "…she suffered from schizophrenia and depression. She had bipolar disorder and she was an alcoholic. She did drugs, had substance abuse problems. She really suffered, for whatever reason." His mother's absence, her presence, and her suffering, all work together to inform the songs on Carrie and Lowell, and sometimes painfully reveal the way they have influenced Stevens' relationships, decisions, and life.
Carrie died in 2012, and Stevens' music here is a reminder that much of art is really an attempt to make connections; to communicate to others through art that: This means something to me, something deeply important – maybe it is important to you, too.
What is important on the songs that make up Carrie & Lowell is catharsis and reconciliation. Reflecting on his mother, her life, death, and its effects on him, here is a remarkable quote of summary forgiveness, (again, from Pitchfork): "I went through all the stages of bereavement. But I say make amends while you can: Take every opportunity to reconcile with those you love or those who've hurt you. It was in our best interest for our mother to abandon us. God bless her for doing that and knowing what she wasn't capable of."
There is a touch of musical komorebi in these songs – sometimes brightly flashing, sometimes hazily muted – their thoughts and sounds reach us like sunlight playing through the leaves of trees. There is something universal here, too. We are given the observations and events of another's life that cast shine and shadow on our own.
Links to Sufjan Stevens incredible folk and ambient songs from Carrie & Lowell (2015 Asthmatic Kitty):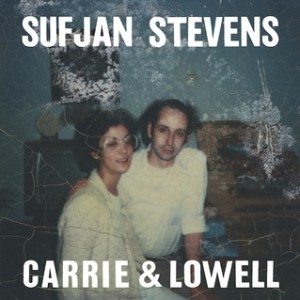 Confusion, fear, and forgiveness in the opener.
"The landscape changed my point of view …"
"Everything I see returns to you somehow…"
Poetic folk fading into ambience on the closer.
16 april 2015