Minutia and Majesty
I am always grateful for Spring Creek Prairie. It's a place equally energizing and relaxing. It's a place to reflect alone or to be together creating shared memories. A place to clear your mind or to feed it.
For both its majesty and its minutia, the woodland area east of the visitor's center is a favorite spot. You should go there.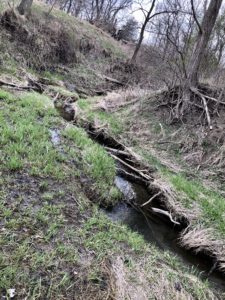 On the short walk to the woodland trails, look up. There's an unobstructed sweep of towering prairie sky. As you enter the woodlands, look forward. Accept the gentle embrace of muscular limbs and trunks; the shelter of massive branches. When you are well into the woodlands, look down. Go quiet. Squint among the exposed roots of an oak to see clearly a tiny, ornate pillow of moss.
Many years ago my friend Cathy taught me that the Japanese have a wonderfully descriptive word for the way that sunlight filters and dances through the foliage of trees: komorebi. Springtime is here bringing buds and leaves to the black walnuts, the burr oaks, and cottonwoods. Soon the trees will fill in and the woodland's shaded spaces will overwhelm its bright ones.
That is something precious to anticipate, because that is when the flickering phenomenon of komorebi will deliver its nearly crippling beauty.
It is coming. So many extraordinary things are coming.
Here is a pretty song for this extremely strange spring:
Cloak of the Night performed by Ed O'Brien and Laura Marling (from Earth by EOB 2020).
12 April 2020