Songs for Sunshine (and Superlatives)
Belle and Sebastian formed as a college project in Glasgow nearly twenty years ago. They tended from the start to be divisive.
Derided by some for being overly precious and twee, many others hailed them for their sensitive, searching approach, and their unusually sentimental discernment.
They had already released three records by the autumn of 1998 and I had not yet heard them. Friends were fans, and much of their critical attention was marvelous, but they hadn't seemed up my alley.
My friend Amy encouraged me to give them a try. After all, they LOVED the same bands I LOVED, sharing especially the visual, emotional, and musical sensibility of The Smiths. They LOVED and openly imitated Felt.
I checked them out…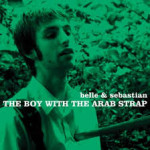 …and instantly became drawn swirling into their unapologetically nostalgic orbit. It turns out that what was being mistaken for calculation and affect was really just their great cleverness and sincere collective introspection. It was honesty and youth that made them sound they way they did – made them BE the way they were. Time has proved that.
There haven't been a half dozen other bands that have meant as much to me as Belle and Sebastian have. Since the late-1990s they've combined their most original style and devotionally stylistic homages to craft the musical equivalents of bowlfuls of shimmering pearls. Along with Stereolab they have been the most consistently satisfying band of my adult life.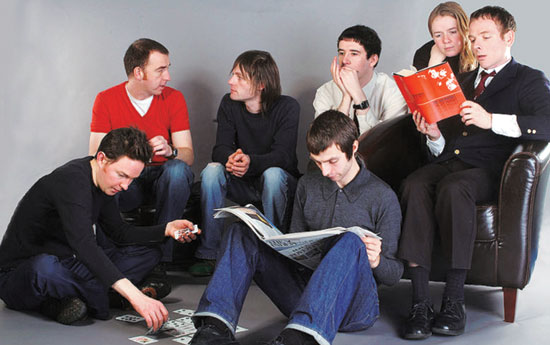 For this fan, it has been like a long sunless stretch since their last release in 2010, Write About Love. The seven-piece band released its tenth album this week, entitled Girls in Peacetime Want to Dance. It is Great.
The preciousness polarization continues, but whatever side you may fall onto, one thing is difficult to argue: this band has not compromised. They have done things their own way, proven to be extremely durable, and have earned steady and enthusiastic support. It's an odd phenomenon – whatever it was that folks found appealing about them as college kids remains appealing now.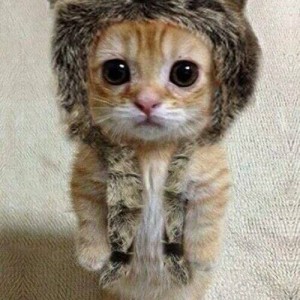 To be sure, Belle and Sebastian's sound is evolving, but the band's vibe and much of their music are still drenched in 1960s folk and pop. Their lyrical luster and straightforward artistry provides the experience of music as a method of traveling in time. For example, the wicked wit and intense introspection of the words can transport me to college days. Their study of musical and visual influences manifests a whole art that is somehow both original AND saturated in heartfelt tribute.
Belle and Sebastian was not, and is not, like any other group. Except, they kind of are… That may explain their appeal. There is and has always been something familiar about them. But, that something avoids the slippery path of derivative-ness. The sound is always unmistakably and originally Belle and Sebastian. They have alloyed freshness with maturity. They are very long on style and pretty unconcerned with fashion. When they have spoken about their music, it has always been from a place that is genuinely surprised and thrilled about how well the product eventually turned out.
They provide lots of angles and come at listeners in so many ways – here are some horns, there are some flutes – there's rock over here, there is Latin jazz over here,  even a bit of disco thrown in over there. And they are often SUPER FUNNY. The product – well, I am always thrilled, too, and I never seem to be able to find enough superlatives.
–Consider this a perfect representation of the band. You cannot tell what decade this is from.
Ease Your Feet in the Sea by Belle and Sebastian from The Boy With the Arab Strap (1998 Matador).
–As I listened to this song performed live in Minneapolis in 2006 – standing next to Judy – I was so happy – possibly as happy as I have ever been. I remember thinking that it would be okay to die when the song was over. I lived.
Song For Sunshine by Belle and Sebastian from The Life Pursuit (2006 Matador).
–Their introspection is exquisite and Stuart Murdoch is so undistracted in his storytelling that this is like inanimate sand and water washing and forming a gem in an oyster shell.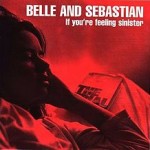 Judy and the Dream of Horses by Belle and Sebastian from If You're Feeling Sinister (1996 Jeepster).
–This is live, pretty long, and really rough (in places actually a bit of a mess!) – but I love the commitment and the almost beatnik mix of jazzy guitar, bongos, and tambourine. Stevie Jackson's energy is so great – he even sort of raps – but the overall performance is more like one from a rock star combined with a beat poet.
Perfect Couples performed live by Belle and Sebastian from Girls in Peacetime Want to Dance (2015 Matador).
–Hugely influenced by artists as diverse as Robin Guthrie, Morrissey, Carole King, and The Beatles, perhaps no artist influenced Belle and Sebastian more than Lawrence. The first song features Elizabeth Fraser and it is miraculous.
Primitive Painters by Felt from Ignite the Seven Cannons (1985 Cherry Red).
–And another.
Dismantled King is off the Throne by Felt from The Strange Idols Pattern and Other Short Stories (1984 Cherry Red).
Belle and Sebastian's early lineup and by their first, second, and third LPs were captivating. It's worth mentioning two key individuals from that time who are no longer in the band. First Stuart David, co-founder of Belle and Sebastian, left in 1998-99 to form the brilliant Looper. And since 2002, Isobel Campbell has carved for herself a wonderful and varied career that includes both solo and collaborative work, most notably with her band The Gentle Waves, and on her albums with singer Mark Lanegan, formerly of Screaming Trees and Queens of the Stone Age. (More songs linked below…)
Pretty Things by The Gentle Waves from Swansong for You (2000 Jeepster).
Come On Over (Turn Me On) by Isobel Campbell and Mark Lanegan from Sunday at Devil Dirt (2008 V2 Records).
Modem Song by Looper from The Geometrid (2000 Sub Pop).
23 jan 2015