The Seduction and Romance of Faulty Memory, Part Three: The Indigo Bunting
Maybe this also happens to you. Intense images rise up and swirl in your mind and you can see parts of a day from your past with almost frightening clarity. Scents can do that. Music does that, too. Poems.
I was thinking of some poems about romances and relationships as Valentine's Day approaches. I thought of Browning and Shakespeare – and a youthful, sexy poem by Georgia Robertson. And then this scene snaps up in my mind and memory, sharp and scary:
26 August 1983 – Hastings College, Hastings, Nebraska. Move-in weekend, freshman year.
The dorm room is tiny, cramped. A couple of desks and beds with a few scattered items working weakly to personalize the place – posters, photos, a package of cigarettes. Space was tight. Still, the cell had a liberating effect as I was away from home and in almost complete control of my own time.
I knew a few people at the school, but not many. I moved in on a Thursday, (classes would start the following Monday,) and I hadn't set foot in a college classroom yet as a student.
During the first day of my first year of college, I used some of my time in that tiny room to read a poem in The New Yorker – The Indigo Bunting, by Robert Bly.
I am changed by the poem. Thinking of it recently, in the context of Valentine's Day, conjured vivid memories from that long ago Friday. I had the out-of-body phenomenon of looking down upon my younger self in that Hastings College dorm room.
I am alone and look younger than 18. I am sitting on the floor, reading The Indigo Bunting for the first time. There is a record rotating on the turntable. Bright sunshine is coming in the windows from a hot, high afternoon sun. I have a very dumb proto-flop haircut, a ridiculous earring, and stupid clothes – penny loafers, green peg leg pants, a striped, short-sleeved button up. I am tan and a bit chubby.
I smoke cigarettes like mad, and with each of the thirty or more that I smoke each day, I have a correspondingly wispy idea about what trajectory I want my life to take.
One of these songs may have been playing on the stereo:
Zebra Club by The Bongos from Drums Along the Hudson (1982 PVC Records).
I Go to Sleep by The Pretenders from Pretenders II (1981 Sire).
Love at First Sight by XTC from Black Sea (1980 Virgin Records).
I watch myself finish reading the poem. I stand, remove the needle from the record, and in the sunny, silent room, I read the poem again, while standing.
That evening, the college hosted an outdoor, opening-week party. Twilight in hot late summer – music and dancing – even though there was little relief from the heat of a day that had been in the high-nineties, kids were dancing like crazy. The party was set on a wide bridge that crossed and separated a little stream and Heartwell Pond, north of the campus in Heartwell Park. The tree-filled park forms an overgrown boulevard with tidy, pretty homes facing it from all sides – set back from and lining the surrounding, curvilinear streets.
I was a terrific snob and snot about what music was good and what was bad, and I thought the party music was garbage. Hit-machine bands with four-letter-word names like Asia, Toto, and Taco. You can be sure that I made anyone who gave me five seconds absolutely miserable with my opinions about what the DJ should be spinning. Mostly, everyone else was having a great time, but I could not understand how. Not with the terrible music.
Somehow, someone blessedly persuaded the DJ that in between the likes of Kajagoogoo and Michael Jackson, he should play Dance This Mess Around by The B-52s from The B-52s (1979 Warner Bros). Two hundred kids exited the dance floor. Not me. I danced like a kook, pretty much alone. In hindsight, that incident pretty quickly and more or less permanently set the tone for my college days.
Walking back to my room, I thought of the poem again, and read it when I returned. I would not have had the words for it, but I resolved then to find the people there that could help me harness the kind of blazing power that Robert Bly conjured from his quiet, quite beautiful metaphor: a migrating bird.
In the spring of 1987, the poet, Dwight Marsh, gave me a collection of Robert Bly's poems as a college graduation gift. He had been my professor for a number of classes, but he was very much more than an English teacher to me. We spent a fair amount of time together outside of the classroom – he led me in directed studies, we performed together in plays, and we even did an event together just the two of us – reading works of our own writing. The gift was curious – I am sure I never discussed The Indigo Bunting with Dr. Marsh, or how much Bly's poem meant to me. I didn't know it myself at the time.
But there it was, The Indigo Bunting, unexpectedly looking up at me from the page during the final day of my undergraduate career – as it had on the first. Here it is again today.
Old Friends/Bookends by Simon and Garfunkel from Bookends (1968 Columbia).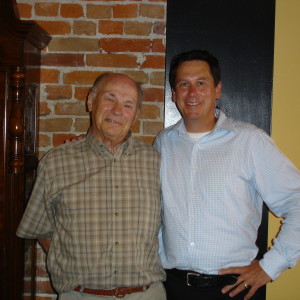 12 February 2015