The Harvey Boys – Summer Wind
Snapped in 1948, in Ogallala, Nebraska, this is a photograph of my uncles doing what they loved to do. Music was in the Harvey boys' blood.
At age 16, in young, sweet profile, is my uncle Kenny handling his trumpet. He's proud and happy to be mixing it up with his older brothers. In the center of the pack, sly uncle Paul is leading the number and keeping everyone honest on his trombone. He's intoxicated by the song and the proximity of his wife, my dear aunt Marjorie who is on the flute. (Also pictured is Marj's lifelong friend, Cherry, on the clarinet.)
And then there is the essence of the picture: my elegant uncle Bob with a cigar and a saxophone. His handsome and cool smile conveys the prototypical, unaffected look of the Harvey boys. Whether together or alone, they wore pure expressions and postures that said, "Wherever I am, I am exactly where I am supposed to be."
Bob is smiling directly at my father, Philip, who took the photo. Phil was undoubtedly smiling right back, just a half a second removed from giving a movie star's wink to his slightly older brother. It is easy for me to imagine the scene from uncle Bob's vantage. My dad is standing still and tall as possible, and he has just said to his younger brother, "That's the boy, Ken! Play it – go get 'em, boy!" Although the day is warm, Phil is still in his suit jacket, his tie knotted crisply at his throat. The camera's held firm in his steady right hand and my father's relaxed left hand likely kept a delicate but decisive grip on a tumbler of scotch and a lit Chesterfield cigarette.
They were surely playing either Swing or Dixieland jazz – two forms that my dad and all of my uncles loved. I can imagine that this "photo session" took considerable time to actually evolve. All their lives the boys were a deliberate foursome – unrushed and unrushable – sophisticated practitioners of the delicate art of delayed gratification. Anything worth doing was worth putting off a few more minutes to squeeze out a bit more exquisite anticipation. Their excellent company was enough — "Before we do, pour us another cup of coffee," or, "let's have just one more cigarette, then let's…"
Impromptu – imschmomptu.
My dad would have been 21 years old when he shot the photo, and pretty fresh out of the U.S. Army.
He played a little bit of piano and the piccolo, and could dabble around with other instruments, but instruments weren't really his focus. If he had a gift it was his unselfconscious tenor voice. He owned a leader's voice, terrific for anchoring a choir section, for adding unexpected and smiling harmonies to hymns in churches, and occasionally, for bravely taking the high parts in quartets. After he finished his master's degree, he even taught Music (along with English and Speech) in a small town in Nebraska, then stayed active in civic choirs through much of his life.
Age 22 in the photo, Uncle Bob, eventually became Dr. Robert B. Harvey, faculty Chair of the Music Department at Merced College in north-central California. He could conduct, and he could really play. It is easy for me picture Bob in his forties, switching roles from professor to player, driving a 1970 Thunderbird toward the Bay Area for a night 'sitting in' with Vince Guaraldi in a smoky Menlo Park nightclub, or with Dave Brubeck up in San Francisco.
Uncle Paul, age 24 in the photo, became a college teacher, too, and was a lifelong collector of music. He had an omnivore's appetite and a specialist's precision. His main man was the jazz composer, pianist, and cornet master from the 1920s, Bix Beiderbecke. Paul stayed on his chops playing in civic musical projects in his (and Bix's) hometown of Davenport, Iowa. He was part of a memorial society of fellow Bix enthusiasts.
My mom would always say of dad's younger brother, Ken, and his wife, my auntie Elaine, "Ken and Elaine were just game! They were up for anything and just fun." All newly married in the early 1950s, my folks and Ken and Elaine first settled in a tiny, dusty, windy town in Wyoming, keeping each other company and having adventures. Soon, Ken and Elaine would depart for the greater opportunities of 1950s and 60s Denver, and I imagine my uncle, then in his twenties and early-thirties, occasionally stalking the rough and jazzy Denver streets that Kerouac wrote about, sporting all the while an open, eager smile on his face, wishing his brothers were around to take it all in with him.
So, you can see I had my own form of pedigree. Okay, so I was not born to Felix Mendelssohn – not to Liszt – not Dvorak. But I had my opportunities to become a player. I was given lessons on the piano, lots of encouragement, and I always had access to music from diverse genres and avenues. Still, I stunk.
Upon assessment, it is easy to determine that I lacked some simple components to succeed: talent, discipline, and desire. To practice and master and enjoy music – you need a generous combination of all these – and unlike the Harvey boys, I had not a sliver of even one.
So, I could never play, and never even really read music well. I performed as a choir singer, a chorus member and even as a soloist in musicals. I loved being involved in theatre, but I was terrible. If I had a solo, I'd kind of stylize a half singing/half talking improvisation through the number. Gratefully, in large part because of my dad and my uncles, I came to enjoy all kinds of music.
Here's a song for all four of them, plus one for each of them. These would get the stamp of approval of all the Harvey boys – a swell bunch.
–The Harvey boys could be true blue cool breezes, and they also, "knew from hot air!" What a way to welcome the summer – this is brilliant in every way.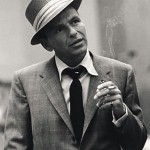 Summer Wind by Frank Sinatra, from Strangers in the Night, (arranged for orchestra and conducted by Nelson Riddle, 1966 Reprise).
–This is a treat and a treasure. All the Harvey boys are gone, but they wouldn't want anyone to be blue about it.
After You've Gone by Louis Armstrong and his Orchestra (1929).
–Gone too soon, the Harvey boys were not all long lived. Perhaps matters of quality over quantity? Groundbreaking artistically and socially, Bix was likewise a light that burned very bright, but not long. Here is his piano masterpiece:
In A Mist composed and performed by Bix Beiderbecke, solo piano (1928).
–Fun, dignified, graceful, stylish: Duke Ellington.
It Don't Mean a Thing (If It Ain't Got That Swing) by Duke Ellington and His Orchestra, (composed by Ellington 1931 – performed 1943).
–Hurry up and wait. This one has a hip patience and timelessness.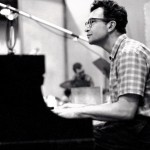 Take Five by The Dave Brubeck Quartet, from Time Out (1959 Columbia Records).
20 june 2014